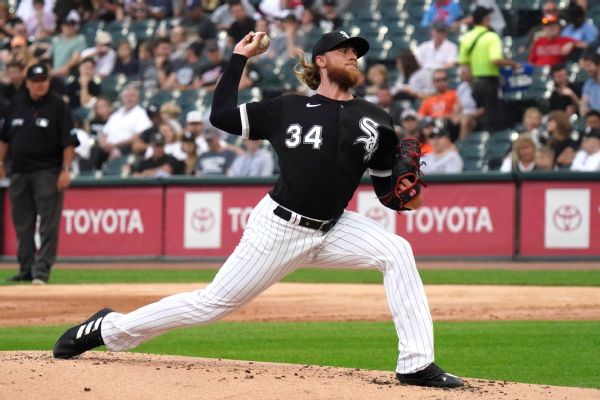 GLENDALE, Ariz. — When Michael Kopech started throwing again after right knee surgery, he felt relief.
It was a real issue that prevented him from being himself for much of last season with the Chicago White Sox.
"Indeed. I'm a little relieved to know that I was just trying hard and it's not coming out last year," said Kopech. "There was something I had to fight through, take it with a grain of salt. I'm going to fight through everything that I'm going to fight though. But in the end, I want to be as healthy as I can and me." m on track to do that now."
The 26-year-old Kopech went 5-9 with a 3.54 ERA in a career-high 25 starts in 2022. But he left the June 12 game against Texas with right knee discomfort, and it became a lingering question for the rest of the year.
The right knee trouble may have played a role when Kopech went on the 15-day injured list in August with left knee discomfort. He returned to the IL on September 17 with right shoulder inflammation, ending his season.
Kopech said he showed up early in spring training this year to finish his rehab, and he thinks he'll be ready for the start of the season.
"I'm at a point where the knee feels better, the shoulder feels better," he said Friday. "But it's kind of smoothing things out and going back to 100 percent."
It's been more than seven years since Chicago acquired Kopech in the Christmas 2016 trade that sent Chris Sale to the Boston Red Sox. Since making his major league debut with the White Sox in 2018, the hard-throwing right-hander has shown impressive potential, but has struggled to stay healthy.
Kopech missed the 2019 season after undergoing Tommy John surgery on his right elbow.
"Hell, I still feel like I'm 22," he said. "Maybe my body agrees with me but I still feel like a young kid in this game. I hope I have a few more years still young and strong. I'm going to do everything I can be as influential in this game as I can."
He certainly had an impact at some points last year. He had five starts in 2022 where he struck out at least five and allowed one hit or less. One of those was a dominant performance against Detroit when he struck out a career-high 11 in six scoreless innings, and he also had a gem at Yankee Stadium when he allowed one hit in seven scoreless innings.
But Chicago finished 81-81 in a disappointing season.
"You probably heard a lot of guys in the clubhouse saying that we have something to prove to ourselves, to the fans, to the league," Kopech said. "We should have had a better season last year. We have the talent, we always seem to have the talent. It's just a matter of coming together and doing the little things right."
First-year manager Pedro Grifol said he is looking for Kopech to stay healthy this spring.
"He has to go through the process, but he has the right pace to be where we want him to be at the start of the season," Grifol said.