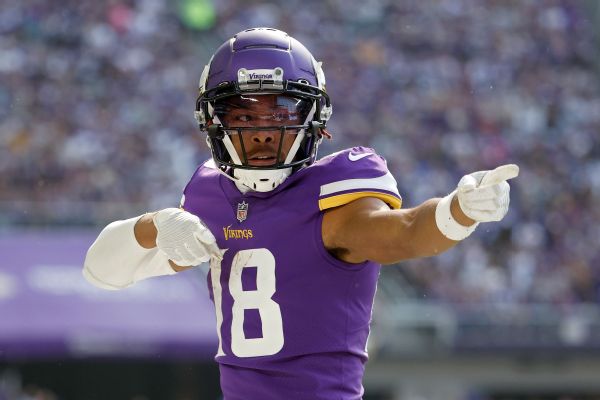 If there was any doubt about the Vikings' plans for All-Pro receiver Justin Jefferson, who became eligible for a contract extension after completing his third NFL season, general manager Kwesi Adofo-Mensah cleared it up on Sunday Tuesday.
"I don't want to be the GM of the Vikings without that guy on our team," Adofo-Mensah said while speaking to reporters at the NFL scouting. "So it's a high priority. We have to make sure we do it in the order we can do it, obviously, given all our other decisions we have to make."
Jefferson led the NFL in 2022 with 128 receptions for 1,809 yards, the sixth-highest total yards for a season in NFL history. His 4,825 career yards are the most ever for a receiver through the first three seasons of a career. But he has consistently played down the possibility of a huge contract extension, starting last summer when he said: "I don't have the money."
When asked in January about the possibility of a new contract, Jefferson said: "I mean if it comes, it comes. It comes with success. It's not really something that I'm really worried about or I'm in my mind settled on."
Asked at the time if he deserved to be the NFL's highest-paid receiver, Jefferson said: "That's not my decision. It is what it is. They pay me whatever they pay with me. They don't even really have to give me an extension this year. That's what it's all about. It's not really something I'm really worried about."
However, Adofo-Mensah indicated that the Vikings will do everything they can — whenever they can — to settle this season.
"He's trying to put the Minnesota Vikings on his back," Adofo-Mensah said. "He wants to win championships. When you have guys like that in your building, you do everything you can to not let them out."
Meanwhile, Adofo-Mensah did not directly respond when asked if running back Dalvin Cook, who has a $14.1 million salary cap for 2023, would remain on the roster.
"In the NFL you have a lot of restrictions, salary cap different things, and we're trying to figure out how we can work in those things," Adofo-Mensah said. "But you always start with a great player, a great leader, and we'll go from there."
Adofo-Mensah spoke more positively about bringing back defensive tackle Dalvin Tomlinson. The sides recently agreed to push out the void date on Tomlinson's contract to March 15, according to Field Yates of ESPN.
"We love Dalvin," Adofo-Mensah said. "When you have good players in your building, good people, you want to do everything you can to keep him. Obviously we have a lot of decisions to make so we are asking for a little more time to buy for ourselves, but … he's a great guy, a great player and we love him."