Ivins, Utah
CNN
—

In a bright-red county in a state allergic to regulations, growing grass outside new businesses is banned. Only 8% of home landscaping in this booming corner of Utah, about a hundred miles northeast of Las Vegas, can be grass.
And if any developers want to add another country club to this golf mecca, "I don't know where they would find the water," said Zach Renstrom, general manager of the Washington County Water Conservation District. "And I'm telling you, I know where every drop of water is."
Like many spots in the West, the combination of more people and less water makes for an uncertain future around St. George, Utah. While this winter's generous snowpack could buy precious time, the entire Colorado River system is at risk of crashing if the water gets too low at Lakes Powell and Mead.
But that reality hasn't stopped St. George from booming into the fastest-growing metro area in the U.S. two years in a row, according to the U.S. Census Bureau, and Renstrom says if Utah doesn't build a long promised pipeline to pump water 140 miles from . Lake Powell, their growth will turn to pain.
Meanwhile, Lake Powell – the country's second largest reservoir – is struggling to meet even the places it currently supplies water to. Last week it dropped to the lowest water level since the reservoir was filled in the 1960s, and since 2000 more than 150 feet have been lost.
"If we stop building water, that action would lay off about 20% of our county," Renstrom said. "We have made a commitment that we will make sure that we are good stewards of every drop of water that is already here and we make sure that we are using it. But when we look at our long-term growth and you know how much water we need, (the Lake Powell Pipeline) is still in our long-term plan."
Washington County said it consumed about 50,000 acre feet of water in 2022, all supplied by the Virgin River that flows into the Colorado system and out of taps from Vegas to LA. An acre-foot is the amount of water needed to cover one acre to a depth of one foot – about 326,000 gallons.
A plan to pump 80,000 acre-feet of water a year from Lake Powell to Sand Hollow Reservoir passed the Utah legislature in 2006 and met immediate opposition from environmental groups concerned about fragile desert ecosystems. Fourteen dry years later in 2020, the Trump administration tried to fast-track an environmental review of the project but water managers from the other six Colorado Basin states rallied to block it.
"The system is crashing and to be honest, it's kind of unfathomable to think of a diversion of that magnitude that would serve 200,000 people in one county in southern Utah right now. The water is not there," Matt Rice, Southwest Regional Director of the nonprofit American Rivers told CNN. "We're concerned about every molecule of water we can deliver to Lake Powell and Lake Mead to protect critical hydroelectric infrastructure."
While in legal limbo, the controversy made fresh headlines in January when the mayor of the small Washington County town of Ivins called it "the dream of the Lake Powell pipeline" during a public meeting.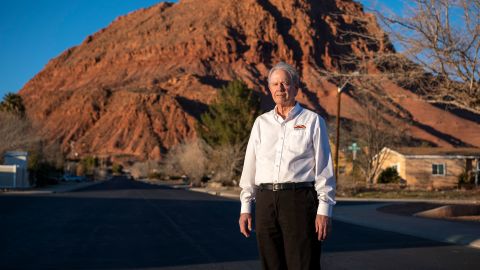 "Shame on me," Ivins Mayor Chris Hart laughed at his words as he welcomed CNN to Ivins, proudly pointing out the desert xeriscape without irrigation around the new city hall.
"The motivation for that opinion is that there are many obstacles in front of this project and it continues with the shortage that affects all the basin states," explained Hart. "There are groups that believe we can work our way out of it through conservation and other means. The studies show us that the Lake Powell pipeline will be necessary to continue development in the county. So, I really used that word tongue-in-cheek, because the bottom line is that it's an essential part of our plan."
Hart added that it is Utah's turn, following growth in California, Arizona and Nevada. "They've had a big growth spurt over the years and the water has been made available for them to do that. And now we are here," he said. "I think our perspective, from the state of Utah, is that we are entitled to that, to our share, whatever it is," he said.
Hart and Renstrom are evangelists for water conservation in a county that is allergic to rules and regulations and where 74% voted for Donald Trump in 2020. "We're a red state and in Utah, this is a red county. And so we like our independence, we like our freedoms," Renstrom said. "If I give in and say, 'I just want more government regulation,' it's dead right away."
But Renstrom managed to help pass some of the toughest water laws in the West. "It's creating a lot of friction," he said, "because we're asking people who have had a certain kind of lifestyle or a certain way of living and asking them to change that, to make sure that we have extra water. our economy. And it's hard."
Rice at American Rivers says a change in mindset — especially among Eastern transplants ignorant of drought survival — is key to future desert survival. Instead of focusing on the pipeline, he hopes that derelict leaders like Mayor Hart will take advantage of the unprecedented federal funding for water reclamation projects in the Bipartisan Infrastructure Law and the Inflation Reduction Act.
"There's about $12 billion that could be deployed in the Colorado River Basin, not just for urban needs but for agricultural needs and watershed restoration," he said.
Hart admitted that item was on the wish list.
"One thing that we haven't done much here that Vegas has become masters at is recapturing the water that flows through our buildings and running it through a treatment plant and then recycling it," Hart said. "So the few raindrops that we get, if we can use them four or five times, that's a whole different thing than when the raindrop comes, you use it and then it goes down the river and he's gone."