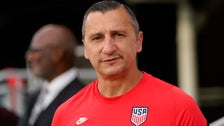 NEW YORK (AP) – USA women's coach Vlatko Andonovski earned 27% as much as men's coach Gregg Berhalter in the year ended March 31, down slightly from 28% the year before.
Andonovski earned $446,495, according to a US Soccer Federation tax filing released Monday, including $50,000 in bonuses for the Americans' third-place finish in the Tokyo Olympics. Berhalter earned $1,641,398, including $300,000 in bonuses during a year that included the 2021 CONCACAF Gold Cup title.
Berhalter remained the highest paid employee of the Federation. In the previous fiscal year, Andonovski earned $357,597 and Berhalter $1,291,539.
Earnie Stewart earned $799,380 as USSF athletic director, almost identical to his $799,699 the year before. Men's general manager Brian McBride earned $346,494, up slightly from $338,417.
Women's general manager Kate Markgraf was on $500,000 for the second year in a row. She also holds the title of head of women's football and her duties include interaction with FIFA, CONCACAF and national associations.
CEO Will Wilson earned $642,348 while his predecessor, Dan Flynn, was listed at $251,886 as an ambassador and former official.
In a massive management turnover, Wilson left on 31 October, McBride on 31 January and Stewart on 15 February.
Berhalter's status after his contract expires on Dec. 31 is unclear. He is under investigation for an allegation of domestic violence in 1991. Anthony Hudson, one of his assistants, was appointed as interim coach last month.
Chief commercial officer David Wright earned $516,257 and Pinky Raina, chief financial officer and chief operating officer, earned $466,864. Chief legal officer Karen Leetzow earned $410,714.
Cindy Parlow Cone, president of the USSF, does not receive a salary. A bylaw amendment to establish a $125,000 annual salary for the Federation president failed to gain approval at the Federation's annual general meeting last March, receiving 58.91% approval and falling short of the required two-thirds. A similar proposal is on the agenda for this year's meeting, scheduled for March 16-19 in San Diego.
John Cone, her husband, received $50,280 in pay and expense reimbursement for his work with the USSF coaching education staff, down from $112,606 the previous year.
Players on the women's team included Emily Sonnett ($386,742), Becky Sauerbrunn ($379,067), Carli Lloyd ($376,827, listed as her married name, Carli Hollins), Kelly O'Hara ($375,177) and Alyssa Naeher ($373,327) among the listed players. .
The USSF received $29.9 million from Soccer United Marketing, the marketing arm of Major League Soccer as part of an agreement that expired last December 31.
Legal fees included $4.9 million for Lathan & Watkins, who represented the USSF in the lawsuit over equal pay for women's players, and $1.4 million for Morgan Lewis & Bockius, who represented the USSF in collective bargaining.
Revenue was listed at $122.3 million and operating expenses at $145.1 million, including $24 million to settle the lawsuit by female players and $2 million for COVID-related expenses.
The federation said it had $108.8 million in so-called program service revenue, including $45.8 million from sponsorship and $44.8 million from the national team's international matches. That was up from $39.98 million in sponsorship and royalty income in the year ending March 2021 and $3.5 million from the national team's international games, which were cut sharply during the pandemic and played in front of no or no fans. limited fans.