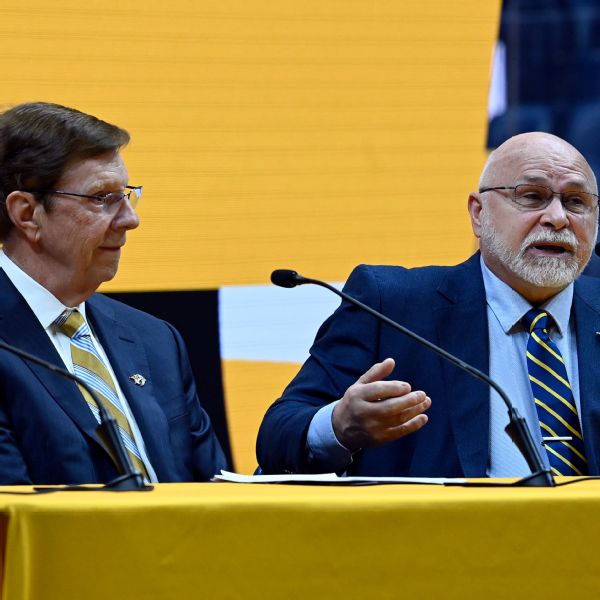 Barry Trotz is confident he can make the transition from coach to general manager. And the Nashville Predators are ready and willing to find out.
"I thought long and hard about this," Trotz said in his initial news conference Monday, a day after the team announced he would replace longtime general manager David Poile. "How coaches work, how managers work — you have to work together, and I always tried to do that with David. He mentored me."
Whether it was Poile making the calls or Trotz behind the scenes, Nashville was plenty busy over the weekend. The Predators made three trades, gaining some draft capital and signaling a move toward the future. But Trotz plans to reset rather than rebuild.
"We're resetting, we're gathering assets," Trotz said. "There are some good players. He could be a first-round pick in Milwaukee (Nashville's AHL affiliate) next year, so people are coming."
Trotz, 60, is keeping an open mind about Predators coach John Hynes, who is 121-86-16 in his fourth year in Nashville.
The Predators are six points out of the second wild card spot after falling in the first round of the playoffs the past three seasons.
"I've been coaching for a long time, so I know when a team is well trained," Trotz said. "John is a really good coach. The main thing for me is from now until the end of the season, I'm just going to evaluate."
Nashville will host the NHL draft for the second time in June.
"We haven't been able to get that franchise-changing center ice man," Trotz said. "We were not so poor to get and there is some luck. There are some guys who changed franchises that were drafted later."
Trotz will get a chance to help shape the future of the Predators at the draft with his input, but he cautioned that he needs patience.
"It's not like football," Trotz said. "Football, guys coming out of college. They are either 22, 23, 24, 25, and they are men. We are drafting 18-year-olds."
Trotz said it takes six years for many draft prospects to make an impact.
Poile retired as the NHL's winningest GM with 1,519 wins in 39 years, but Nashville has won just one playoff series since making the Stanley Cup Final in 2017.
"I have two loves in my life: my family and hockey," said Poile, 73 years old. "I'm so lucky."
Poile added that Trotz turned down several coaching jobs during the offseason, and during that time, he told Trotz that this would be his last season as GM.
"Around, I would say, Christmas time, he said I'm not going to coach anymore, and he said I could talk to you about being a candidate for the GM job," Poile said. "And from that time it went pretty quickly with him and I talking and ownership getting involved, and we probably had that done by the middle of January."
The Associated Press contributed to this report.