The laser cutter and engraver brand xTool, created by leading robotics manufacturer Makeblock, was launched to enable greater creativity and craftsmanship and is quickly becoming one of the best around. If you're looking to take your projects to the next level xTool has some of the best laser machines for home and studio right now.
xTool won a Red Dot Design Award for its xTool M1 laser cutter and engraver, and in my xTool M1 review I found this to be a very approachable and useful crafting machine. But it has some limitations, for example its 10 watt diode laser can't match the speed and accuracy of the competition Glowforge Pro, which uses a 45 watt CO2 laser (read my Glowforge Pro review for hands-on experience).
The new xTool P2 is a pitch to catch up with Glowforge and offers the same design sensibilities as the xTool M1 but with the power and speed of the higher priced Glowforge laser cutters.
Below I look at the main features of the new xTool P2, which is scheduled to be released next March. (To find out what's available now read my guide to the best laser cutters.)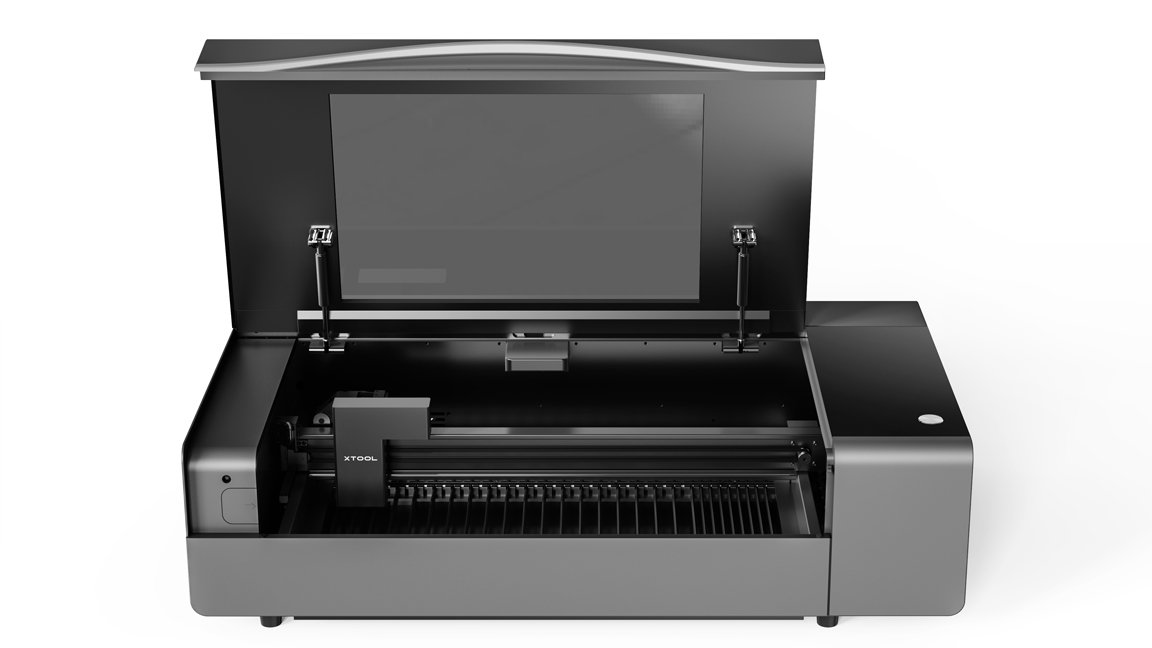 The new xTool P2 is an interesting machine and will offer a 55 watt CO2 laser, making it the most powerful laser cutter for home use when it launches. But the xTool P2 will be more than just this high-spectral laser, as it will offer an automated pass slot, two 16MP cameras for high-definition precision, the ability to engrave curved materials and rotary engraving. It really sounds like this laser cutter could do it all.
I've detailed some of the most exciting new features planned for the xTool P2 below.
Curved engraving
I love the sound of this new feature – yes, you will be able to engrave curved materials with the xTool P2. This new laser cutter will create a 3D model of a curved object placed in the design space and automatically adjust the focal length of the laser during the engraving process. It means you can treat curved and contoured materials just as you would smooth surfaces.
Automatic password
One of the best features of xTool's rival, the Glowforge Pro, is the passthrough slot that enables you to cut and engrave large pieces of wood and acrylic. The new xTool P2 takes that idea but puts a new spin on it; The xTool P2 will feature an automatic passthrough using 'Roll Conveyor Feeder' to feed through extra-large lengths of material for long projects, great for creating lamps and even furniture designs. (The passthrough function is available with or without the Roll Conveyor Feeder.)
Dual camera system
The inclusion of two 16MP cameras will enable you to craft more precisely. The live preview displayed on your laptop will provide autofocus for ease of use and you can drag and drop diagrams and designs into the workspace and it will update and focus automatically (a similar system with it applied to the current xTool M1 ).
The dual camera system means that one will view the entire project in the design space, while the second camera can track the position of the laser head and take photos for more accurate engraving.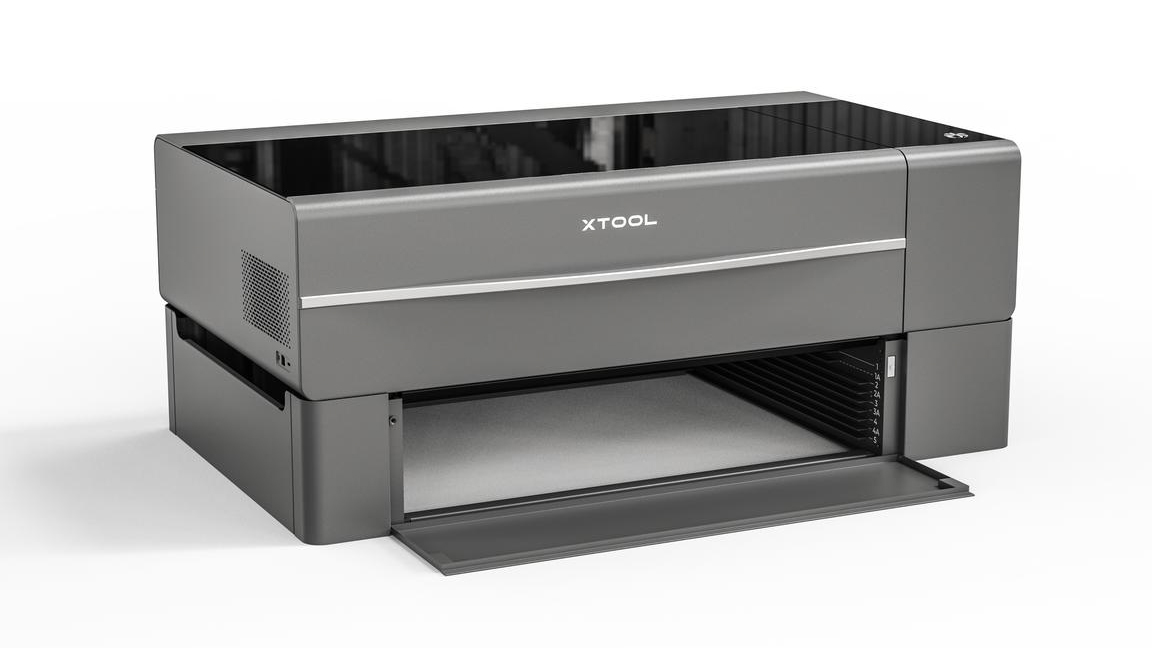 Some of the neat ideas planned for the eye-catching xTool P2 include tweaks to the brand's app for importing and processing designs, one of which is the option to create batch projects.
dimensions xTool P2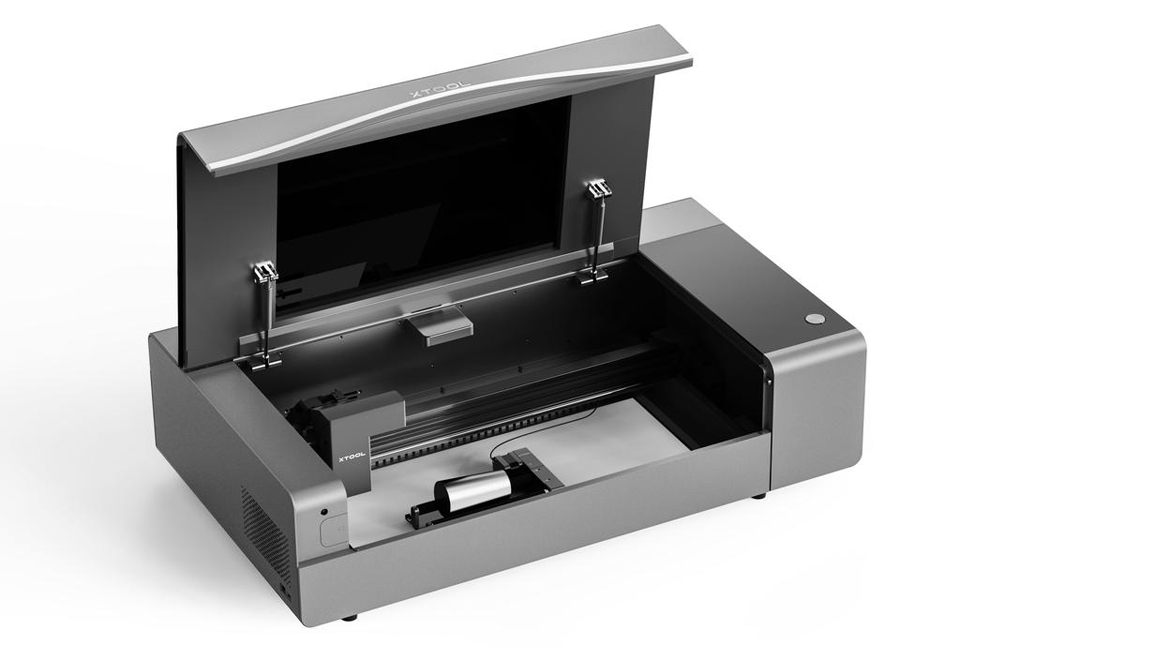 Work space 25″ x 13″ (640 x 330mm)
Amount of processing 23.6″ × 12.1″ (600 × 308mm)
max. workspace height with tray 2.5″ (64mm), without tray 3″ (75mm), with riser base 7.9″ (200mm)
The xTool P2 will intelligently recognize shapes in the camera and then fill more objects with the same pattern and engrave everything in one go – ideal for pro crafters. (It also offers a maximum bit engraving speed of 600mm/s and a vector engraving speed of 300mm/s, again great for pro makers.)
xTool has also learned some lessons from the current xTool M1. For example this new laser cutter will come with an air assist module integrated into the laser (like the Glowforge Pro) and built in slats for better air circulation to avoid scorching. Both of these come as accessories on the xTool M2, and even on this less powerful diode laser they are required, so it's nice to see the new xTool P2 come with these features as standard.
The xTool P2 also has a built-in safety, making it a good laser cutter to use at home. For example, this new machine will have an automatic lock that engages when you press the start button and stays locked until the project is finished. (On the side of the xTool P2 there is an emergency stop button for quick shutdown if needed.)
Laser cutting and engraving machines are becoming more accessible than ever and xTool has taken steps to ensure that their machines are affordable, ensuring that the current xTool M2 is one of the best Cricut options, for example. The price of the xTool P2 has not been revealed yet, so it will be interesting to see if xTool can deliver a high-end CO2 laser cutter for less than a similar Glowforge (see my guide to the best Glowforge machines for more details). We're about a month away from release, so I'm hoping to get the price very soon – visit the xTool website (opens in a new tab) for more news.
Read more: