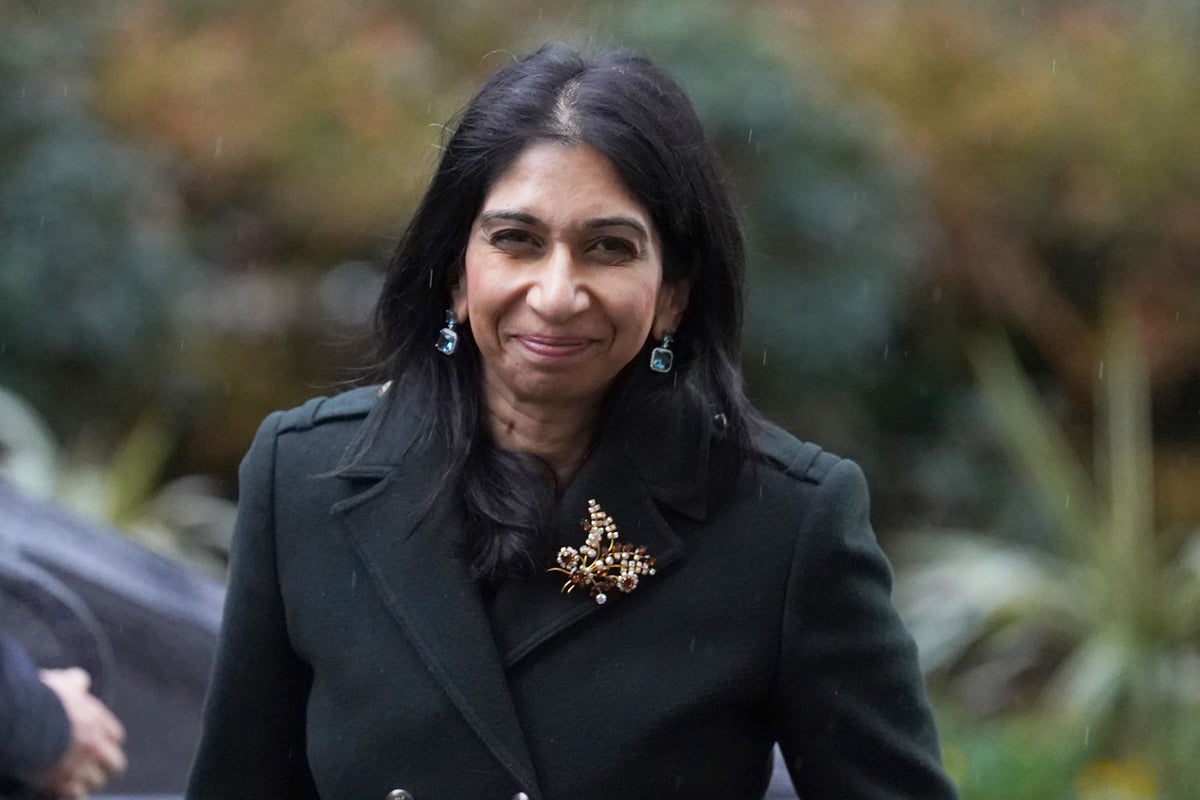 Home Secretary Suella Braverman has hinted she could quit amid concerns among some Tory MPs that Rishi Sunak is ceding too much ground to the EU in talks on the Northern Ireland Protocol.
Mrs Braverman, who resigned as a minister in Theresa May's government over her Brexit deal, said she was confident the Prime Minister was immediately committed to protecting Northern Ireland's place in the United Kingdom.
Her comments came amid reports that some ministers are prepared to walk out if they feel Mr Sunak has given away too much to secure the deal with Brussels.
In an interview with GB News, Mrs Braverman said: "I don't think we need to be talking about quitting.
"I have taken a very strong position in the past because the terms of previous agreements were unacceptable.
"I do not support selling out of Northern Ireland and allowing the EU a foothold in the United Kingdom.
"It is absolutely vital that we protect what we have gained since the Brexit vote, that we move forward as a United Kingdom where the integrity of our Union is protected and we properly take back control.
"I know the Prime Minister has that objective."
Mrs Braverman denied Mr Sunak had abandoned legislation going through Parliament to enable ministers to unilaterally override the protocol – a move she described as an "important tool" in negotiations with the EU.
"That's not my opinion. I know the Prime Minister is fully committed to resolving this issue, regardless of the implications," she said.
Her comments came as Downing Street indicated that the Government would not drop the Protocol Bill – currently stalled in the House of Lords – unless there was a new deal with the EU.
The Prime Minister's press secretary told reporters: "It is a long standing position of the Government that we want to resolve the issues in partnership with the EU through negotiation rather than legislation at home.
"In the absence of that negotiated solution, the Protocol Bill is an important piece of legislation to ensure that we protect Northern Ireland's position in the Union."
In her interview, Mrs Braverman said the Government was determined to work with the Democratic Unionist Party (DUP) which is refusing to return to power sharing in the Stormont Assembly unless there is a fundamental change in protocol.
"We have always worked closely with the DUP. They are united. They speak for a significant proportion of the public in Northern Ireland and they need to be across the board," she said.
"Ultimately Stormont will only function if the DUP supports any proposal."