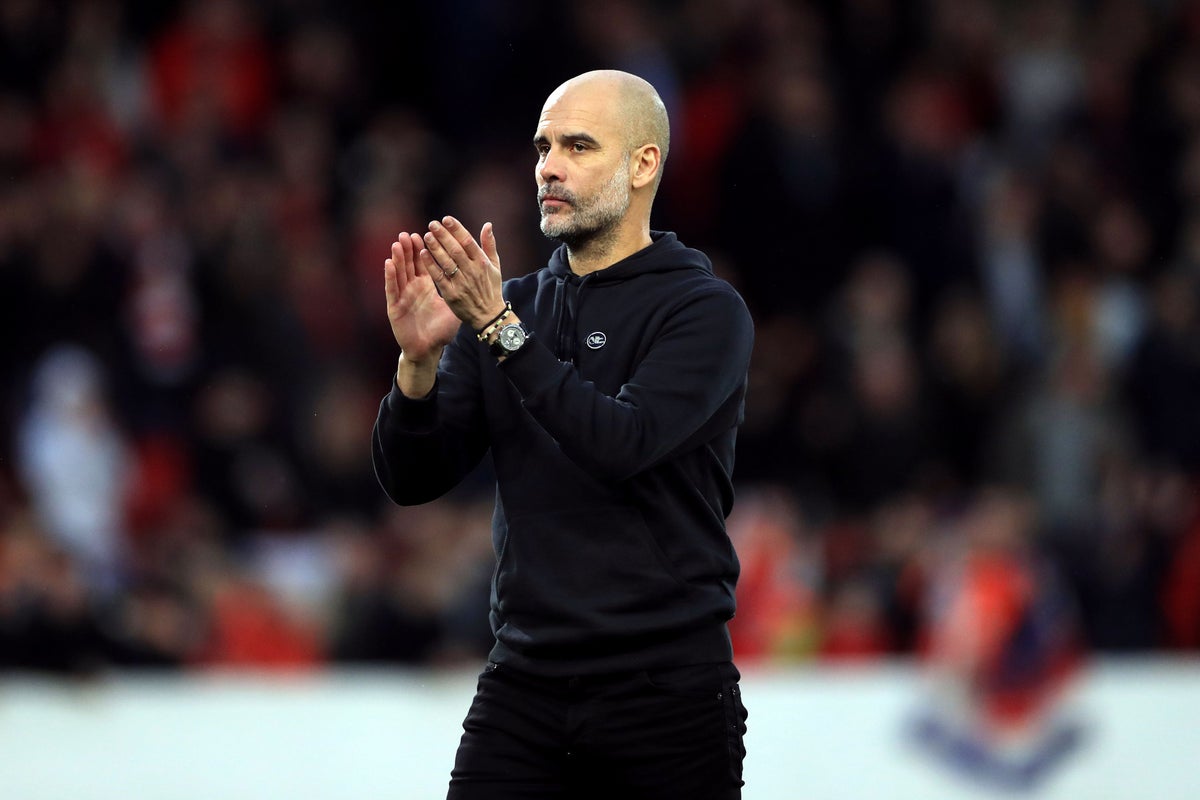 Manchester City boss Pep Guardiola says his side have only themselves to blame after dropping crucial points in the Premier League title race at Nottingham Forest.
City looked set to return to the top of the table after Arsenal's lunchtime win over Aston Villa when they took the lead through Bernardo Silva's first-half stunner.
But a string of missed chances after the break, including two from Erling Haaland, proved costly and Chris Wood's first goal in the 83rd minute earned Forest a point.
The draw, which the hosts should not have left, means the Gunners are now two points ahead of City at the top of the table with a game in hand.
"It was a great performance, we played very well but we didn't score," said Guardiola. "At this level you have to score and that's why we dropped points.
"The first half should have been 2-0 or 3-0 already, we conceded one shot on target and dropped points. We are sad and disappointed but the way we played was really good.
"We missed the chances we missed because today was not our day to win the game.
"We missed goals that were one meter from the goalkeeper, not just one, but a few. That's why we didn't win. What can I say?
"We played a very good game. We failed the second goal and then after the second one would have reached the third. We have to look at ourselves, we can do better.
"Today we missed too many chances. It happens in football. We were much better than the opponent today but we have to score a goal. We didn't do it so we have ourselves to blame."
Guardiola picked up a yellow card for his furious reaction to Graham Scott's decision not to award a foul – and likely red – card when Haaland went down under a challenge from Joe Worrall and through the goal.
"We make no excuses. I could say a lot of things that happened this season," he said. "I'm not a man here to talk about things we can't control.
"I don't know, it looks like the last guy (Haaland) went to the keeper and fell down. Why would you fall down when you are one on one on the keeper.
"I was complaining to the fourth official, why would Haaland stop when he was one-on-one to score a goal and then I got a well-deserved yellow card."
Forest's point was reward for staying in the game and it was important on a day when Everton, Southampton and Bournemouth all won at the bottom of the table.
Boss Steve Cooper, who said City are the "best team in the world", believes Silva's goal should be ruled out for a kick against Worrall in the build-up.
"I was disappointed with the goal, but I'm very disappointed with VAR, Joe Worrall kicked in the head," he said. "For me it's clear dirt anywhere else on the pitch. They have to pick up on that.
"I'm not denying that they didn't have the ball and the chances, but VAR let the referee down there, I'm not sure who it was.
"All weekend they needed a good one and it's another talking point for them. We are disappointed about that."
On his team's performance, he said: "We knew the game was going to look the way it did, we planned for it to look the way it did.
"You don't say it before the game but you are playing against an incredible team, for me they are the best team in the world at domestic level, you have to sacrifice the ideals in the game to try to get something out of it. .
"That's how it was, we implemented a plan to stay in the game as long as we could. They had a lot of the ball and territory but we defended well. We managed to stay in the game and got the equaliser. We must be happy.
"It's a positive result and I hope it helps."