Private Residence at zU-studio in Vondelstraat Amsterdam
International architectural office designs zU-studio 'No. 1 private residential', a contemporary penthouse located in one of Amsterdamon the most famous streets, Vondelstraat. The interior arrangement concept follows the studio's unique spatial perspective that offers a variety of sequences and visual relationships. Several structural elements define the space that provides individual and collective living functions. Noble and robust materials build custom fit throughout the interior, such as the central geometric amphitheater woodenand the conjoined bookshelf-staircase and a bench-like seating area made of it steel. The central framework is located under a large skylight taking advantage of natural light and connecting all zones and levels of the residence maintaining both visual continuity and circulation.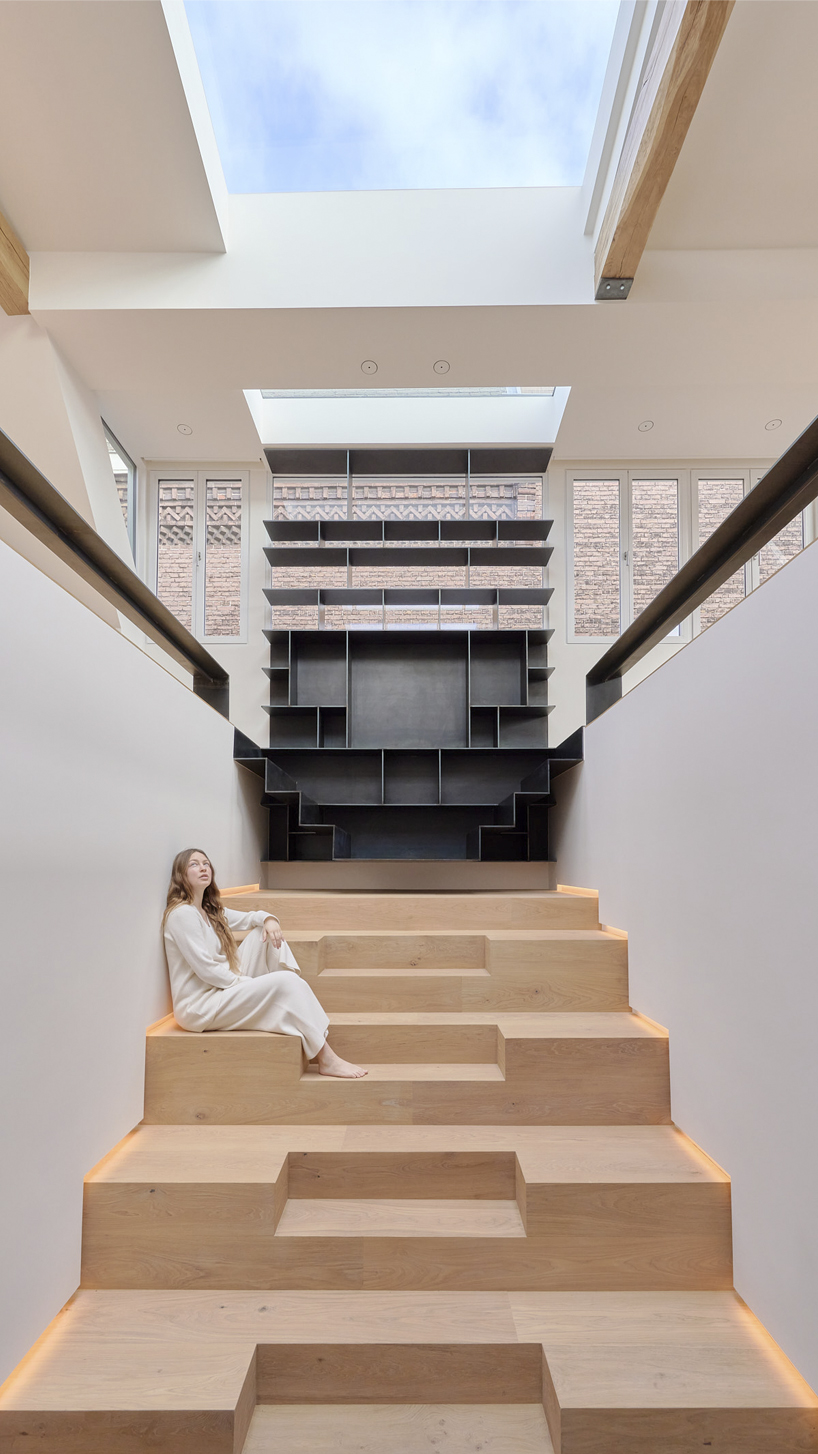 All images of Frans Parthesius
steel, wood & marble formed the structural fittings
All furnishings of the penthouse apartment are customized and fitted into the space organized by the structure and the internal zones. The central amphitheater extends between the two floors of the residence as a wooden staircase and two long steel platforms wrap around it continuing to the prominent geometric bookcase at the top of the steps. The skylight spreads light throughout the entire interior and creates an open visual passage through the volume.
The creative team it creates two levels and connects them with the series of architectural stairs that give different uses to a transitional space, for example a projection screening stand, or a reading and work space. The top floor arranges common living functions together with a minimal fireplace and a modular sofa that stands in front of a large wooden bench and under the panoramic window. The off-white ceiling reveals three solid wooden beams that reflect the structural order of the roof. There are three private rooms in the lower volume and the master bedroom and bathroom feature marble and wood throughout.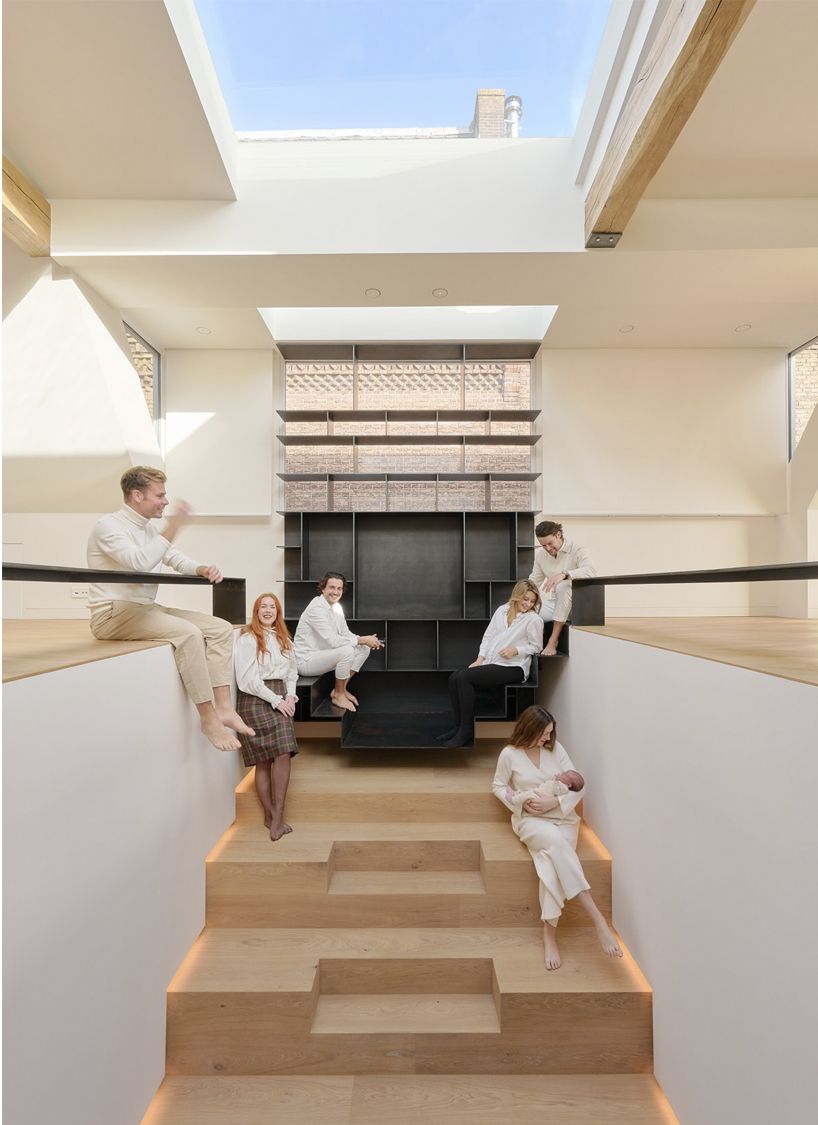 Noble and strong materials build custom fit throughout the interior

the central geometric amphitheater made of wood is connected to the bookshelf and steel platforms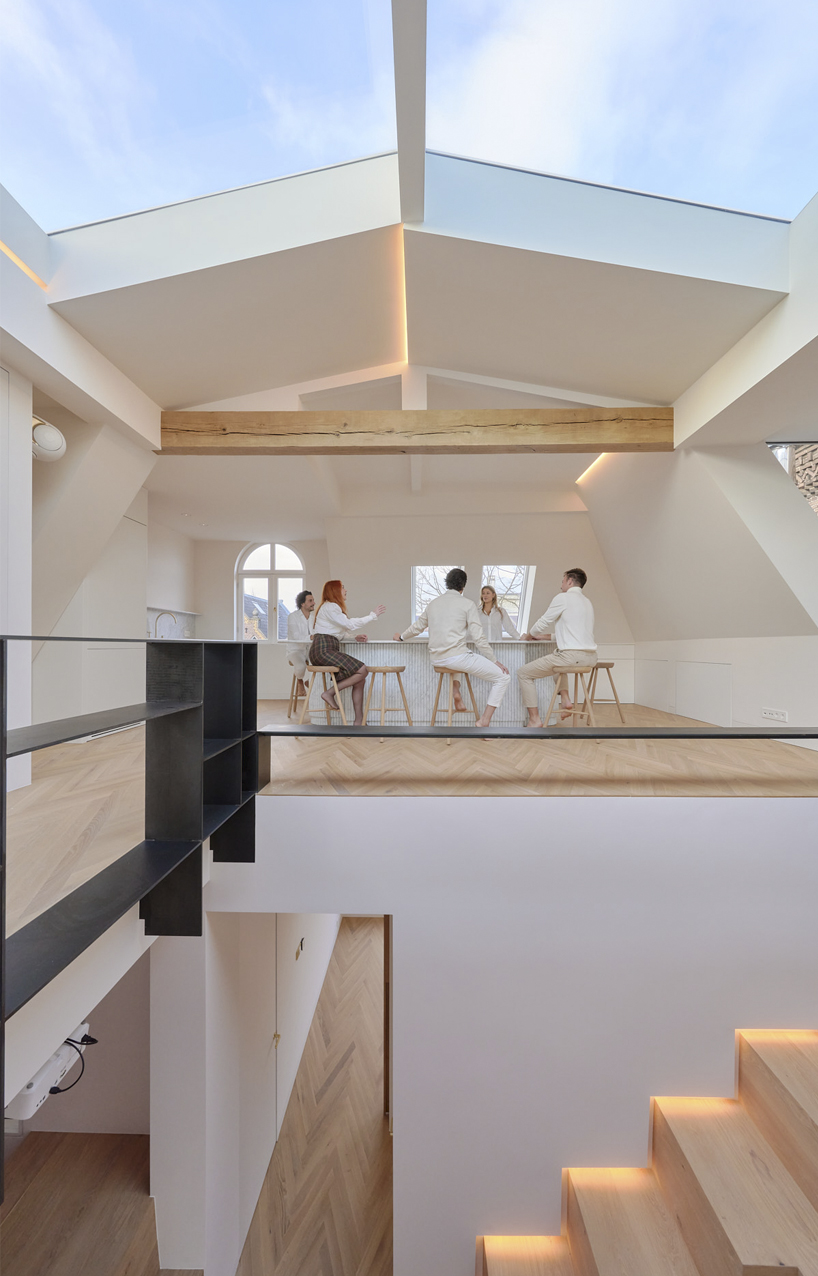 the stepped form in the center is set under a large skylight that takes advantage of natural light and connects all zones