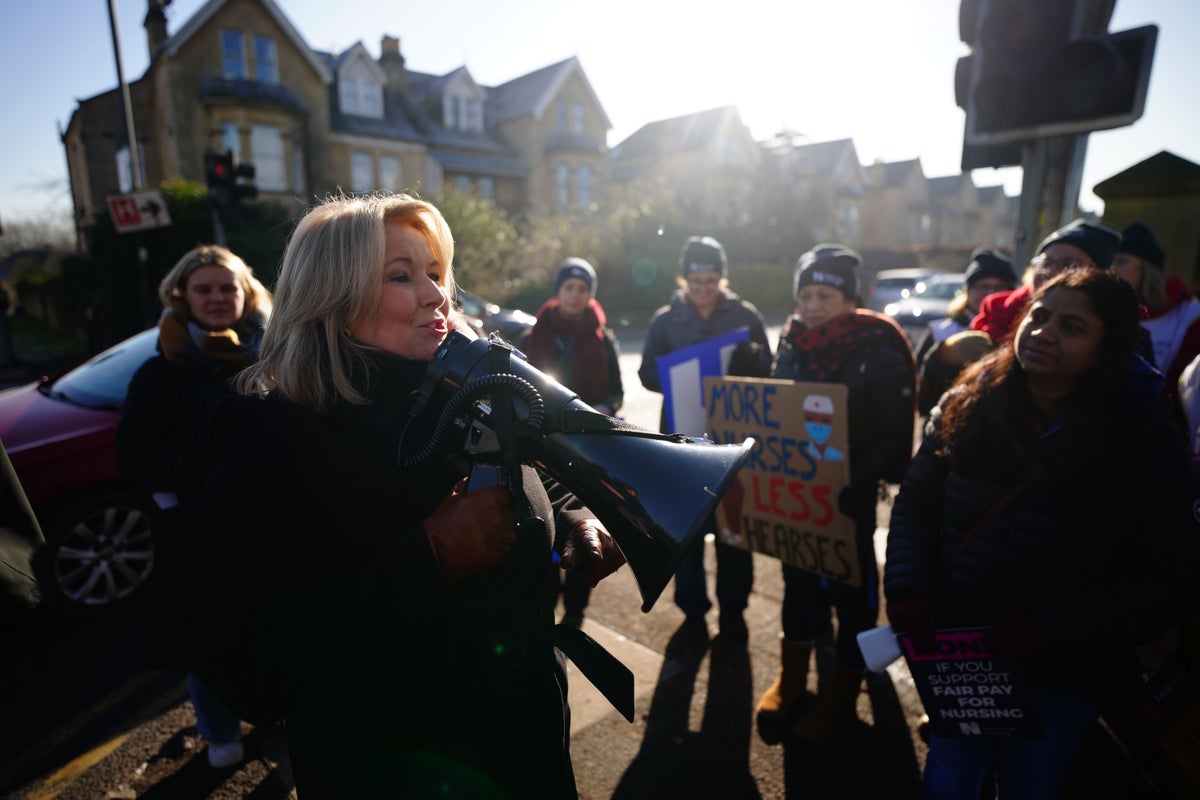 Nursing officials are to meet the government to begin "intense talks" to end strikes amid bitter pay dispute.
The Royal College of Nursing (RCN) has agreed to suspend major strike action while they engage in talks on "pay, terms and conditions, and productivity-enhancing reforms".
Health Secretary Steve Barclay is due to meet representatives of the RCN on Wednesday.
The general secretary of the RCN, Pat Cullen, said on Tuesday evening that she is "confident" about reaching an agreement on pay for nurses.
She told Sky News: "I am delighted to say that the Government has agreed to enter into intensive talks with the Royal College of Nursing.
"I am confident that we will be able to reach an agreement on a fair wage deal for our nursing staff.
"The finer details need to be worked out but I am very confident of the Prime Minister's intervention, and we will certainly, as we have always said, put our plans on the table.
"They can put their plans on the table but I am hopeful that we will come out with a fair pay arrangement for our nursing staff."
Ms Cullen said: "I'm going into this in good faith, I think this is a significant step forward, every nurse in England today can breathe a sigh of relief and, more importantly, so can our patients.
"So, let's do it tomorrow, I'm very confident in the move from the Government and we will certainly do our best to ensure that a fair wage deal is found for all our nurses."
The next industrial action for nurses was on 1 March when they planned to strike continuously for 48 hours.
Nursing staff from emergency departments, intensive care units, cancer care and other previously exempt services would also be included in the act.
A joint statement from the Department of Health and Social Care (DHSC) and the Royal College of Nursing said: "The Government and the Royal College of Nursing have agreed to enter into a process of intensive talks.
"Both sides are committed to finding a fair and reasonable settlement which recognizes the vital role of nurses in the National Health Service and the wider economic pressures facing the UK and the Prime Minister's priority of halving inflation.
"The talks will focus on wages, terms and conditions, and reforms to improve productivity.
"The Health Secretary will meet the Royal College of Nursing on Wednesday to begin discussions.
"The Royal College of Nursing will call off strike action during these talks."
It comes as the department submitted its evidence to the NHS Pay Review Body for the 2023/24 financial year.
Officials said a 3.5% pay rise for staff would be affordable for the UK Government.
Unite said the Government's proposal on NHS pay will intensify strikes across the health service.
Secretary General Sharon Graham said "This must be a sick joke. On the day figures show that the country can afford to meet NHS workers' pay expectations, the Government is trying to cut wages for another year in the NHS.
"This will only accelerate the spring of NHS strikes. This Government either cares about our NHS, its staff and their patients, or has a brighter future in mind for the service."
However, the Financial Times reported that the Government is looking at a possible 5% pay rise for public sector workers after the Treasury received a £30bn windfall.
The Treasury suggested in a private memo, seen by the FT, that public sector awards of up to 5% for 2023-24 would be "low risk" to set a benchmark for high long-term pay growth in the private sector.
Elsewhere, the British Medical Association (BMA) is meeting with Department of Health and Social Care officials on Wednesday after junior doctors' members voted overwhelmingly in favor of taking industrial action.
It is understood that Mr Barclay will not be present.
Speaking ahead of the meeting, Dr Rob Laurenson, co-chairman of the BMA's Junior Doctors committee, said: "If a meeting of this importance continues without the Minister at the helm, it is clear that the This government is for doctors and for doctors. their patients."
It comes as Education Secretary Gillian Keegan wrote to teachers' unions inviting them to "formal talks on pay, conditions and reform" on the condition that strike action be called off next week.
The Department for Education said it hoped to find a "fair and reasonable settlement" to resolve a pay dispute that could see more people walk across England and Wales in the coming weeks.
While this was welcomed by education groups, the National Education Union (NEU) said there was "nothing of substance" in the letter which suggested an end to strikes planned for next week.
NEU members have regional walkouts planned for February 28, March 1 and March 2 – and national strike action planned for March 15 and March 16.
Kevin Courtney, joint general secretary of the NEU, said: "We are willing to talk at any time but there is nothing of substance in the Secretary of State's letter to suggest that we should call off strikes for next week."
Paul Whiteman, general secretary of the school leaders' union NAHT, said: "We welcome the invitation to intensive talks with the Department for Education over the coming days in an attempt to resolve this dispute.
"We fully expect that discussions on pay will be central to those meetings and a fair offer will be key to moving beyond the polite discussion so far to a point where we can expect tangible progress towards an agreement ."
Referring to the announcement of the Government's pay talks with several unions, Paul Nowak, General Secretary of the TUC, said: "At long last it looks like the Government is going to the table after months of dragging their feet.
"It has always been up to them to resolve these disputes.
"But we will not accept the Conservatives taking a pick'n'mix approach to pay or playing divide and rule with public sector workers.
"They must confirm that they will negotiate seriously with all unions that are in dispute, without preconditions. Everyone who keeps our public services running deserves a fair play."