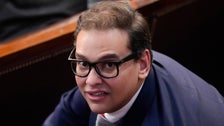 Rep. Nick LaLota (RN.Y.) on Monday called for another New York Republican Rep. George Santos to be expelled from Congress.
"I have not seen a more obvious case of electoral fraud in my seven years as electoral commissioner than the fraud perpetrated by George Santos," read Twitter post from LaLota, who previously served on the board of elections of Suffolk County, New York.
He continued: "I am for electoral integrity. I am going to expel George Santos."
House Speaker Kevin McCarthy said last month that he would only ask Santos to resign if he was found guilty by the House Ethics Committee, which plans a public meeting on Tuesday for the start of the new Congress.
LaLota is one of five vulnerable New York Republicans the Democratic Congressional Campaign Committee is targeting with a new week-long program campaign announced Monday.
Although the Democrats performed better than expected in the November midterm elections, the party received disappointing results in New York.
The DCCC is pulling in LaLota, Anthony D'Esposito, Mike Lawler, Marc Molinaro and Brandon Williams for their decision to accept campaign contributions from Santos.
Only two of them, Molinaro and D'Esposito, returned the money when Santos' lies came to light. The targeted billboards ask why they ever took money "from the crook George Santos."
"New Yorkers want Santos out of office, and the meaningless words of these congressmen are not enough to make up for their failure to take action to hold their campaign donor accountable," said DCA spokesperson Nebeyatt Betre in press release announcing the billboard campaign.
Voters in New York also seem to be getting tired of Santos.
A new Siena College Research Institute survey showed that over 65% of voters in the state think Santos should resign, according to Politico, with majorities of Democrats, Republicans and Independents calling for him to resign.
Santos has come under fire from The New York Times and subsequent reports revealed that he falsified many aspects of his work and life. It is now subject to several investigations.