Five thousand hand-knitted bright orange fish hang from the ceiling. Beneath them is a colorful world of coral and, if you look closely, a friendly lobster. Peeking through a collection of vibrant purple pompoms, a bright red coral sits atop the underwater vegetation. Each piece of art, which imitates the ecosystem of the sea, is unlike another piece.
Unexpected details and colors create Mulyana's "Modular Utopia". But as you go out of the installation called "Ocean Wonderland" and through the museum space, the colors start to fade. The purple turns gray and the life that once flourished with joy and adventure blends into the white walls of the museum, falling out of sight.
The new exhibition at the USC Fisher Museum of Art is Mulyana's first solo show in Los Angeles. The Indonesian artist, who is known for knitting and crocheting marine life from upcycled materials such as used clothes and plastic bags, creates a new utopia that brings viewers to action at the same time. His practice is focused on sustainability and communities, paying attention to the fading colors of the world we live in.
During his first snorkeling venture at the Gili Islands, Mulyana was stunned to see how the coral looked gray due to pollution. "It was very scary," he says.
He reflects on this discovery in "Modular Utopia," which shows the effects of pollution on underwater life by contrasting such a beautiful thing with a decaying environment. The title of the exhibition comes from the modular nature of the pieces: Each section of coral can be pulled apart and rearranged, so that it can be introduced bits and pieces into new displays.
He began his journey to create these modular landscapes with pompoms. The technique he used for scarves grew beyond clothing and into a creature: the mogus.
In 2008, Mulyana created his first mogus, or monster, character, naming him after a combination of his family name and the Indonesian word for octopus. As we passed through the exhibition space during the installation, Mulyana pulled out of his bag that first lie: a small gray tentacled creation with a single eye and a pink mustache.
Also on display are "Si Koneng" and "Adikara" costumes presented on mannequins. The characters are extensions of the coral reef, rising from the ground in green and yellow tones. They not only express feelings of isolation and freedom, but also continue the theme of sustainability: "Si Koneng" is made from used yellow plastic bags and is woven into flowing curves and layers.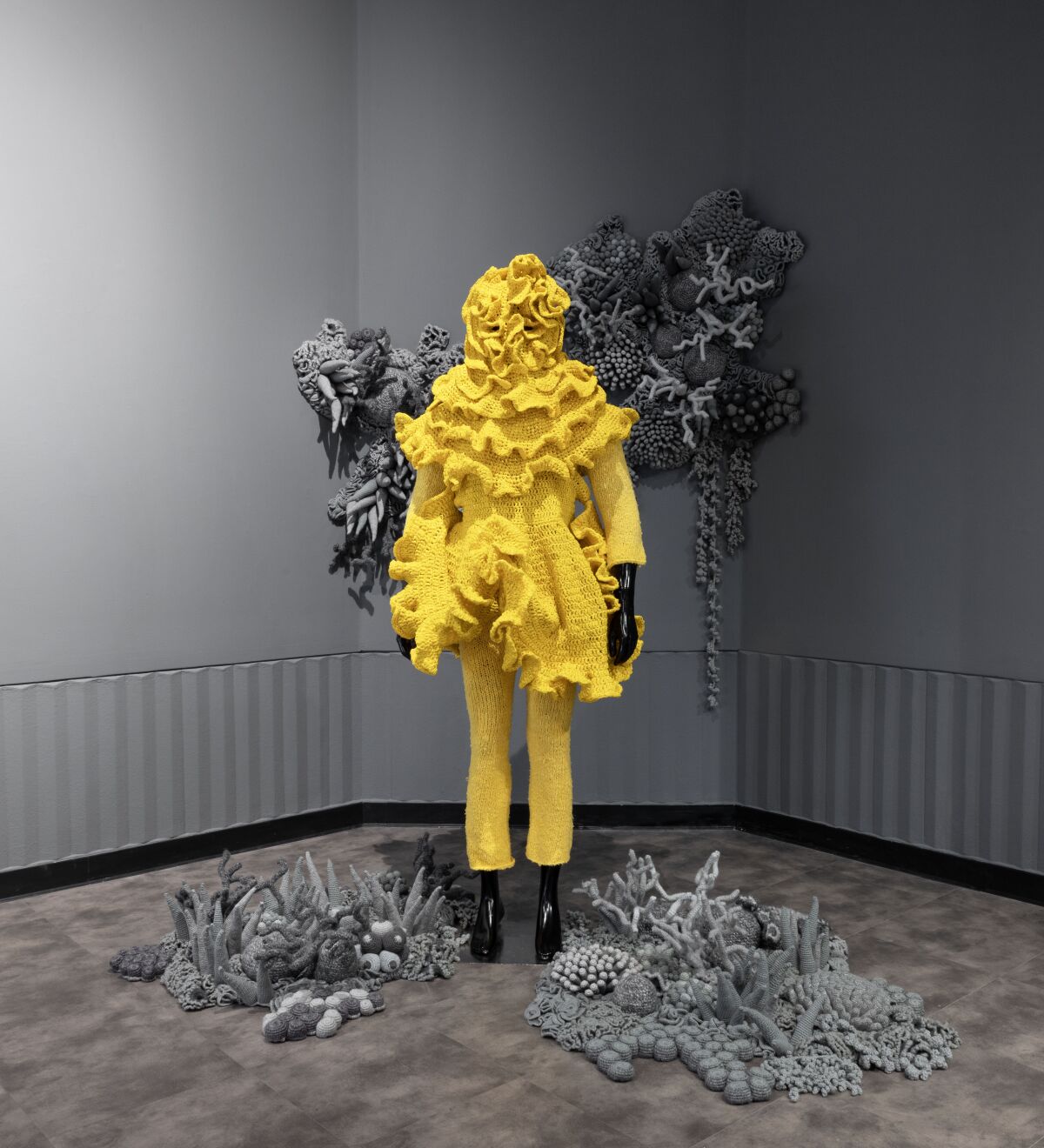 Mulyana draws from used materials and overproduced plastics in his hometown of Yogyakarta – and sometimes abroad – to make his creations. Online, he documents the process by folding a plastic bag, cutting it into strips and twisting it into knitted twine. Sometimes this creates a problem when certain colors are hard to find and certain materials run out. But the limitation of materials is partly why his coral creations are so unique.
Over the years, Mulyana has shared her gift of knitting and crocheting with others. He taught workshops for children and enlisted the help of a community of transgender women in the village of Sorogenen to create modular coral sculptures. A large part of his Islamic faith is about sharing knowledge, which is what he aims to do with his artistic practice.
Curator John Silvis says, "From the moment I went to the first studio, and then I met Mulyana and other artists, it was clear to me that it was a collective process. It really is a joint effort. Everyone is working in the community."
What's also collaborative is that a significant part of "Ocean Wonderland" is interactive, inviting viewers to create their own monsters with a mirror and loose body parts – including claws, eyes and lips bright For Mulyana, bringing the exhibition to life is a group effort.
All the exciting and fun looks in this underwater world lead to the final exhibition, "Satu." Mulyana shows the skeleton of a 30-foot-long whale surrounded by sparse white coral. The audience comes face to face with the consequences of climate change.
"Sometimes we forget because we don't live in the sea," says Mulyana. "We must remember that we must take care of the environment in which we live."
"Mulyana: A Modular Utopia"
Where: USC Fisher Museum of Art, 823 Exposition Blvd., Los Angeles
When: Noon – 5 pm Tuesday – Friday and noon – 4 pm Saturday. It runs until April 13.
Cost: Free
Info.: fisherman.usc.edu