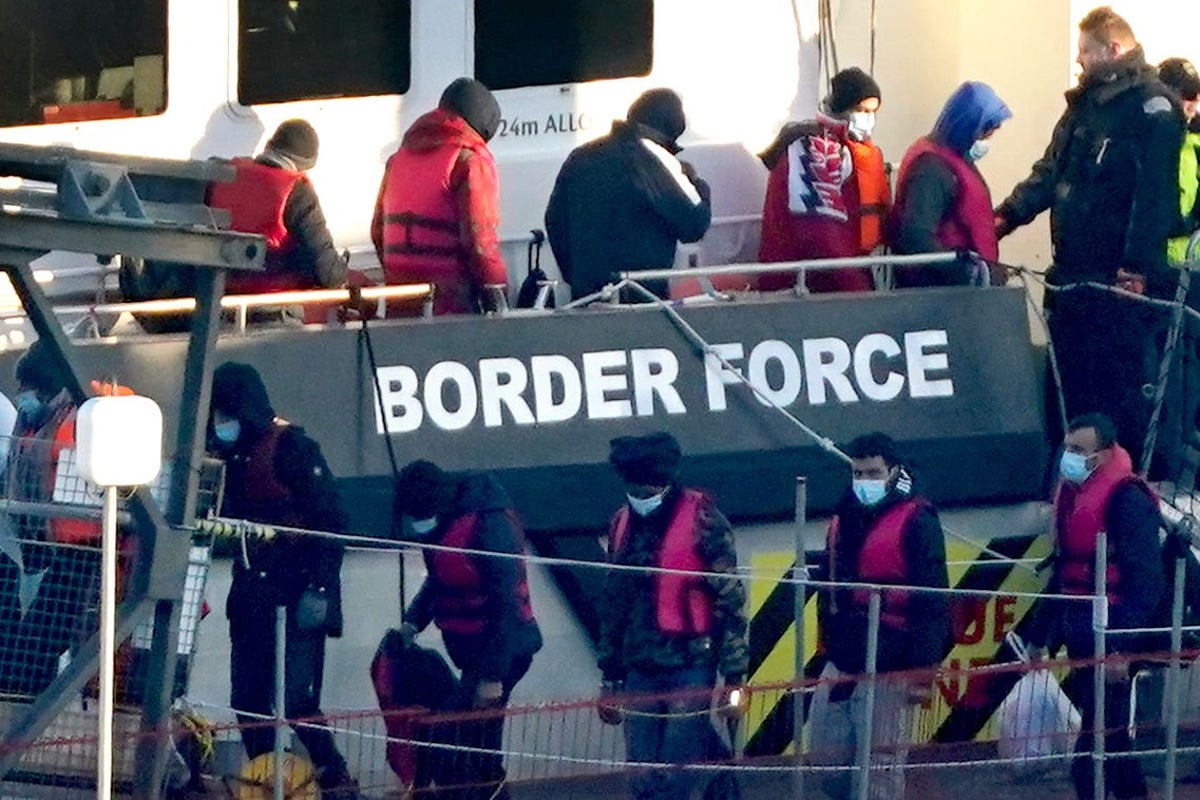 Keir Starmer has joined the chorus of criticism of Rishi Sunak's "unworkable" plans to stop illegal Channel migrants.
The prime minister, whose "stopping the boats" is one of his top five priorities, is expected to unveil new legislation on Tuesday designed to stop asylum seekers using human rights laws to avoid deportation.
Details on how the policy will be implemented are scarce, and previous efforts to tighten procedures – such as the Rwanda policy – ​​have been mired in legal challenges.
But, as shown The Independentcritics have warned that Mr Sunak has "promised too much" and will be forced to break his pledge to "stop the boats" before the general election in late 2024.
Labor leader Sir Keir Starmer suggested the move was a political tactic ahead of May's local elections and questioned its legality.
"We had a plan last year that was put up under the lights, 'it will be an election winner'. These pieces of legislation always seem to come up when we have a local election," he told LBC Radio.
"It was to break up the gangs – it wasn't. Now that we have the next piece of legislation with almost identical billing, I don't think we will be able to pass unworkable proposals."
Asked if the plan was legally feasible, the Labor leader said: "I don't know that it is and I think we have to be very careful with international law here."
Questions have already been asked about how the proposals could be implemented. Lucy Moreton, from the Immigration Services Union, told BBC Radio 4's Today programme: "The plans as announced are really confusing.
"We cannot transfer anyone to Rwanda at the moment – ​​it is subject to a legal challenge.
"We cannot take anyone back into Europe because there are no return agreements and we lost access to the database that allows us to prove that individuals have claimed asylum in Europe – Eurodac – when we left Brexit .
"So, unless we have a safe third country that isn't Rwanda to send people to, this doesn't seem possible."
She also warned that the threat of a crackdown could lead to an increase in the number of people at risk of crossing. The gangs will tell people "quickly, get over it now before anything changes", she said.
But Mr. Sunak's allies said he was "combating" illegal migration.
Cabinet Minister Michelle Donelan said: "This week we will be bringing forward further legislation, which is based on the principle that if people travel here illegally they should not be allowed to stay, which is sensible and right in my view. I think. right approach."
The Science Secretary told the BBC that many people crossing the English Channel "have traveled through a number of safe countries" before or do not need to claim asylum in the UK.
"Those boats are not filled with people coming from countries that are in dire need of help. Many times they are filled with people who are economic migrants and who have also been exploited by criminal gangs who take their money on a very dangerous journey."
She said the government was "tackling" illegal migration but also promised to set up more "safe routes" for asylum seekers to enter the UK, although she failed to name any when asked. pressed her again and again.
The Prime Minister on Sunday promised to end the "immoral" situation, while home secretary Suella Braverman said "enough is enough".
The legislation would make it mandatory for the home secretary to remove anyone arriving by small boat, to Rwanda or a "safe third country" "as soon as reasonably possible".
They will also be banned from claiming asylum while in the UK, with plans to ban them from returning once removed.
It comes after months of pressure from Tory backbenchers. Some Tory MPs welcomed the news that the Bill was imminent, with Tory MP Danny Kruger calling it a "serious plan" on BBC Radio 4's Westminster Hour.
But questions have already been raised about how any such legislation, based on the details known so far, could be compatible with the European Convention on Human Rights.
Ms Braverman has made her personal view that the UK should leave the ECHR well known, while justice secretary Dominic Raab refused to pledge that the UK would remain a party to the convention "forever and ever".
Almost 3,000 migrants have already crossed the English Channel this year.
Campaigners have issued stark warnings to the government about the new policy.
Enver Solomon, chief executive of the Refugee Council, said the plans "undermine the UK's long-standing commitment under the United Nations Convention to give a fair hearing to people regardless of the route they took to reach our shores".
The charity said figures show that two-thirds of all those who crossed the English Channel last year were granted asylum.
"The government's flawed legislation will not stop the boats but thousands will be locked up in detention at huge cost, permanently in limbo and treated as criminals simply for seeking asylum," he said.
"It's unworkable, expensive and won't stop the boats."
Steve Valdez-Symonds, Amnesty International UK's director of refugee and migrant rights, accused the government of "presenting the same disastrous plan to avoid the asylum responsibilities it expects of others".
Calling it "disgraceful posturing and scaremongering", he said the Bill only promises to further demonize and punish people fleeing conflict and persecution who wish to seek asylum in the UK through which the Government has chosen to restrict".