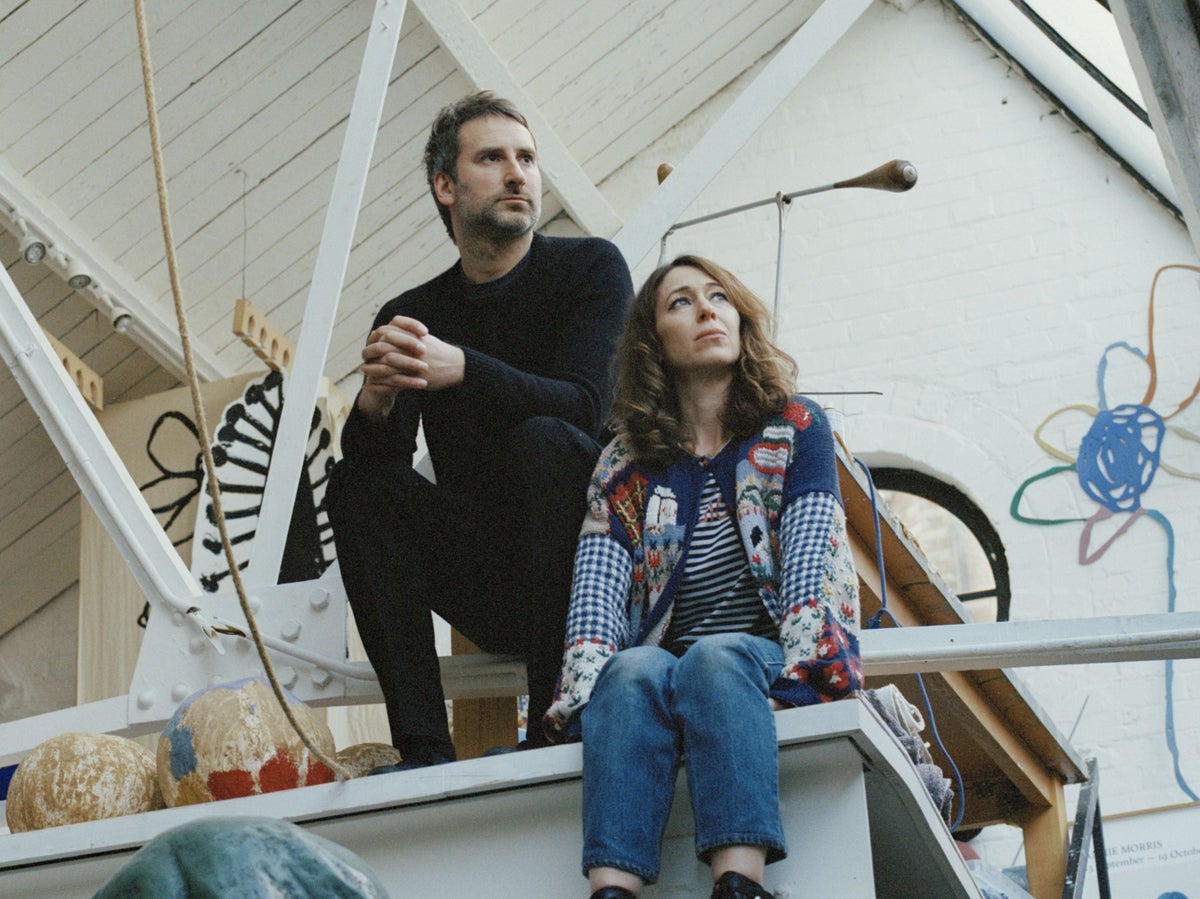 An the artist should avoid falling in love with another artist – at least according to Marina Abramović, who gave us her great manifesto for life and art in the 1970s. "We have that quote on our stairs," says Idris Khan, laughing, when I meet him and his wife, Annie Morris, after visiting their stunning new exhibition at Newlands House in Petworth, West Sussex. "We should include him in the show," she says. He creates moving composite images of words and music. She makes rainbow totems and tapestries. This is the first time they have officially collaborated.
We are in a pub down the road, the couple sitting side by side across the table from me, it is clear that the preparation is over and they are excited for the opening. During our conversation, they bounce off each other, overlapping, reminiscing, gently teasing. The artists – who met in 2007, moved in together after a month, were engaged after five and, they say, have spent 24 hours a day with each other since then – very much Abramović's rule was broken. (They would probably instruct him.)
Artists are engaged as long as they are making art. There's Dorothea Tanning, who married Max Ernst in a double marriage to Man Ray and the dancer Juliet Browner (who previously dated Willem de Kooning, whose own creative partnership with Elaine was marred by alcoholism and affairs). Frida Kahlo's caustic marriage to Diego Rivera was both fruitful and destructive. Auguste Rodin worked side by side with his lover Camille Claudel for 10 years and claimed that desire was a "great motivator", although their relationship ended in part because she was tired of referring to her as her protégé (also, he didn't give up on his promise to leave his wife).
What about artist couples who capture the imagination? A meeting of creative souls, perhaps? The promise of competition? The idea of ​​passionate debates and brushing teeth? Whatever it is, there is a market. At Newlands House, Morris and Khan follow fast on the heels of a show on Lee Miller's relationship with Picasso. In March, an exhibit in Charleston will celebrate the work of George and Betty Woodman. Two of my favorite novels from the past year reveal the harsh realities of these unions: in Lizzy Stewart's Alison, portraits of his student-turned-lover tell him to think of himself as a "great artist"; in Charlotte Mendelson The Exhibitorthe main character sculptor spends her days sabotaging her own career because, according to her wonderful husband: "No couple can succeed in the same life."
"Look, it obviously doesn't work sometimes, but for us it does, and that comes from a generosity of spirit, I think – to be open and generous and in unity," says Khan. "I think it helps that we're both doing really well right now, and that we're able to do the work we want to do," he says, which wasn't always the case. Although he was succeeded by Victoria Miro when he graduated from the Royal College of Art in 2004, Annie, he says, has "really built her career on her own". Her most famous body of work – the Cruachan series, jaunty towers of irregular spheres coated in raw powdered pigments – began ten years later. "It shows that there are different ways to approach it," she says, sharing the good news that one of her bronzes, a material she never dreamed of working with, has just been chosen for a permanent installation in Wakefield.
They have different energies – Morris fast and free-wheeling, Khan quiet and measured – which can be seen not only in their art but also in their working methods. They share a studio in Stoke Newington, a former toy factory with six meter high ceilings. Their workspaces are next to each other – "There's a wall," says Khan, mock relief in his eyes – and they often meet in the color cupboard, where he's recently started helping himself to blues and reds. dazzling Morris. "For me, there's a lot of chatter, sewing machine noise, things everywhere, loud music," says Morris. "Even though it's calm and reflective on Idris' part. If he's playing music, it's the other way around – I'll be playing Steely Dan while he's listening to Vivaldi," she laughs. "It's like going from a storm to a sunny room when you go from one person to another."
In Newlands House they have a front room before, as the title of the exhibition suggests, the two worlds are intertwined. Composed of closely-overlaid photographs, sheet music and religious and personal texts, Khan's meticulous prints and sculptures move with time and memory. Morris's drawings and tapestries shift between verisimilitude and abstraction and are instinctive and free. Her palette is subdued, she is rich and luminous. His compositions are neat and orderly, she is sprawling and chancy. And yet, both are rooted in repetition. Words, treble clefs, round-bellied flower woman, egg-like shapes, over and over again.
"Artists are lucky to have something to turn to in tragic times," says Morris, describing the kind of creative outburst that can come from grief. In 2010, Khan's mother died, and the couple suffered a stillbirth. "I remember you would write, making rubber stamps from the text, pressing it into dark blue ink, for hours and hours at a time," she tells her husband, who she later recalls doing tight pencil drawings on large sheets of paper. , herself hidden in the pen marks and figures. Then she started pulling eggs. "After we lost our first child, Annie was told she couldn't have another child," says Khan. "For him, it was about wanting to get back to that shape."
Happily, the couple now have two children. During the lockdown, the family left London and rented a barn near Petworth, on the South Downs. They found inspiration in the Sussex landscape – the hazy light and lines in the fields – and at the heart of the exhibition are their responses to the changing seasons. Since then, they have bought a pair of worker's cottages in the area, where they spend most weekends.
The town of Islington is, as it has been for the last ten years. even though Two Worlds Connected their first joint exhibition, the houses they shared have always been collaborative projects. "Obviously, with two artists, there are a lot of arguments about what goes where," says Khan, eyes widening with exasperation. "Oh my God, that's another thing we should have included in the show – a loud bit of us arguing, with the kids in the background. It's too native over there," he explains, heading vaguely towards the gallery. "It's all too nice."
'Two Worlds Entwined: Annie Morris and Idris Khan' is at Newlands House until 7 May 2023