5G has been trending in recent years. The trend has already changed in the way we buy our smartphones.
Today, before buying a new Android device, we check if the phone supports 5G bands. Popular manufacturers such as Samsung, OnePlus, Google, etc. have already launched their 5G compatible smartphones in the market.
5G connectivity means you will get faster internet speed, but all that will be in vain if your phone fails to connect to the 5G network. It may seem strange, but many 5G smartphone users are after theirs 5G is not showing up on their phones.
Fix 5G Not Showing Up on Android
So, if you have a 5G smartphone but you can't connect your phone to the 5G network, you can expect some help. Below, we've shared some of the best ways to fix them 5G is not visible on Android. On with us.
1. Restart your Android smartphone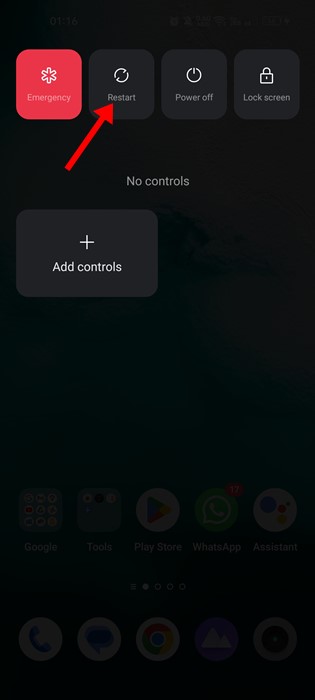 Sometimes bugs and glitches in the Android operating system can prevent the 5G network from showing up. Even if 5G shows up on the manual network scan mode, you won't be able to connect to it.
So, before you try anything else, make sure to restart your smartphone. Also, it is recommended to restart a smartphone periodically, especially after switching to a new network mode.
2. Check if your phone supports 5G network
Yes, most modern Android smartphones today support 5G network out of the box, but you still need to cross-check it.
Before you buy or upgrade your SIM Card to connect to a 5G network, check the supported 5G bands on your phone.
You can also check your phone's packaging box or view your smartphone's official specification page online to confirm if your phone can run 5G.
3. Make sure your carrier has rolled out the 5G services
You may see the advertisement on social networking sites or on your TV asking you to switch to a 5G network.
Most telecom operators are now working to enable 5G services, but it will take time. Also, 5G services are being rolled out gradually, so you need to check if your carrier has implemented 5G services in your region.
4. Verify your mobile plan
If your current mobile plan does not support the 5G services, you will not be able to use the 5G network.
Telecom operators usually send you an SMS asking you to upgrade your mobile plan to enjoy the 5G services. If your mobile plan supports 4G connectivity, upgrade to 5G.
So, before you follow the next methods, check if your mobile plan supports the 5G services. If it doesn't, ask your telecom operator to upgrade your plan to support 5G.
5. Change the Network Mode on the Android
If your phone supports 5G out of the box, you can change the network mode to 5G. So, if 5G is not visible on Android, you need to switch to 5G network mode. Here's how to do it.
1. First, open the Arrangements app on your Android smartphone.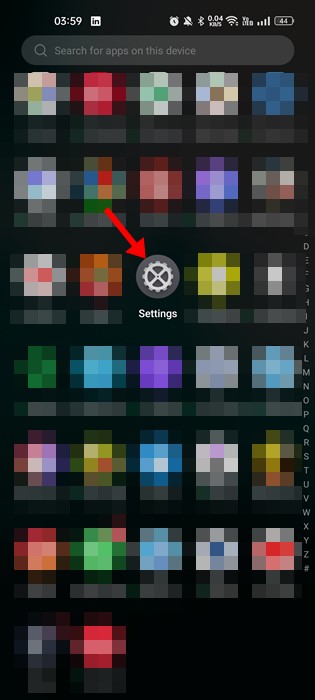 2. On Settings, tap on 'Mobile Network'
3. Select your 5G-supported SIM card and tap on the Preferred network type.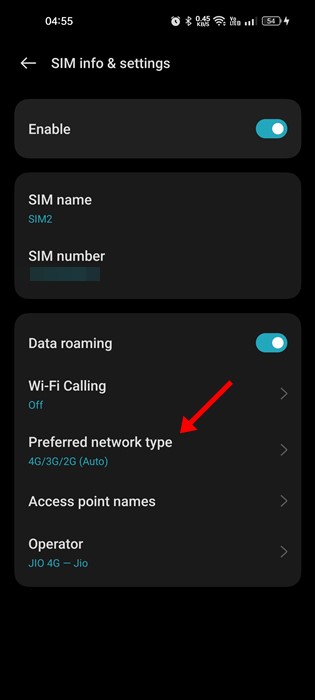 4. Select the '5G/4G/3G/2G (Automatic)' option on the best network type screen.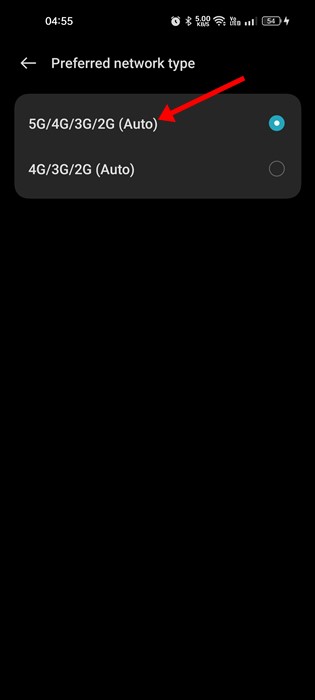 That's it! After making the changes, restart your Android smartphone. If a 5G network is available in your area, your phone will select it.
6. Turn off the Power Saving Mode
Power Saving mode is a great feature to preserve battery life and reduce power consumption; sometimes, it can prevent your phone from connecting to 5G Network.
A 5G network can drain your battery life quickly, so Power Saver mode disables it. Therefore, it is better to disable the Power Saving mode if your phone connects to the 5G network for the first time.
1. First, open the Arrangements app on your Android.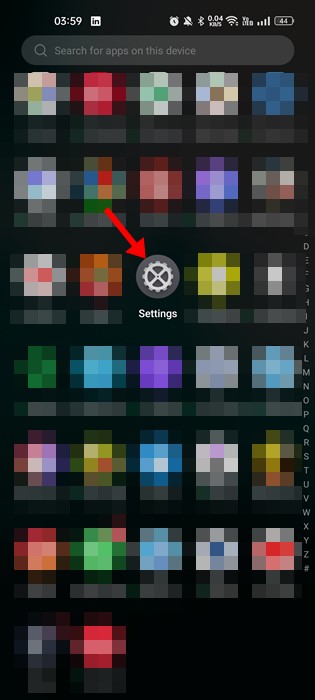 2. Scroll down and tap on the Battery when the Settings app opens.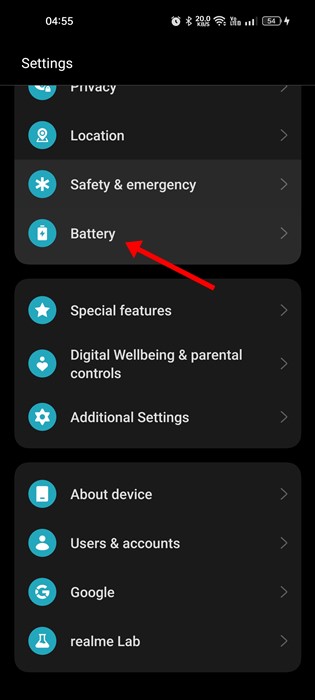 3. On the Battery, tap on the Power Saving Mode.
4. Next, disable the toggle for 'Power Save Mode'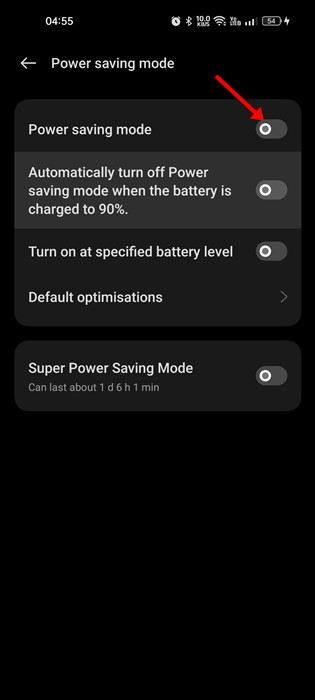 That's it! Here's how you can disable Power Saver mode on Android to fix 5G not showing up.
7. Reset the Network Settings
Resetting the Network Settings may help if your attempt to fix the problem has failed. If the 5G network doesn't show up on Android, it's best to reset the Network Settings, but you'll lose all the WiFi network data you were previously connected to.
Resetting the network setting may remove incorrect network settings on your phone. If your phone can't connect to the 5G network, try resetting your network.
Resetting network settings on Android is pretty easy; Follow our guide – How to Reset Network Settings On Android.
8. Update your Android smartphone
Although Android updates have nothing to do with the 5G not showing the problem, it is still a good security practice to keep the Android version up to date.
The version of Android you are using may have a problem that prevents the 5G network from showing up. Since you can't be sure, installing Android updates is recommended. To update your Android, follow the steps below.
1. First, open the Arrangements app on your smartphone.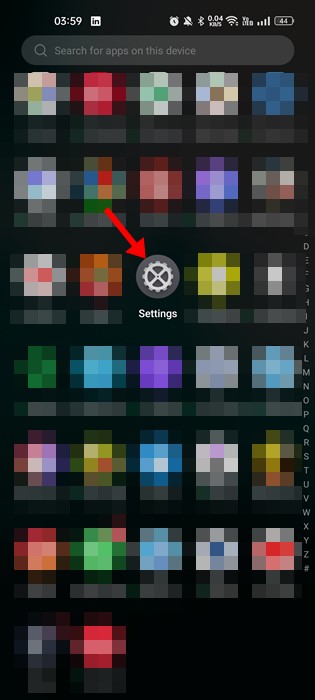 2. Next, scroll down and tap on the About device.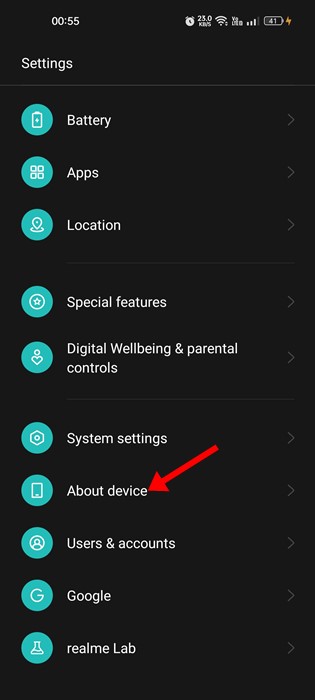 3. On the About device screen, check for system updates.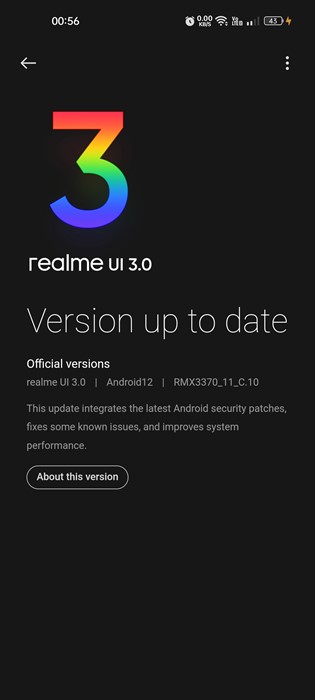 The steps to update the Android version vary from device to device. It usually resides in the About Device or System Updates section.
So, these are the best ways to solve 5G not appearing on Android issues. If you need more help solving the 5G Not Showing problem, let us know in the comments. Also, if the article helped you, share it with your friends.