Courteney Cox found her star nearly 40 years after breaking into Hollywood.
The former "Friends" actress was honored at her Walk of Fame ceremony on Monday with speeches from co-stars Jennifer Aniston and Lisa Kudrow.
Cox's longtime friend Laura Dern also spoke at the event. Interestingly, however, her male "Friends" co-stars were Matthew Perry, Matt LeBlanc and David Schwimmer.
Aniston mocked their 30-year friendship as a "typo." She recalled how nerve-wracking it was to meet Cox, who, before the debut of "Friends" in 1994, had already appeared in the 1984 music video for Bruce Springsteen's "Dancing in the Dark," "Family Ties" (1987) and "Ace Ventura" (1994).
"I was really nervous to meet her because I was a big fan," Aniston said. "I remember seeing her at the Flower Tree, a yogurt shop we used to go to. I panicked, I sweated, and I didn't know what she was going to be when we got our job."
Kudrow called Cox an "absolutely beautiful, talented person" and "decent person" who not only "enriches our lives personally" but who "we decided to be one of our closest, most loving and supportive castmates in … television history" with using her experience to mentor them.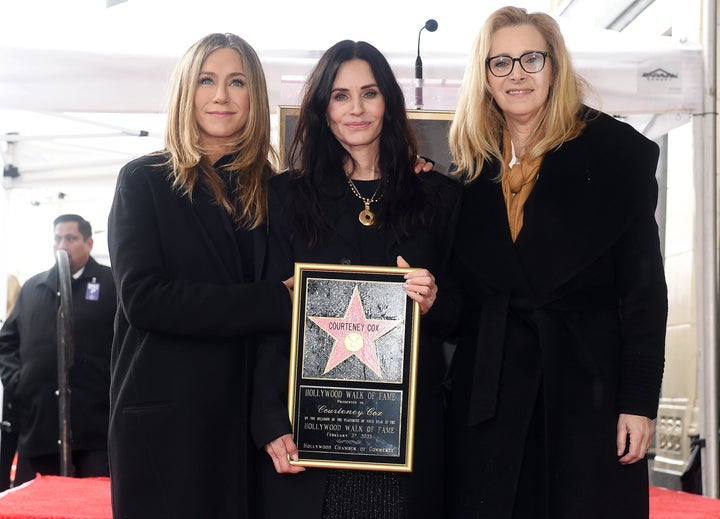 Aniston, who played Rachel Green on the iconic NBC sitcom, praised Cox for her humility and said that while Cox "hated" poker and "hated it from the bottom of her heart," she played it with her female colleagues because "she wanted to. to associate with us."
"You're one of the funniest people on Earth," Aniston said. "Nothing makes me happier than Courteney's jokes and he always makes us smile. And thank you for enriching our lives with your work. We are so proud of you."
Aniston went on to reveal that Cox has been a keeper of the lucrative side of flipping houses ever since and is just as obsessive about cleanliness in real life as her "Friends" character Monica Geller – their notorious compulsions to comically interfere with the other characters.
"You want to hope you don't have a stain or a spot on the wall, or a pillow out of place, or a hair or something that needs to be plucked," Aniston said before pointing out. Walk of Fame star. "I'm just saying, thank God this star is straight."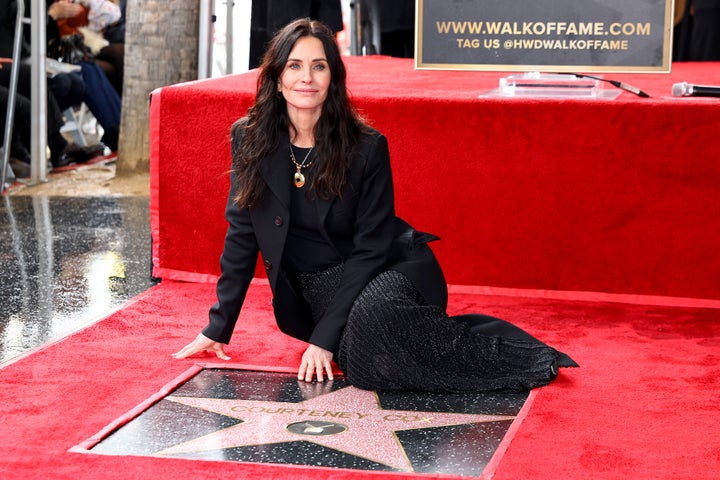 In her speech, Dern said Cox "can't help herself" and "has to be honest about who she is, how she sees the world and, frankly, what she sees in us." The "Big Little Lies" star, whose family regularly spends Christmas with the Cox's, was grateful to be "loved".
Cox admitted he had a deep fear of public speaking before taking the podium to thank his partner Johnny McDaid and daughter Coco. She then praised her friends for acting "in public, the way you often do in private" and teared up as she reflected on her late father.
Cox, who reprises her role as Gale Weathers in "Scream VI" next month, also thanked franchise creator Wes Craven for casting her in the original.
"We love you," Aniston said. "You are sisters from another sister, and we love you."
Watch the entire Hollywood Walk of Fame ceremony on Variety's YouTube channel.
Sign up for Peacock
to stream NBCU shows.
(tagsTranslate)friends