The Herman Miller Sayl is probably best known for its segmented design. Designer Yves Béhar was inspired by suspension bridges, specifically the Golden Gate Bridge in San Francisco, and used its engineering principles to create the Sayl. The mesh back won't be for everyone, but I found it grew on me over time.
To test the Sayl, I have been using it for about nine months. I am sitting on it for two or three days a week, for periods of up to nine hours. My partner is also using the chair more casually, for when he wants to browse the web and watch YouTube. Overall, we are both very impressed with the comfort of the chair. I've also tested the Herman Miller Mirra 2, as well as some of Herman Miller's other top chairs. Read on to find out how this one measures up.
Herman Miller Sayl: design and features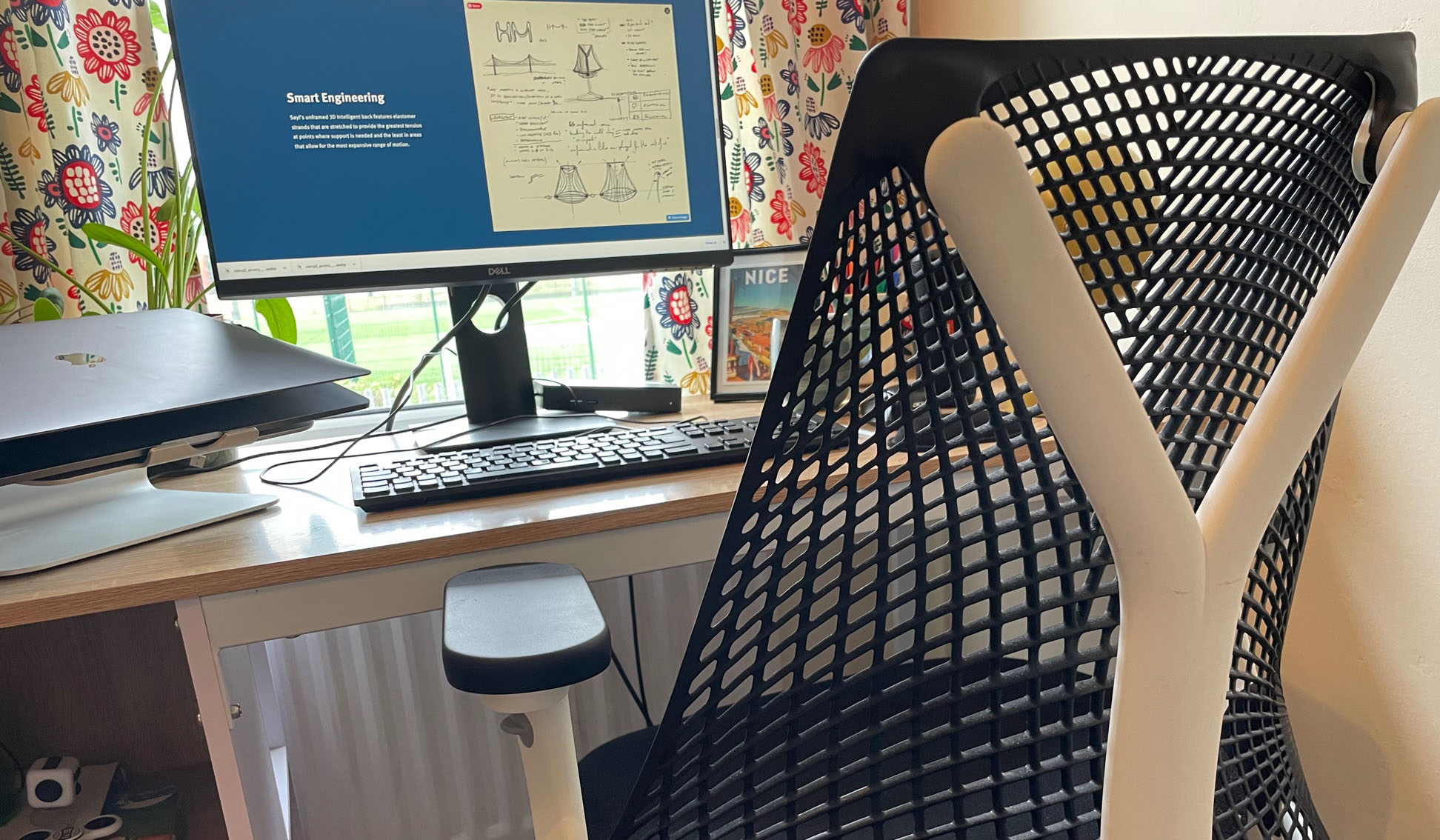 The Sayl comes fully assembled, so no need to worry about construction. The Sayl's mesh design won't be to their liking, and I wasn't sure at first, but after a few months I'd consider myself a fan. The mesh that goes around the back of the chair is more comfortable than it looks and really supports your back. Also it is extremely breathable, which is great for hot days.
I have a black version with a white back, but there are many color ways available, including a special gaming edition, which comes in different colors, including red and 'deep ocean'.
I have the Sayl in my dining room as part of a desk arrangement there, and its design fits better with the rest of the dining room than a more traditional office chair, which might look out of place.
Sayl data sheet
Dimensions: 997(h) x 679.5(w) x 660(d)mm
Maximum capacity: 159kg
Chair weight: 18.1kg
As for adjustments, you can adjust seat height, depth, tilt, lumbar height and arm rest height, angle, depth and width, if you have the option of armrests, which I do. You can also adjust the base on some models. My chair didn't come with any instructions, but I found it to be quite intuitive to adjust and very easy to do once I got the hang of it. You can also refer to Herman Miller's adjustment instructions (opens in a new tab) and I recommend that you take the time to adjust the chair for you, because you will get the best out of it this way.
I especially liked the flexibility of being able to adjust the arm rests, including their angle. So I would recommend getting adjustable armrests if you can.
Herman Miller Sayl: comfort and construction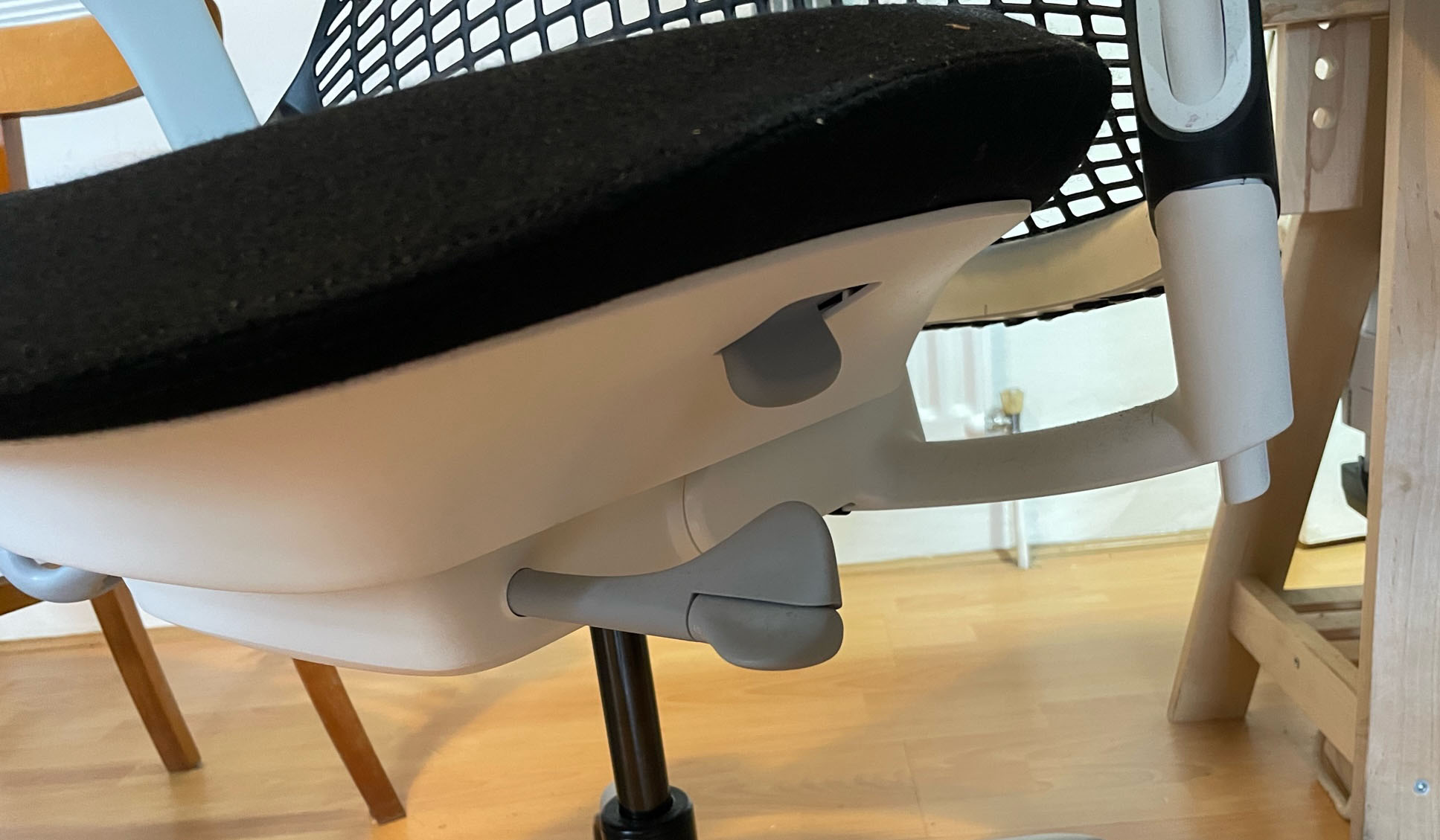 When I adjusted the Sayl for me, I found that the chair moves with my body, and is very comfortable to sit and work in. Herman Miller chairs are designed to support the sacrum, and I found that this chair did very well. I was able to sit on it for 6-7 hours a day comfortably, and could manage longer days even with regular breaks.
What I particularly liked about this chair compared to the Mirra 2 is that it is also comfortable for more casual sitting, rather than just being an office chair. My husband likes to use the Sayl to watch YouTube videos, and he leans back in it and can sit comfortably in it for several hours.
One thing to note is that the back of this chair isn't particularly high, so if you're looking for a chair that supports your head, this isn't it. But that doesn't mean it isn't suitable for taller people. When I visited the Herman Miller headquarters in Melksham they confirmed to me that the Sayl is very popular with taller people.
Herman Miller chairs are truly designed for life, and come with a 12-year warranty. They are built with durable, sustainable materials, so buying one will be much better for the planet than a chair that you will have to replace within a few years.
One downside to the Sayl is that the mesh back isn't the easiest to clean and can easily accumulate dust (see our guide to cleaning an office chair if that's a problem).
Should I buy the Herman Miller Sayl?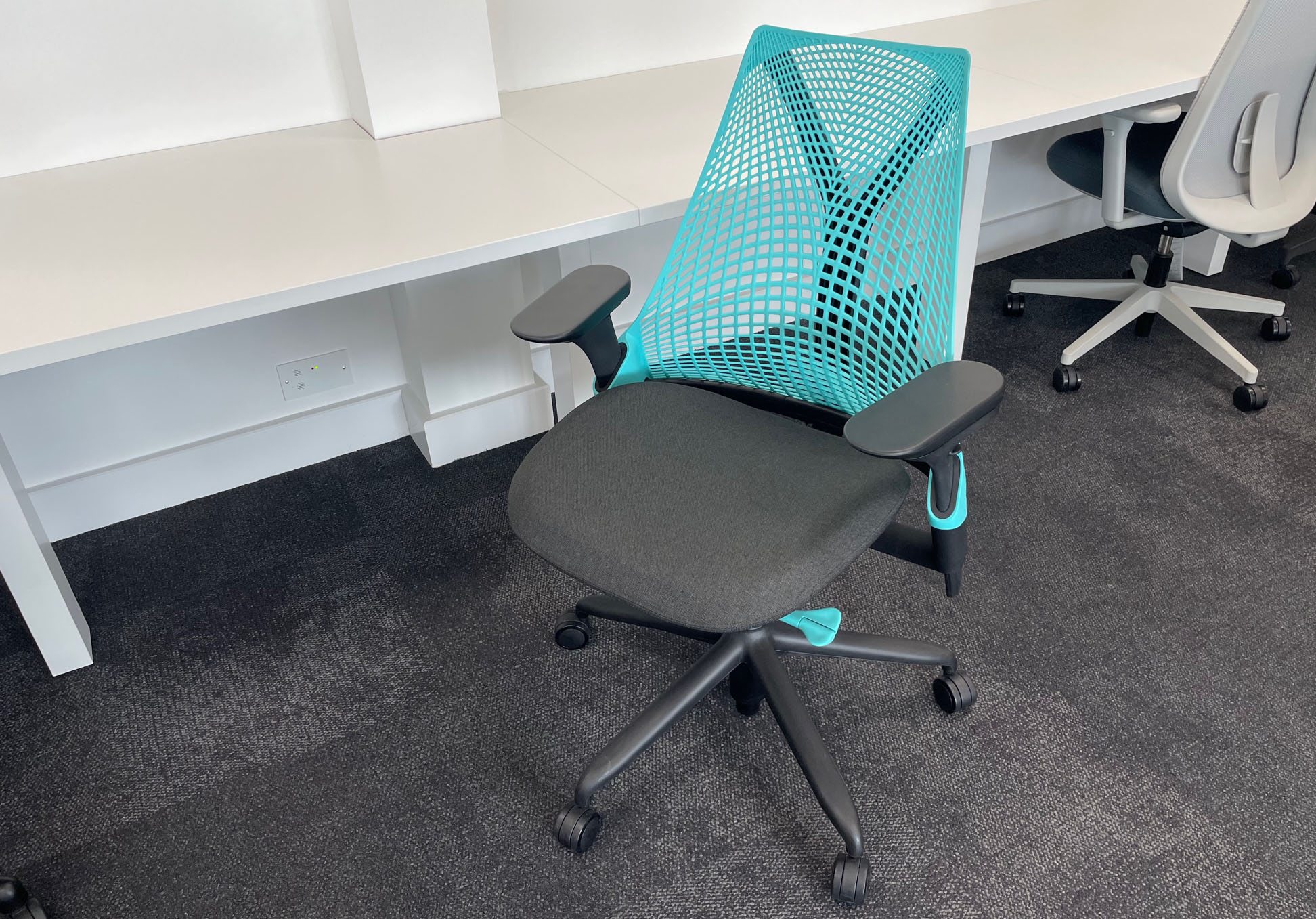 The Sayl is a beautifully designed chair that suits many people. It starts at £648 / $795 but goes up quickly if you want adjustable arms and seat depth, and extras. It is cheaper than the Mirra 2 and the Aeron.
I actually prefer it to the Mirra 2, even though the Mirra 2 is the more expensive option. The Sayl is extremely comfortable, and the mesh back is unique and breathable. As long as you get the fully adjustable option – which I would recommend – it's very easy to change it to suit your body and the way you sit. Sure, there are cheaper chairs out there, but can they provide the same levels of ergonomic support and support for your sacrum? I'm not sure.
Read more: The best office chairs for back pain