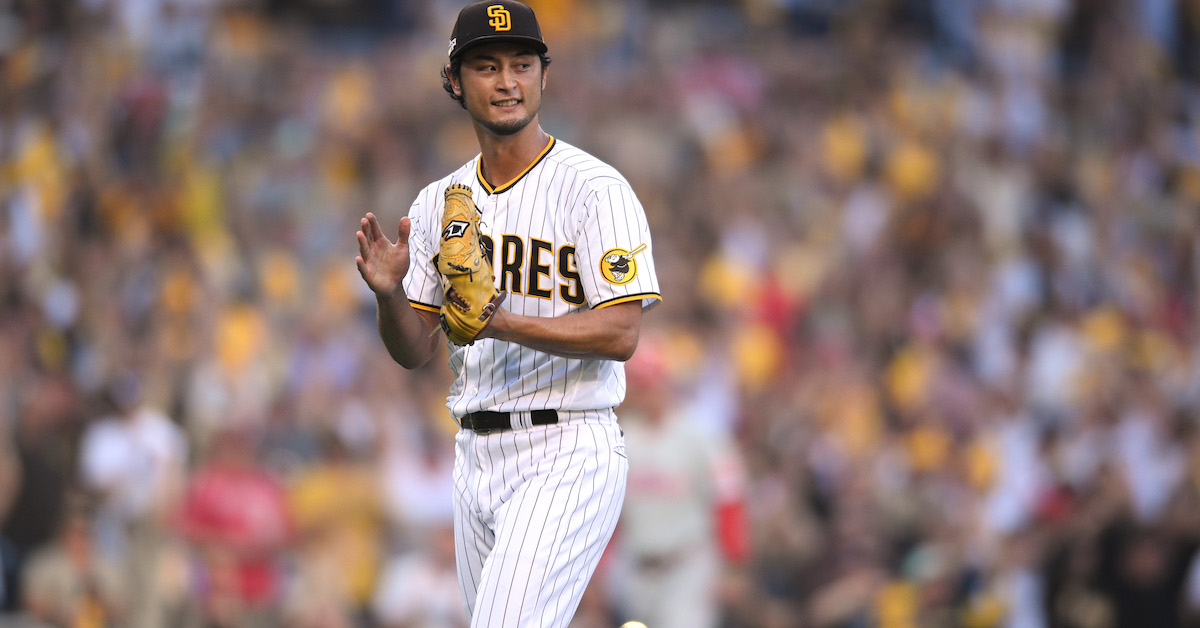 Yu Darvish's six-year, $108 million extension with the Padres looks innocuous enough. Darvish is absolutely essential to the Padres' success, and he's now one of those rare MLB players who's signed multiple $100 million deals, despite not having reached free agency the first time until his age-31 season.
If anyone can pitch until he's 42, it's Darvish, the man who's got more pitches than can fit in Mary Poppins' carpetbag. This extension actually has me looking forward to watching Darvish once he gets into his latter-day Zack Greinke era. No, the interesting thing about this contract is not who's getting paid, who's doing the paying, or how much money is set to change hands. It's when.
Darvish's contract structure is a little unusual. It's frontloaded, with a sizeable signing bonus and big salaries in the first and third seasons of the deal.
Yu Darvish's Extension
| Year | 2023 | 2024 | 2025 | 2026 | 2027 | 2028 |
| --- | --- | --- | --- | --- | --- | --- |
| Age | 36 | 37 | 38 | 39 | 40 | 41 |
| Salary | $30 million* | $15 million | $20 million | $15 million | $14 million | $14 million |
| Tax Hit | $18 million | $18 million | $18 million | $18 million | $18 million | $18 million |
*Includes $6 million signing bonus, due in three installments by Sept. 1, 2023
Because of the way contracts get factored into the competitive balance tax, Darvish's deal will count as $18 million against the tax the whole way through, even though he'll make more than twice as much in 2023 as he will in 2028. Ben Clemens, who's forgotten more about finance than I'll ever know, pointed out that Darvish's new $18 million CBT hit is lower than the $21.5 million AAV on the deal this replaces. That will save the Padres $3.5 million against the tax and $3.325 million in actual payments in 2023.
But when I saw a player had signed a long-term, frontloaded contract that runs into his early 40s, something about the structure tickled a very remote, very cold region of my hippocampus. It's time to talk about (rubs hands together) hockey. (Entire class groans.)
On July 19, 2010, the New Jersey Devils signed winger Ilya Kovalchuk to a 17-year, $102 million contract. Kovalchuk, 27 at the time, was one of the most dangerous offensive players in the sport, coming off six consecutive 40-goal seasons. An absolute superstar, in other words, worthy of one of the biggest contracts in the sport.
The highest-paid player in the NHL in 2009–10, Lightning forward Vincent Lecavalier, made $10 million that season. Kovalchuk was to be paid $6 million in the first two years of his deal, then $11.5 million in each of the ensuing five. After that, the salary tapered off, to $8.5 million in 2018–19, $6.5 million in 2019–20, $3.5 million in 2020–21, and less than $1 million thereafter. In the final five years of Kovalchuk's contract, his age-40 through age-44 seasons, he was to make just $550,000.
The NHL quickly voided the contract, on the grounds of "Come on, man, what do you think you're trying to pull?" The NHL salary cap treated long-term contracts the way MLB's competitive balance tax does: it takes the AAV, rather than real-world salary. Nobody actually thought Kovalchuk was going to spend half of his 40s getting cross-checked for minimum salary; the last third of the deal at least was just a bit of creative accounting that allowed the Devils to pay prime Kovalchuk an $11.5 million salary that counted just $6 million against the cap. Once his salary dipped into six figures, the plan was for him to retire.
The NHL fined the Devils $3 million and took away two draft picks (though both the fine and draft pick penalties were later reduced) for flouting contractual norms so egregiously. The league and the NHLPA also renegotiated new rules for long-term contracts for older players.
But the Devils weren't the only ones following this contract pattern. Less brazen versions of the Kovalchuk model were the norm in the early 2010s. Months earlier, the Vancouver Canucks had signed 30-year-old goalie Roberto Luongo to a 12-year, $64 million contract extension that paid $10 million in the first year of the deal but $1 million in the final two. In the summer of 2012, the Minnesota Wild signed Zach Parise and Ryan Suter to matching 13-year, $98 million contracts. Shortly thereafter the Philadelphia Flyers signed Suter's former teammate Shea Weber to a 14-year, $110 million restricted free agent offer sheet that paid $14 million a year for four years, then dropped gradually to $1 million a year for the final three seasons of the deal. Weber's former team, the Nashville Predators, matched the offer sheet and retained their captain.
These numbers don't sound like a lot to baseball people, but it's important to remember that this was 1) hockey and 2) so far in the past the Flyers were still good. The NHL salary cap was set at $59.4 million in 2010–11 and $64.3 million in 2011–12. And while the particulars of these deals varied, the upshot was this: These teams managed to sign superstars to contracts worth in excess of $10 million a year but paid only $5 million to $8 million against the cap. The implications in terms of team-building are obvious.
Selected Ridiculous NHL Contracts
| Year | 2010-11 | 2011-12 | 2012-13 | 2013-14 | 2014-15 | 2015-16 | 2016-17 | 2017-18 | 2018-19 | 2019-20 | 2020-21 | 2021-22 | 2022-23 | 2023-24 | 2024-25 | 2025-26 | 2026-27 |
| --- | --- | --- | --- | --- | --- | --- | --- | --- | --- | --- | --- | --- | --- | --- | --- | --- | --- |
| Kovalchuk | $6,000,000 | $6,000,000 | $11,000,000 | $11,300,000 | $11,300,000 | $11,600,000 | $11,800,000 | $10,000,000 | $7,000,000 | $4,000,000 | $1,000,000 | $1,000,000 | $1,000,000 | $3,000,000 | $4,000,000 | n/a | n/a |
| Cap Hit | $6,666,666 | $6,666,666 | $6,666,666 | $6,666,666 | $6,666,666 | $6,666,666 | $6,666,666 | $6,666,666 | $6,666,666 | $6,666,666 | $6,666,666 | $6,666,666 | $6,666,666 | $6,666,666 | $6,666,666 | n/a | n/a |
| Luongo | $10,000,000 | $6,716,000 | $6,714,000 | $6,714,000 | $6,714,000 | $6,714,000 | $6,714,000 | $6,714,000 | $3,382,000 | $1,618,000 | $1,000,000 | $1,000,000 | n/a | n/a | n/a | n/a | n/a |
| Cap Hit | $5,333,333 | $5,333,333 | $5,333,333 | $5,333,333 | $5,333,333 | $5,333,333 | $5,333,333 | $5,333,333 | $5,333,333 | $5,333,333 | $5,333,333 | $5,333,333 | n/a | n/a | n/a | n/a | n/a |
| Suter/Parise | n/a | n/a | $12,000,000 | $12,000,000 | $11,000,000 | $9,000,000 | $9,000,000 | $9,000,000 | $9,000,000 | $9,000,000 | $8,000,000 | $6,000,000 | $2,000,000 | $1,000,000 | $1,000,000 | n/a | n/a |
| Cap Hit | n/a | n/a | $7,538,462 | $7,538,462 | $7,538,462 | $7,538,462 | $7,538,462 | $7,538,462 | $7,538,462 | $7,538,462 | $7,538,462 | $7,538,462 | $7,538,462 | $7,538,462 | $7,538,462 | n/a | n/a |
| Weber | n/a | n/a | $14,000,000 | $14,000,000 | $14,000,000 | $14,000,000 | $12,000,000 | $12,000,000 | $6,000,000 | $6,000,000 | $6,000,000 | $6,000,000 | $3,000,000 | $1,000,000 | $1,000,000 | $1,000,000 | n/a |
| Cap Hit | n/a | n/a | $7,857,143 | $7,857,143 | $7,857,143 | $7,857,143 | $7,857,143 | $7,857,143 | $7,857,143 | $7,857,143 | $7,857,143 | $7,857,143 | $7,857,143 | $7,857,143 | $7,857,143 | $7,857,143 | n/a |
SOURCE: CapFriendly
Now, "cap circumvention" sounds like a big, scary thing. But it is, in fact, an unadulterated moral good. Who benefits? Star players, who get paid more total and get a larger percentage upfront. Second-tier and role players, who have a bigger slice of the pie left over once the stars get theirs. Teams that care about competing, which has nothing to do with "big market." The most successful team in the NHL over the past five to eight years (and coincidentally also one of the most creative cap circumventors in today's game) comes from the cosmopolitan, hockey-crazed world capital of culture and finance that is Tampa, Florida.
Who gets hurt? Owners who want to spend the bare minimum, collect revenue sharing checks, and avoid awkward conversations with fans by pointing to a first-round playoff exit every four years as a sign of progress. I struggle to imagine a less sympathetic victim.
Anyway, it seems like a pretty good system. So naturally, a few weeks after the Suter, Parise, and Weber contracts were signed, the NHL locked its players out for almost four months and negotiated a new maximum contract length: eight years for players re-signing with their previous employer, seven years otherwise.
Moreover, the league instituted so-called "cap recapture" penalties. Multiple CBAs have been instituted in the years since the eternal contract fad, but the upshot is this: If a player retires when his salary drops off a cliff, the team or teams that underpaid the salary cap at the start of the contract have to suffer cap penalties. For example: The Predators traded Weber four years into his 14-year contract, having paid him $56 million in real money but only $31.4 million and change against the cap. If Weber retires, the Predators will suffer a cap penalty of about $24.5 million total over four years.
Now, Weber's not going to retire because of another loophole in the NHL salary cap that's caused no small degree of consternation on its own. After leading the Montreal Canadiens to a surprise run to the Stanley Cup Final in 2021, Weber sat out last season due to injury, and the Canadiens traded him to the Vegas Golden Knights. On Wednesday, the Golden Knights moved him to the Arizona Coyotes without him ever playing the game for them. It's unlikely he'll ever play in the NHL again.
Both the Golden Knights and Coyotes could put Weber on long-term injured reserve, where he doesn't count against the cap. This state of de facto retirement creates some awkward situations. For instance, Chris Pronger suffered a career-ending concussion in 2011, the second year of a seven-year backdiving contract. The Flyers traded him to the Coyotes, where he sat on LTIR for years, under contract, while he took a post-retirement job with the NHL and was even elected to the Hall of Fame. So far, Luongo is the only player who's actually retired and caused his former team to suffer cap recapture.
Okay, if you've zoned out for the past few hundred words about hockey history, you can come back now.
Darvish probably isn't going to retire in the middle of his contract. Baseball players tend not to leave guaranteed money on the table — certainly not $14 million a year. Nobody's rich enough to walk away from $14 million a year. But as you might have noticed, this offseason accelerated the trend toward near-Kovalchukian contract term among MLB's top free agents. If the best remaining years of Trea Turner's career, or Xander Bogaerts', or whoever, is going to cost around $300 million, the team might as well spread that payment over 11 years instead of eight or nine, in order to reduce the impact on the team's tax payments.
Spreading out the cost of a superstar contract makes life easier on the team, as does pushing that payment into the future, when inflation and the perpetual economic growth demanded by our civic religion will actually make $27 million a year worth less in 2029 than it is now. But a reduction in non-inflation-adjusted dollars, as was de rigeur in the NHL a little over a decade ago? That happens rarely, and not to the same extent.
Darvish's base salary peaks at $24 million and bottoms out at $14 million. Bryce Harper's peaks at $26 million and bottoms out at $22 million at the end of the deal — a barely perceptible difference, and both players' salaries are augmented by bonuses. The closest thing to an NHL-style long-term contract might be the eight-year deal Eric Hosmer signed with the Padres in 2018: five years of $20 million a year, followed by three years of $13 million a year, with a $5 million signing bonus. And with three seasons left on that deal, he hasn't retired; the Padres are still paying the bulk of his salary.
So nobody's gone Full Kovalchuk yet. And if they did, MLB would probably do what the NHL did: scramble to find a pretense to void the contract, institute post hoc penalties, and negotiate restrictions in the next CBA negotiation. But after significant digging, I haven't found any black-letter, hard-and-fast rule against going Full Kovalchuk.
Which raises an obvious question: Why hasn't some team tried it yet?
There are a few reasons. First, the NHL salary cap is a hard cap. It's got more holes in it than a cheese grater, but it's still a hard cap. The biggest-spending MLB owners — Steve Cohen, John Middleton, Peter Seidler, and so on — don't treat the CBT like a cap; they treat it like a tax. Which, of course, it is. Exceeding it egregiously and repeatedly can be expensive and annoying, but it's not a literal obstacle to signing more good players the way a hard cap is. So the incentive for getting around it isn't too great.
Second, anyone can find a loophole. Exploiting the loophole comes with a social cost. If an MLB owner and GM went Full Kovalchuk, they'd piss off the commissioner and the other owners; see the immense normative pressure other owners have put on Cohen to curb his spending this winter. They'd probably anger more than a few people on the players' side by putting long-term player contracts under scrutiny and risking the pretty good thing everyone has going right now. The GM who signed the original Kovalchuk contract, Lou Lamoriello, is about 500 years old, has spent about 300 of those years running an NHL team, and has three Stanley Cups. If there's a sports executive out there with less give-a-damn in him than Lamoriello, I'd be shocked. He makes A.J. Preller look like a people-pleaser. It'd take a similarly truculent executive to buck the norms in baseball.
Third, any contract long enough to benefit from the Full Kovalchuk would extend beyond the bounds of the current CBA, which expires after the 2026 season. That means the contract in question would be subject to a new and as-yet-un-negotiated set of regulations that could end up being as draconian as the NHL's cap recapture system. That's a huge risk to take, and the juice probably isn't worth the squeeze for the people who run the 30 MLB teams.
Darvish's contract is just on the right side of the line: short enough he could quite plausibly play to its conclusion, lucrative enough he'd be foolish to walk away before it's over. But if some GM or owner tried to push the envelope a little more, we could see some real fireworks. There's no legal reason they can't.