A new study from the Mercatus Center at George Mason University concluded that COVID-19 vaccine mandates in nine major cities did not appear to have made any difference in preventing deaths from the pandemic.
The study examined mandates and statistics from Boston, Chicago, Los Angeles, New Orleans, New York City, Philadelphia, San Francisco, Seattle, Washington, DC
"We find no evidence that the announcement or implementation of a vaccine mandate within the listed cities had any significant impact on vaccine uptake, COVID-19 cases, or COVID-19 deaths, and this is largely consistent for all cities in the US that implemented the mandate. ," said a working paper on the study, titled, "Indoor Vaccine Mandates in US Cities, Vaccination Behavior, and COVID-19 Outcomes."
The authors, Vitor Melo, Elijah Neilson, and Dorothy Kemboi, noted that vaccine mandates were among several measures used to reduce the spread of COVID-19 and deaths from the illness. As a result, they said, "(m)illions of people have been barred from entering restaurants, bars, gyms, theaters, sports arenas, and other indoor public areas without proof of a COVID-19 vaccination," with people and businesses facing "major disruption."
NOVAK DJOKOVIC ASKS FOR ENTRY PERMIT FOR TOURISM UNDER VACCINE STATUS: 'NOT IN MY HAND'
In New York City, 1,430 city employees were terminated for not following the mandate, and most restaurants lost customers and staff.
"Most supporters of the mandates claim that the associated increase in vaccination rates, and the implied reduction in the spread of COVID-19, outweighs the cost of the interventions. statistically significant in any of the cities that applied them in all empirical strategies used," they said.
CDC ADDS COVID-19 VACCINES TO OFFICIAL IMMUNIZATION SCHEDULE FOR CHILDREN AS YOUNG AS 6 MONTHS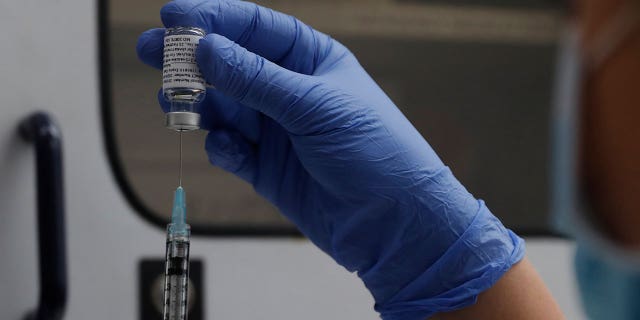 A key reason why citywide mandates have not been effective, the study found, is that they are too easily circumvented. Unlike nationwide mandates imposed in Europe, unvaccinated people in cities with mandates can simply travel to a nearby city.
"The mandate didn't affect COVID cases, it didn't affect COVID deaths, and it didn't make people more likely to get vaccinated in the first place," Melo said, according to Fox5DC.
CLICK HERE TO GET THE FOX NEWS App
In contrast, the working paper noted that other studies have shown that country-wide and province-wide mandates in Europe and Canada were effective in terms of getting more people to get the first dose of the COVID vaccine -19. The authors also pointed out that a significant percentage of their populations were already vaccinated by the time the cities studied implemented their mandates.
"The idea behind the mandate is to get more people vaccinated, so we're going to reduce the spread of COVID," Melo said. "That first step never really happened."