Plus more NFL combine notes, including the tight ends, pass rushers and corners that have impacted teams.
We mentioned Florida QB Anthony Richardson in this week's takeaway, and the NFL still has a lot to learn about him. It only started one year. It came on the radar late. It's raw. So I thought, in an effort to get to know him better, I would contact Billy Napier, who coached him at Florida last year. Here are some excerpts from our Sunday afternoon conversation…
MMQB: Anything that surprises you about Anthony's trick?
BN: Definitely looking forward to it. I've been around it for a bit, probably 10 months or so. Just an amazing athlete and, as we spent more time with him, we quickly knew he was pretty special. So no wonder how it tested. … So, yes, I think there are numbers from generation to generation, freaky dimensions, I always felt strongly that he was a special man.
MMQB: What did you see when you first got it last year?
BN: Anthony was a relatively inexperienced player. He was just a menu guy most weeks, where he would have the six, eight, 10, 12 plays that he was responsible for. And then of course he started the one game against Georgia. He had a highlight reel. I think he had played about 200 something plays in his life at that point, so really a young, inexperienced player who surprised people when he was given the opportunity to go out and play. … When we first got to bowl practice, Anthony didn't participate because of the knee surgery, so it was the first time I saw him live in spring practice at this time last year. And I slept pretty well that night, to put it that way. Let me say this, Anthony's talented, he's had great success at times, but I believe his best football is still ahead of him.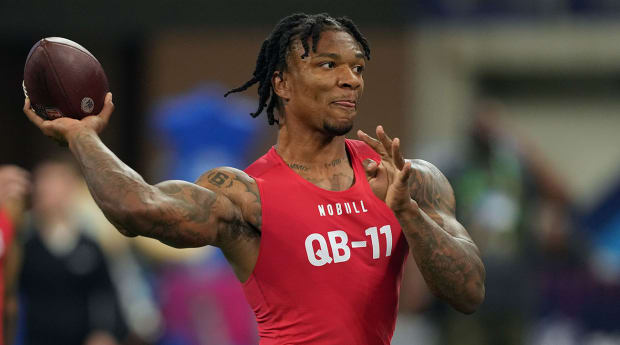 Richardson was the talk of the combine in Indianapolis
Kirby Lee/USA TODAY Sports
MMQB: NFL people universally call him raw. Do you agree?
BN: The man is still a very young player. Eastside High School, right here in Gainesville, the first year of college football was COVID, and then he changed quarterback coaches for 2021 and then obviously he was with us for a year, but he was changed in spring ball. So, yeah, I think there's a lot of room for it to continue to grow. I think he's had a good few months here preparing for the meet, and of course he put on a great show yesterday.
MMQB: How much did he grow in your year with him?
BN: I think you would be surprised. Anthony is extremely intelligent and was very talented in that area. The biggest areas of growth for him were defensive structure, front, pressure, coverage. The other areas we worked on were the defenses, versus Mike IDs and redirecting the defense in a five and six man defense. And then of course the leadership component, being a young player and an inexperienced player. So I thought we saw him grow in all those areas.
MMQB: So, I bet that speaks to his ability to learn?
BN: I would say there are no limits. This guy is really sharp. And it picked up relatively quickly. And we're talking about a guy who hasn't played a ton of ball. So he's a one-year starter and will only grow when he gets to the next level.
MMQB: What kind of child is he?
BN: He is a great boy. He is humble, he is very bright, he cares about others. It's one of the things I really appreciate. He's got a really unique story about his family dynamics, what he's overcome, what shaped his story and character. But he's a man who's really humble, who really cares about people and he's a man who, I think, is selfless and cares about other people.
Here are some quick takeaways from what the evaluators saw at combine sessions…
1. The tight end group drew rave reviews. Georgia TE Darnell Washington, who is an absolute monster, was good enough at catching the ball to attract teams whose ceiling he had in that area – his production over the past two years was limited in part by playing in next to the best pass. coming tight end in college football (and maybe from Kyle Pitts) in Bulldogs sophomore Brock Bowers. And 6'7″ Old Dominion tight end Zack Kuntz, who transferred there from Penn State, emerged as a dark horse in a loaded group after running a 4.55 40 and becoming the tallest player in his 40-inch vertical at each other
2. Florida QB Anthony Richardson was the first name that almost every evaluator brought up, and it was hardly surprising. Another popular one to come up in my first quick round of texts sent out as the reunion approached—Pitt DT Calijah Kancey. His situation will be interesting, because like fellow Panther Aaron Donald, he is very small for the position, at 6'1″ and 281 pounds, which makes drafting him high a nonstarter for some teams.
3. In general, it wasn't a great weekend for the receivers, but two guys helped themselves a lot. One was Ole Miss' Jonathan Mingo, who checked in at 6'2″ and 220 pounds, ran a 4.46 40, jumped 39.5″ and racked up 22 reps on the bench press – coming from a school with a nice track record for wideouts, strong wideouts . The other was Ohio State's Jaxon Smith-Njigba, who reminded everyone how good he is, starring in positional drills and posting elite times in the short shuttle and three-cone drill. If he runs a good 40 at his pro day, he has a good shot to be the first receiver taken.
4. There was said to be pretty good depth at cornerback, and that was certainly proven with a few guys there putting on a show – Oregon's Christian Gonzalez, Michigan's DJ Turner, Maryland's Deonte Banks and Kansas' Julius Brent State among them. All but Brent were 4.3 or faster in the 40. That Turner was the fastest (4.26), and the fastest of the pair, a pioneer. He has a solid chance of getting inside the top 50.
5. The other strong position that showed in a big way was the pass-loar group. Everyone heard the ridiculous numbers Georgia had from Nolan Smith – he ran a 4.39 40 and jumped 41.5″ at 238 pounds. But the list of guys who excelled among the rushers was long. and Tuli Tuipulotu of part of USC that came up when I asked around for fellow winners.
6. One thing to note—players definitely have more free time while in Indy than they used to, with the league adjusting the TV schedule. And that seems like a pretty good thing actually. The guys I was around outside the stadium certainly didn't seem as worn out and on edge as I remember in the past. Vikings coach Kevin O'Connell said something about how he wanted the players to be treated well, to see them at their best. It feels like the league has gotten closer to creating the kind of environment in Indy where that can happen (now, they just have to avoid things by moving it somewhere else).