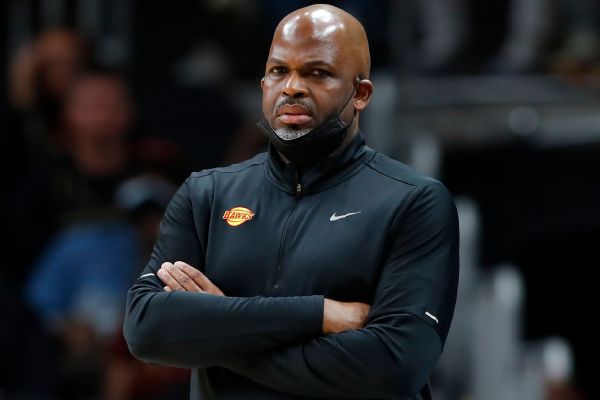 The Atlanta Hawks fired coach Nate McMillan on Tuesday, paving the way for an immediate search for a new coach that is expected to begin with Quin Snyder's candidacy, sources told ESPN.
The Hawks made assistant Joe Prunty the interim coach for a team 29-30 and eighth in the Eastern Conference, but new general manager Landry Fields will lead a search that begins immediately, sources said.
McMillan and the Hawks were expected to part ways in the offseason, but ownership and management decided to make the change now with time left to save a playoff season and begin the search for the franchise's next coach, sources said.
This is the second significant change in Hawks leadership this season. President of basketball operations Travis Schlenk stepped down on Dec. 21, clearing the way for Fields to become the franchise's top basketball decision-maker.
Snyder has a history as a Hawks assistant coach under Mike Budenholzer, as do two other candidates expected to be part of the process: Milwaukee Bucks associate head coach Charles Lee and Golden State Warriors assistant Kenny Atkinson, sources said.
Snyder led the Jazz to six straight Western Conference playoff appearances, including three in the conference semifinals. Snyder, 56, resigned after the 2021-22 season and is expected to be at the top of several teams' candidate lists this past season.
Atlanta has significant offseason decisions to make regarding how it wants to shape the roster, and the opportunity to move quickly on a coaching search could give the Hawks a better prism with which to assess the future of the franchise. Fields needs a coach who will improve player development and franchise accountability and move the team toward the top 10 in offensive and defensive ratings, sources said.
Internally, Fields has emphasized defining what a Hawks player will be and this coaching search wants to help shape those traits, sources said.
For now, Prunty will be an interim coach for the second time in his career. After replacing Jason Kidd in 2018, Prunty was 21-16 in the regular season for the Bucks. They lost a seven game series to the Boston Celtics in that opening round of the playoffs.
McMillan succeeded Lloyd Pierce as interim coach in 2021 and engineered a run to the Eastern Conference finals. He was awarded a four-year contract, and had a 99-80 record as head coach. The Hawks are 16th in offensive efficiency and 21st in defense this season.