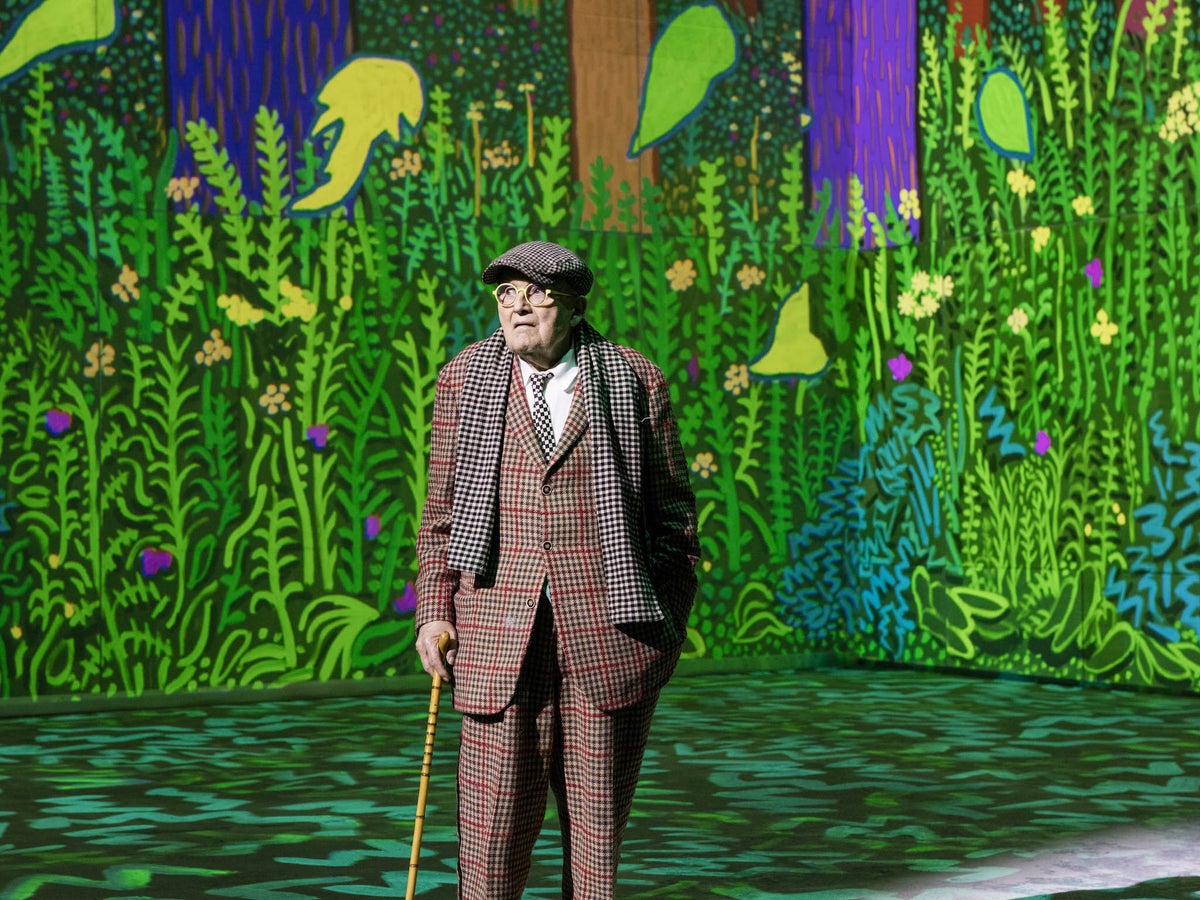 As I walk along a bleak corridor under one of King's Cross's newly developed shopping malls, I know there is a blue light ahead, and the voice of an old northern England that cannot say: "I love life, I loved for life always." It's the voice of Britain's best-known artist, of course, and as I enter a vast space with a muted green light engulfing me and the walls filling, seemingly miraculously, with views along Yorkshire lanes, I realize that my body just touched it. with David Hockney's paintbrush.
From his multi-perspective photomontages in the 1980s to experiments with iPad drawing from the mid-2000s, the artist whose work has been evolving since 1962 has prided himself on embracing new technologies. Now it's taken on a form that feels very much of the moment: the kind of immersive, multi-sensory "experience" that's generally focused on one popular artist, popular with audiences but generally claimed by art specialists. The global success of Van Gogh: The Immersive Experience There are exhibitions dedicated to Gustav Klimt, Salvador Dali, Frida Kahlo and Diego Rivera, and others.
The difference, however, between David Hockney: Bigger & Closer (not smaller & further away) and, say, the incarnation of Van Gogh that the artist is actively involved in this show. In fact, judging from previous statements, it is clear that Hockney considers it a work in itself, and one of the most significant and truly innovative works to date.
The fact that Bigger & Closer, which opens Lightroom, a new venue for "fantastic artist-led shows", promoted by experienced theater companies – including the team behind the Bridge Theater by the Thames – significant. Hockney has always been a performer: from the time he came onto the art scene with big glasses and dyed blonde hair, while still a student, to his current nod on the topic of smoking. Television, indeed, can be added to the list of technologies that Hockney has made his own. The colorful clothes, the Yorkshire droll voice and crystal clarity in explaining his ideas – although still with a folksy touch – all helped make Hockney one of the most popular Englishmen of all time.
I must admit, however, that I felt very dubious approaching this show, which brings together Hockney the performer and Hockney the artist on a "journey through 60 years of his art", with the opportunity to "show the world taste through Hockney's eyes" . Having seen several Hockney films and TV documentaries over the years, do I really need to see what will essentially be another one, probably with obscene music, blown up on a massive scale?
But from the moment I take my seat, with views through Hockney World opening out over the great walls and floor, all drawn by him and constantly changing, and his voice slowly singing and crooning in the middle of the fair , I am completely overwhelmed. "The world is beautiful," he says, very weakly, "when you really look – but most people don't." And the weakness is offset in that last sentence by the rival Yorkshireman, with Nico Muhly's emotive score closing in on us. Blimey! It's like meeting Hockney (which I have), being at his memorial service and walking through the Yorkshire of his imagination all at once.
I'm not the biggest fan of Hockney's Yorkshire paintings, but looking at one of his purple-painted forests with an iPad coming out of the walls, it seems to me that this is a much better way to see them than in a gallery cold. wall. As the walls bloom with the arrival of spring, Hockney compares the season to "nature building up" and "champagne sprinkled along the hedges". Even he realizes that many viewers will have heard these comments before, but because he's saying them – again – you feel like all is somehow right with the world.
Suddenly the mood changes, and we are faced with one of Hockney's main concerns: the multiplicity of objects and types of perspective. A Florentine one-point perspective opens up on one wall in a view through a church, a Chinese aerial perspective on another, and a somewhat mysterious Byzantine icon on a third. I barely had a chance to turn and accept the second one before an extremely long Chinese scroll appeared on the large space. Hockney grew impatient with perspective and is recreating Cubism in multi-view photomontages. A portrait of his mother made up of a dozen Polaroids makes a lot more sense here, blown up to the size of the house, than it ever did in a tiny 2-foot frame.
There is a long gallop through Hockney's opera design, and Hogarth's engravings vibrate for Progress of the Rake by Stravinsky, and a splash of Chinese color renditions of Puccini's Turandot. If it seems that we are waiting a little too long without Hockney's voice in an excerpt from Wagner's Tristan and Isoldewith a static image of a landscape revealing a certain clarity in the original image, the forms have morphed from flat to uncanny 3D almost before we know what is happening.
Hockney's voice moves around in time and space almost as much as the visual images: from that octogenarian Yorkshire gasp to a much younger, stronger and more "spoken" Hockney half a century ago.
Flat maps of downtown Los Angeles give way to career lanes along the nearby San Fernando Valley, spilling around the walls in Hockney's color-painted visions as he talks about his love for the city and the sense of freedom and possibility it gave him as young man. We meet him in the back of a car as he drives along the valley 40 years ago, with Wagner blasting as it was then.
Hockney's art was about sampling from different forms and styles and synthesizing them, which he fuses together with his irrepressible graphic wit and concern. It's an approach perfectly suited to the treatment it's given here, warping it into a spectacularly transformative dome through Hockney's art that returns to square one after 55 minutes where you've barely had a chance to breathe. catch – even though you are. free to watch it as often as you like. While much of the credit must go to the filmmakers – especially director Mark Grimmer – Hockney's vision and driving spirit are his. One likes some of his work more than others, but there is no denying the ineffable energy and enthusiasm that promotes his art. I have fallen in and out of love with Hockney and his work many times over the years, and now I understand that he was part of the journey.
'David Hockney: Bigger & Closer (not smaller & further away)' is on at Lightroom, King's Cross, until June 4