Dave Grohl is bringing out the best of Twitter after volunteering at a Los Angeles homeless shelter barbecuing for hundreds of people during a California winter storm last week.
"He provided the food and the time and got a hold of cooking over 24 hours in the middle of the storm last week." Grace Ancheta, director of development at the Trebek Hope the Mission Center in Northridge, California, told HuffPost.
The organization told Today that the Foo Fighters frontman donated ribs, pork butt and brisket to people in need. The shelter said Grohl showed up at around 3 pm on February 22 and started preparing the meat in his kitchen.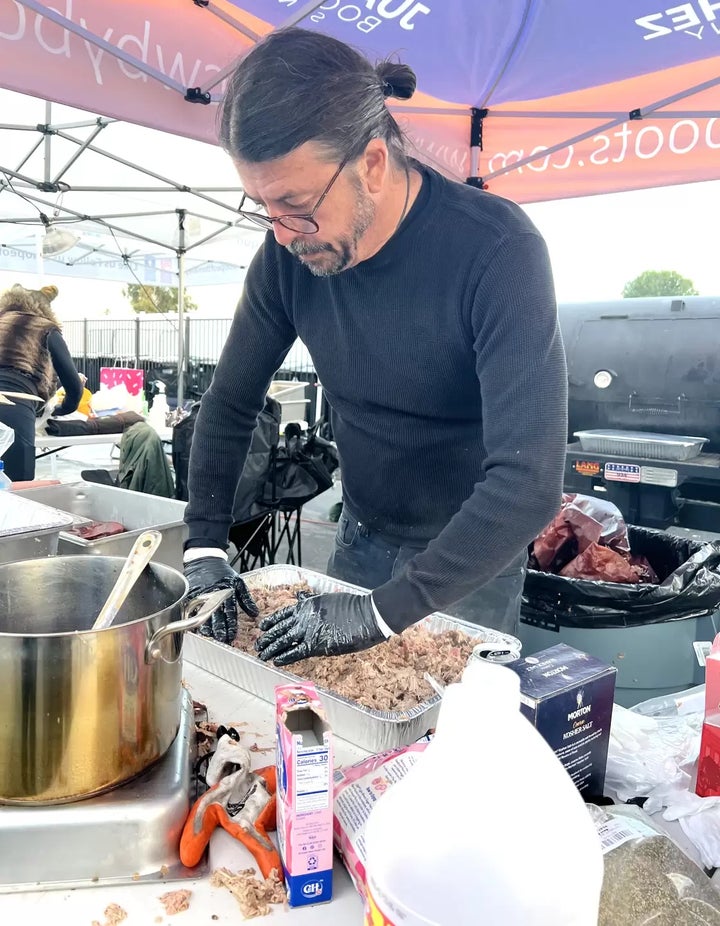 "The meat didn't go into the smoker until midnight that night because it's like, 'Oh, it has to season, and it has to do this,'" Ancheta told Today. "He's definitely a craftsman when it comes to that, and then he spent the night."
Grohl and other barbecuers took turns dodging hail and rain to cook the meat overnight until it was ready around 3 pm the next day. He then served the food to guests at 6 pm and was happy to take photos with fans.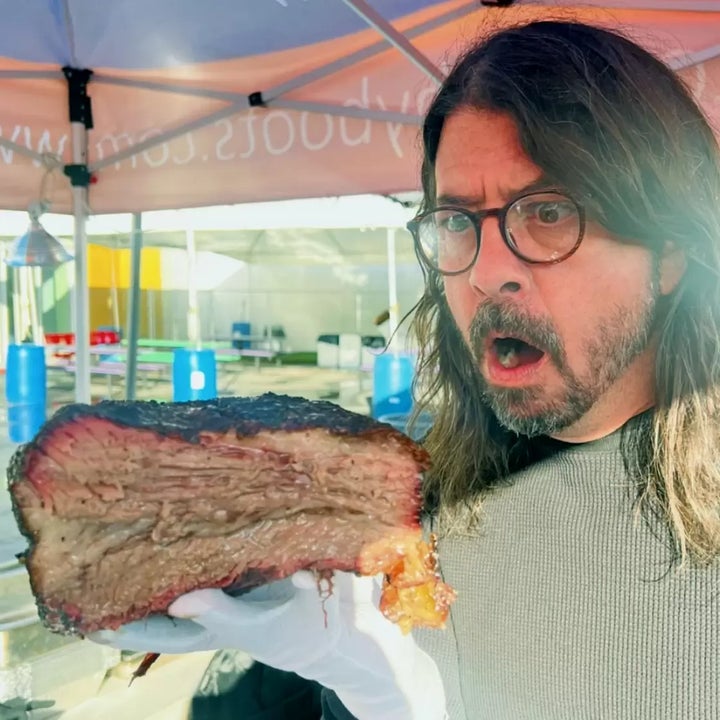 "He didn't want any glory," Ancheta told Today. "He was like, 'I want to do this for you guys and give back in that way.'
Grohl got a little eyeful in the parking lot of the shelter before feeding about 450 people, according to TMZ.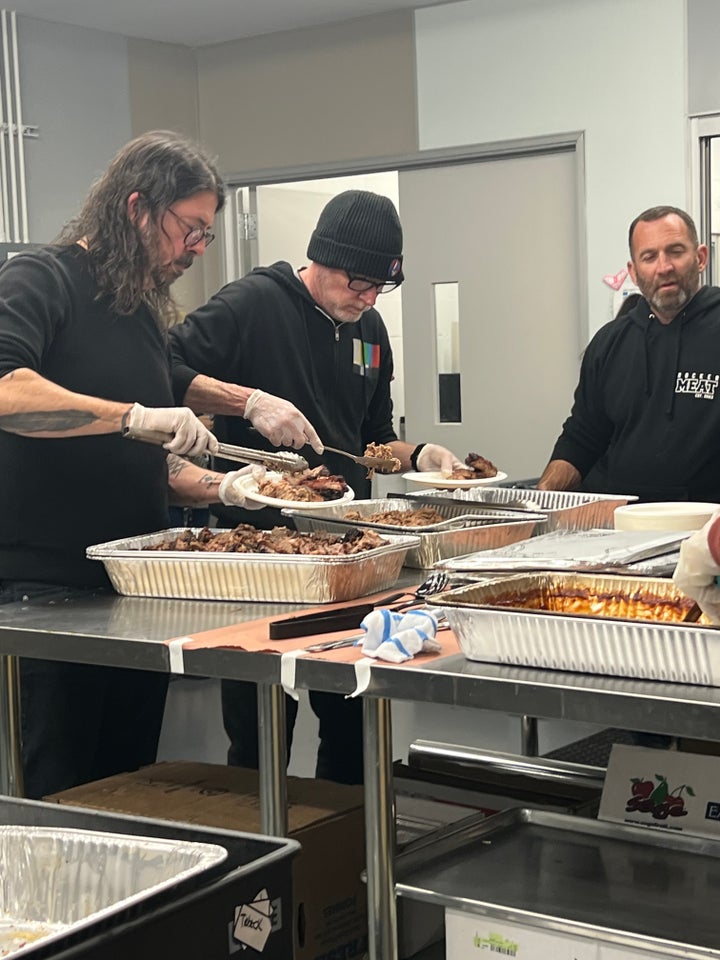 Foo Fighters fans also praised Grohl on Twitter.
"When the aliens come here and ask 'who's in charge?', I think we take them to Dave…" one said a Twitter user.
"Dave Grohl out there doing the Lord's work," another user tweeted.
Grohl told Bon Appétit in 2019 that he fell in love with barbecue during his Nirvana days but didn't start eating meat until he broke his leg falling off stage at a Foo Fighters show around 2015.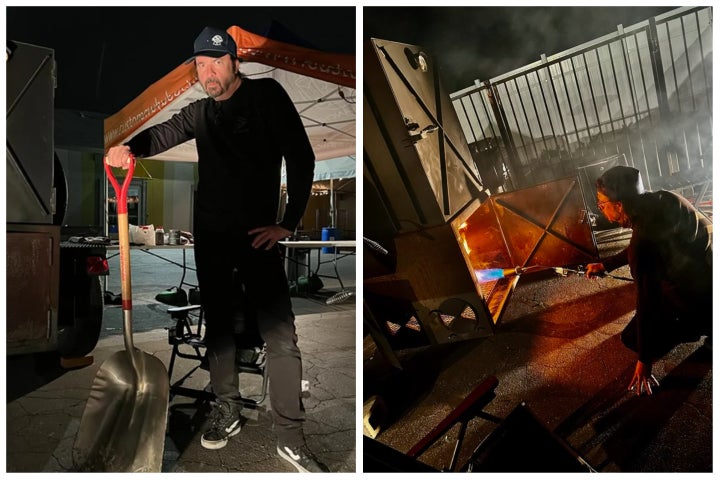 "When I got off the tour, all I had to do was mess around with (a portable kitchen grill called) Big Green Egg that our bassist Nate (Mendel) got me," he said.
Grohl watched YouTube tutorials on how to make ribs "like what's on the Chili's commercials," he said, and then began dabbling in the art of creating smoky, fall-off-the-bone meat.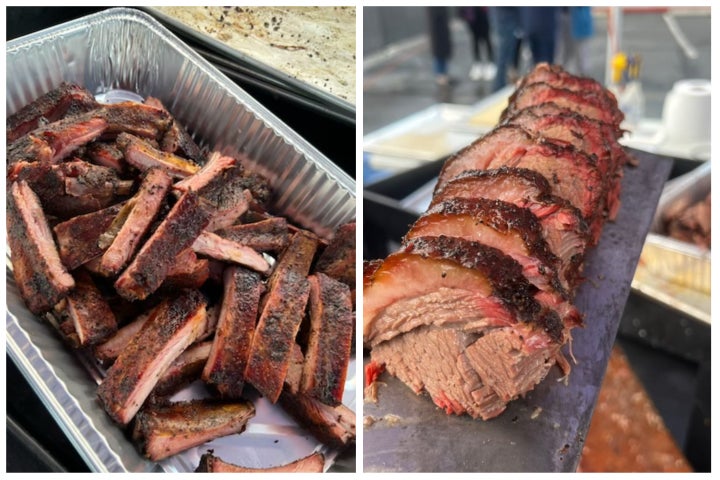 "I was hooked," he told the magazine.
He got the idea to start a one-man catering company called Backbeat BBQ while cooking for displaced people during the 2019 Malibu fires.
He also cooked up his treats for the Ronnie James Dio Stand Up and Shout Cancer Fimd benefit event in 2019.
"I didn't want to open a restaurant," Grohl told Bon Appétit. "But I wanted to pull up at a Slayer show or a Harley dealership or a church or the LA Food Bank benefit and cook. It's kind of cool that I can do that – and it's f**** fun!"
After all that, we know if you're still reading this, there's one last thing you want to say about Grohl's good deed, so here goes: