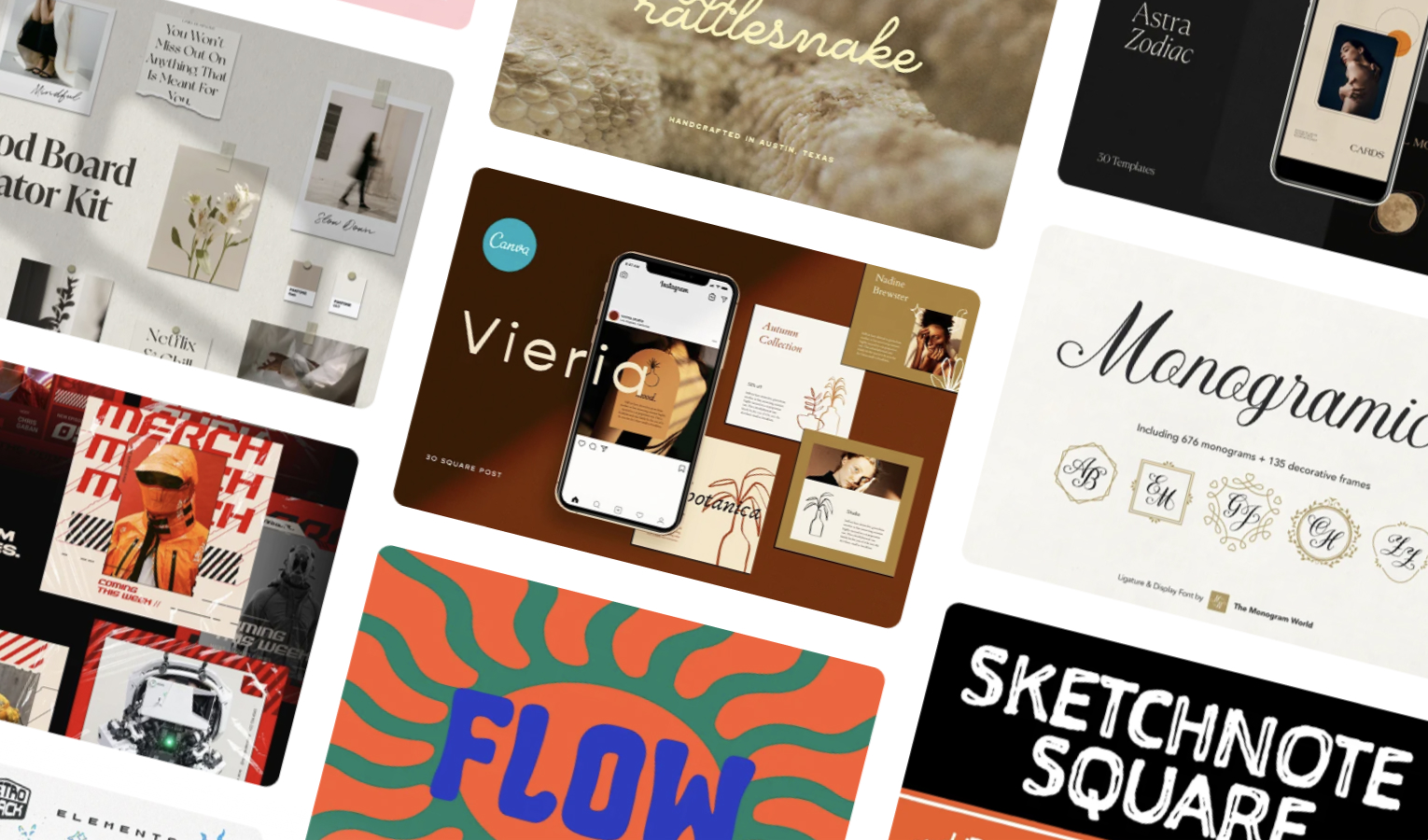 You're in for a big round-up of creative assets! We've curated 48 high-quality fonts, illustrations, templates, and more, sure to give your project just the look you want. No matter your design expertise level, you're sure to love these assets. 
Sign up for a Creative Market membership and get the free monthly Drop, plus save 20% on our entire catalog.
Let's dive in and see what we've collected for you this month!
Oceana Textured Backgrounds
West Wind Creative's Oceana textured background collection is inspired by the waves and luscious colors of the sea. Use it for anything from packaging to websites, blogs, stationery, and more!
Linecraft Boutique Logo Bundle
You will love this bundle of fresh, original, and classy logo templates from Tortuga Studios. Enjoy these logo templates' organic, feminine, and simple yet elegant designs. 
Get 20 different and unique Linecraft Boutique logo designs with adjustable line thickness, editable colors, and text in AI, EPS, and SVG vector formats. Each logo comes as a PSD file.
Writers Instagram Carousel Templates
Writer's block, begone! This set of 72 PSD templates divided into 12 carousel posts (each with 6 slides) is perfect for your next project. Choose to edit them on Canva or in Adobe Photoshop, September 5th's social media templates are ideal for authors, writers, business owners, and storytellers. 
Juliet Social Media Pack PS
This pack of 80 Social Media Templates from Feel This is ideal for selling goods, bloggers, influencers, designers, writers, clothing stores, magazines, and many others. The elegant, minimalistic, modern design will help create the perfect atmosphere for your channels.
Minimal Resume Template Carla
Meet Carla. A 2-page resume and cover letter combo that is sure to land you the job! Estartshop specializes in resume and CV design, so you know this design will impress. 
Webinar Course Elegant Slide Deck 
Save hours on your next course or presentation with Mirazz Creations' Elegant Slide Deck design. Choose from 75+ slide designs and edit in InDesign or Canva – it's easy enough for beginners or professionals and will elevate your content! 
Woodward: Editorial Sans
Extra, extra! Woodward caps-only is coming to a poster, t-shirt, or magazine covers near you. Another banger from Tenbury Type, Woodward: Editorial-Sans, comes with OTF, TTF, WOFF, font files and uppercase, Numerals, Punctuation & Symbols.
BERO Modern Unique Typeface
Almost the polar opposite of our last font, BERO Modern Unique is an elegant sans serif that will provide a timeless look for any modern design. From lucywho.studio, a graphic designer and digital nomad, BERO is an adorable font sure to impress. 
Fluid Holographic Shapes
Grab this collection of abstract holographic liquid shapes from 3D designer, Awesome Mockups. These iridescent 20 unique 3D design elements will transform your next poster, background, or website project. Groovy! 
100 Elegant Feminine Logos Premium
Exactly what it sounds like, pawellpi's collection of 100 elegant, feminine logos is perfect for any high-end design projects in your future. All templates are fully editable in PSD format, perfect for projects in fashion, creative fields, photography, and style. 
The Fest Bold Artsy Fonts
The Fest is another banger from TypeHaus, a collective type foundry. The Fest uses authentic-looking fonts that will grab the attention of both designers and customers. It is a bold, thick, expressive font that looks hand painted.
Astra Zodiac Instagram Templates
You're a Sagittarius, right? Whatever your star sign, you'll surely enjoy Blanche Studio's Astra collection of 52 PSD social media templates for bloggers, influencers, astrology, and horoscope enthusiasts.
Dakota Rough Sans Bonus 
Any Type studio is helping you embrace western culture and the outdoors with Dakota, a handmade vintage sans font. With two styles, filled and outlined, it's perfect for all types of posters and social media content. 
Rattlesnake Hand Lettered Font
The script typeface with flair, Rattlesnake hand-lettered font By Meg Burk is another perfect addition to your western-themed projects. Handcrafted in Austin, TX, so you know it's authentic! 
Natura Mini Collection
This mini collection of 19 backgrounds and 14 shapes features pretty nature tones for stylish organic designs. With rose gold accents, the collection by Isabelle Salem is a pastel watercolor dream. 
Hamilton Classy Calligraphy Font
Hamilton is Pen Culture's latest calligraphy font, which includes a beautiful ligature and alternate stroke. It is perfect for wedding projects, invitations, fashion, and more.
CYBERPUNK Instagram Templates
Edgy and punky in all the right ways, Bronx's CYBERPUNK PSD IG templates are just what your futuristic branding needs. Enjoy 30 web-ready and fully editable templates. 
Lovelace 30 Fonts
Zetafonts Italian type foundry has spent more than a decade creating aesthetically pleasing typefaces, like Lovelace. This font is a classic homage to the nineteenth-century "Old Style" typography tradition.
Dala Moodboard Scene Creator
Create lovely moodboard scenes with Dala from Sparrow & Snow. Inspired by northern design with soft tones, this collection includes 7 Moodboard Mockups in PSD with ready-made scenes and background textures.
Santa Rosa Typeface Bundle 
Retro-inspired and ready to play, Santa Rosa is a sans serif font that features rough and inky letter styles. With a selection of vector banners and shapes provided by the designer, Nienow Brand, you're ready for your next branding project. 
BLASTER 2 – Trendy Gradient Textures
We hope you'll enjoy LEROY Design's whimsical gradient textures as much as we do! These are the ideal grainy gradient layers with 10 stylish textures perfect for websites or social media backgrounds.
68 Dry Markers Photoshop Brushes 
Brushes galore! This collection of 68 Guerillacraft Brushes for Adobe Photoshop is inspired by the designer's own collection of dry ink brushes. All brushes are drawing and painting-friendly, so your computer won't even slow down! 
Project Proposal Template
Win your next contract with this InDesign & Word project proposal template from Occy Design.  With 30 pages to customize, something will surely suit your needs (and looks GREAT, too!). 
Minorica Handwritten Collection
Vintage Voyage delivers a handwritten collection to imitate a hand lettering style that will make you nostalgic for the days of doodling in your class binders. Enjoy rustic styles and shapes that look like hand-drawn art! 
Retro Curves 
A vibrant design set of abstract patterns, illustrations, and backgrounds, Retro Curves by Geometrica Bureau will take you back in time! 8 custom pre-made patterns are all you need to serve up that 70s feeling. 
Monogramica – Unique Ligature Font
With Monogram World, you'll find unique interwoven letters for weddings, as well as digital monogram templates and frames. Monogramica Script is one of them, a calligraphy typeface that includes 676 uppercase monograms that include automatic ligatures.
Classica Sans Serif & Logos
Misha Sova's latest Sans Serif & Logos are perfect for a modern feel with elegant botanical elements. For packaging or branding projects, even clothing, Classica is just that, classic. 
Flow Font Family 
You'll love the Flow Font Family by HemphillType.co. It's a relaxed font family that strikes the right balance between work and play.
PATTERNS 8: 10 Geometric Patterns
This PATTERN 8 collection by kloroform design studio combines art deco, modernism, vintage, and contemporary graphic design with timeless appeal. Perfect for corporate identity, invitations, stationery, apparel, packaging, and web design. Includes 40 extra large patterns. 
Sun is Shining Overlays
The Sun is Shining Overlay collection by PhotoSpirit adds a new layer of charm, artistry, and emotion to your photos. Now every day can be sunny!
Y2K Shapes Icons and Elements
Retro Black Studio created this pack inspired by the short-lived pop culture surrounding the "Y2K Era" from the late 90s to the early 2000s. 235 different shapes, graphics, characters, and phrases are available. Perfect for streetwear fashion brands, logos, posters, and social media graphics.
Geometric 160 Patterns Procreate
David is Creative provides a pattern for every project with this expansive collection of 160+ Procreate patterns. With free updates, the patterns are simple and fully customizable; you can experiment and speed up your work.
99 AntiGradients 
AntiGradient is a set of 99 gradient maps by bbymedia.store carefully designed to give your graphics a bright and dramatic look. Use them in abstract art, poster designs, album covers, social media, and anywhere else. 
eBook MS Word/InDesign
An elegant eBook template for the ages, available in both MS Word and InDesign format. The file guide from Leaflove studio has images and text to help you use and edit the file – even better!
Giovanna Sans
Designed by Genilson Santos, Giovanna Sans is a minimalist sans serif typeface that conveys a sense of refinement both in traditional and modern designs. In addition to containing over 60 ligatures, this typeface is designed to create unique titles and logos for display typesetting at large sizes. 
Colorama Color Kit 
G.A.R.M. Company's Colorama Color Kit is is a collaboration between Aaron James Draplin of the DDC and the G.A.R.M. Company founder Emir Ayouni. The AI version provides 50 palettes, 20 vector textures, and a video tutorial. 
75 Logo and Scene Mockups 
Set the scene with these 75 PSD files of different types of scene and logo mockups. All scenes and their items are compatible, so you can put an object from a scene into another scene. Thanks, Ceacle Mockup! 
Mood Board Mockup Scene Creator
Leigh the Studio went above and beyond when putting together this realistic mood board creator kit. Take your design portfolio, social media, and presentations to the next level with this essential mood board scene creator mockup.
VIERIA Canva Instagram Post Templates
Using the VIERIA Instagram Post Template, you can create an eye-catching and engaging Instagram post with a boho aesthetic. Elokka Std. provides 30 Instagram layouts and 40+ customizable graphic elements. 
Wasted Willie Font
The Wasted Willie Font is more than an amazing name. With a retro cartoon feel, Mighty SHORT's font is perfect for tee-shirt design, publications, web, packaging, and logos.
Brand Identity Poster/Stylesheet 
To generate consistency across multiple projects and media, Typefool's Shop's Brand Identity Poster template references how a brand should be handled and used. You can customize with colors, typography, photography, and your logo.
Sigana Modern Display Font
Niskala House designed Sigana Condensed, mainly for display purposes. With a very tall yet straightforward form, Sigana Condensed makes your design minimalist and modern. With TTF, OTF, and WOFF Formats included, Sigana is 284 glyphs in total and is ready to rock your minimalist design.
Rosebay Slab
Inspired by the 70s, Unio created Rosebay as an unconventional slab serif with innovative traits like arched slabs and claw ink traps. This modern font delivers high levels of readability and originality. 
Arkibal Display Font
Inspired by old documents and store signs from Jan-Christian Bruun's great-grandfather's list factory from 1838, Arkibal mixes classic lettering with a modern lift. 
Texture Procreate Brushes 
The Faber Co brush pack contains 20 high-quality seamless patterns that add unique textures to your digital art. You can easily adjust the brush sizes without compromising on the quality of the textures.
Sketchnote Square + Dingbats 
Rohdesign Studios created Sketchnote Square + Dingbats as a headline type, drawn instead of written, and the characters have delightful happenstance voids. The Sketchnote Square typeface is best used in larger sizes for headlines, titles, packaging, etc. 
Customer Journey CJM Powerpoint 
Thanks to HiSlide.io, your customer journey presentations just got a LOT easier. With 20 unique slides (200 total) in the package, you're sure to find something for every situation. 
AI Highlighter Brushes
Side Project provides a collection of 85 pressure-sensitive highlighter pen brushes for Adobe Illustrator CS5 or higher. The brushes are created through hand-drawn highlighter pen strokes that are textured, intense, trembling, and thought out to suit different path lengths.
— 
With hundreds of free assets worth thousands of dollars, the Drop has helped members develop their skills, refine their businesses, create stunning projects, and even start their own markets. 
Become a Creative Market member today and check it out for yourself!