Corsair TBT200 Thunderbolt 4 Dock: Key specifications
Dimensions (one dock): 8.74 x 3.27 x 0.99in / 22.2 x 8.3 x 2.5cm
System requirements: Mac OS 10.14 Mojave or later, Windows 10 or later
Thunderbolt ports: Thunderbolt 4 (one host facing, three facing downstream)
Power delivery: Up to 96W for host laptop, up to 15W for USB-C/Thunderbolt ports, up to 7.5W for USB-A ports
USB ports: USB-A SuperSpeed ​​​​​​​​10Gbps (3), USB-C SuperSpeed ​​​​​​​​10Gbps (1). Note: Thunderbolt 4 face-down ports also support USB-C connections
Video output: up to two 4K/60fps, via cables included or available separately (USB-C, Displayport or HDMI, in any combination)
Ethernet: 2.5G Ethernet port
Audio: 3.5mm combo port, 24-bit 192kHz
Lock management: Kensington Security Slot
Media reader: SD Card Reader, UHS-II (1)
The Corsair TBT200 fills a growing gap in the market: ports. It's incredible how thin some ultrabooks can be these days. That's great for aesthetics and portability, but there is a downside. And that's the lack of ports to connect your devices.
For example, the MacBook Air is a great computer, but it only has two USB-C ports, a 3.5mm headphone jack, a MagSafe 3 charging port … and that's it.
So if you've invested a lot of money in one of the best lightweight laptops, but you can't plug in all the devices you need, it might be worth buying a docking station to expand your connectivity . This type of device plugs into your computer, taking up one of its ports but giving you many more in return.
The Corsair TBT200 Thunderbolt 4 Dock is at the premium end of the market, with a price to match: $319.99 / £289.99 at the time of writing. In return, you get a total of 10 ports, and support for Thunderbolt: a standard built into the latest USB-C ports that provides the fastest speeds.
But is this the best dock for a MacBook Pro or similar ultrathin laptops? We put one to the test to find out.
Corsair TBT200 Thunderbolt 4 Dock Review: Design and build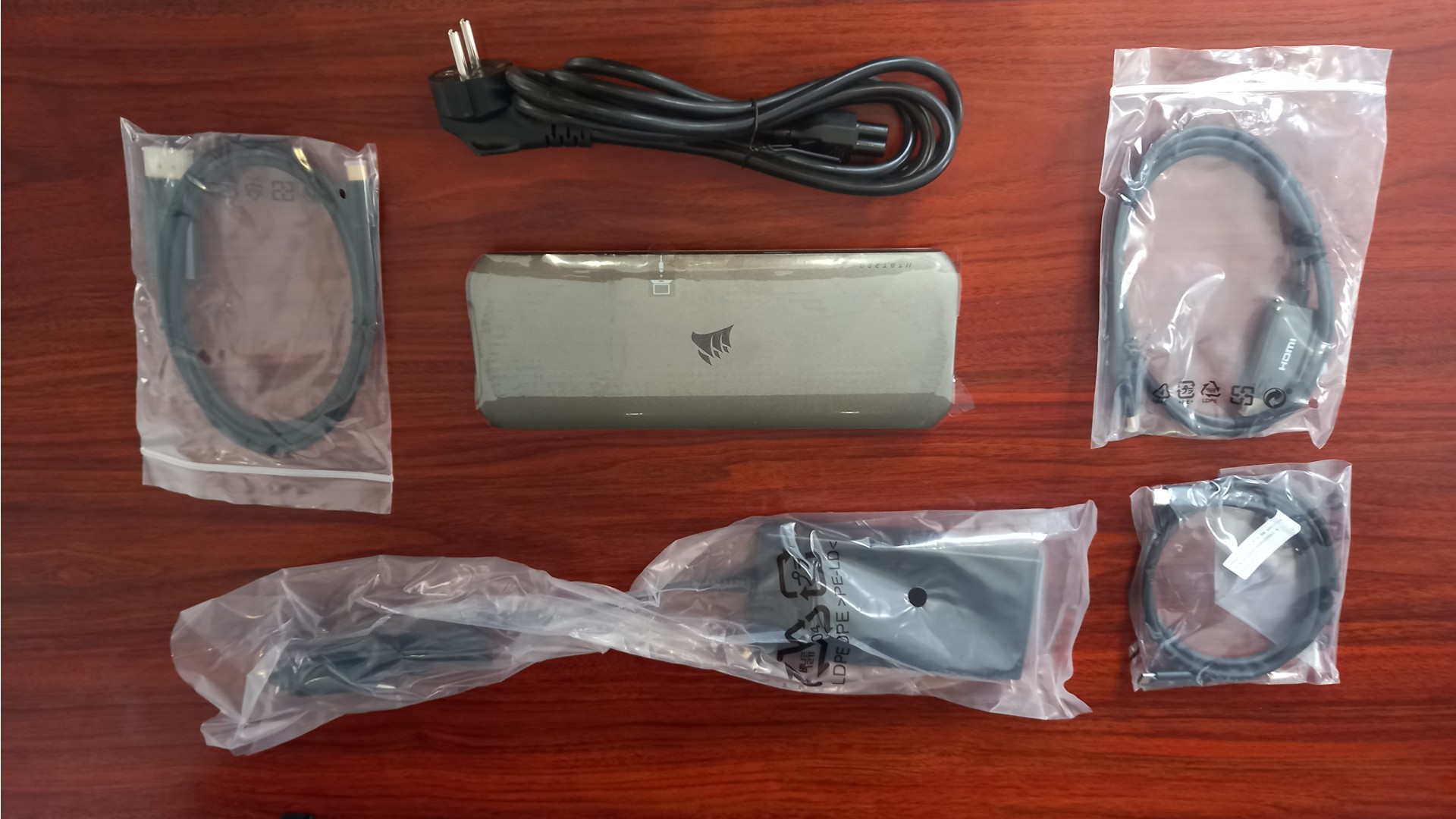 The first thing that strikes you when you open the box the TBT200 comes in is how many cables are included. Along with the dock and power supply, you get a 2.6ft/80cm long USB-C cable, which supports Thunderbolt 4; a meter long USB-C to DisplayPort cable, and a meter long USB-C to HDMI cable.
That's great on two levels. First of all, it saves you quite a bit of money compared to having to buy these guides separately, putting the total price into perspective. And secondly, it opens your eyes to just how many connections can be made from this sophisticated dock.
The dock itself is relatively small and light, considering how many slots it can pack in. Everything is contained within a titanium gray housing made from anodised aluminium, and looks and feels a bit like a metal pencil case. It fits nicely in the hand and any bag you need to carry it in.
What is a little heavier and more difficult, however, is its power supply, which has a rather hefty power brick. The cable is nice and long though, so at least you can spread the weight and space it takes up. And remember, this not only powers the dock but can also provide 96W of fast charging to your laptop.
Aspects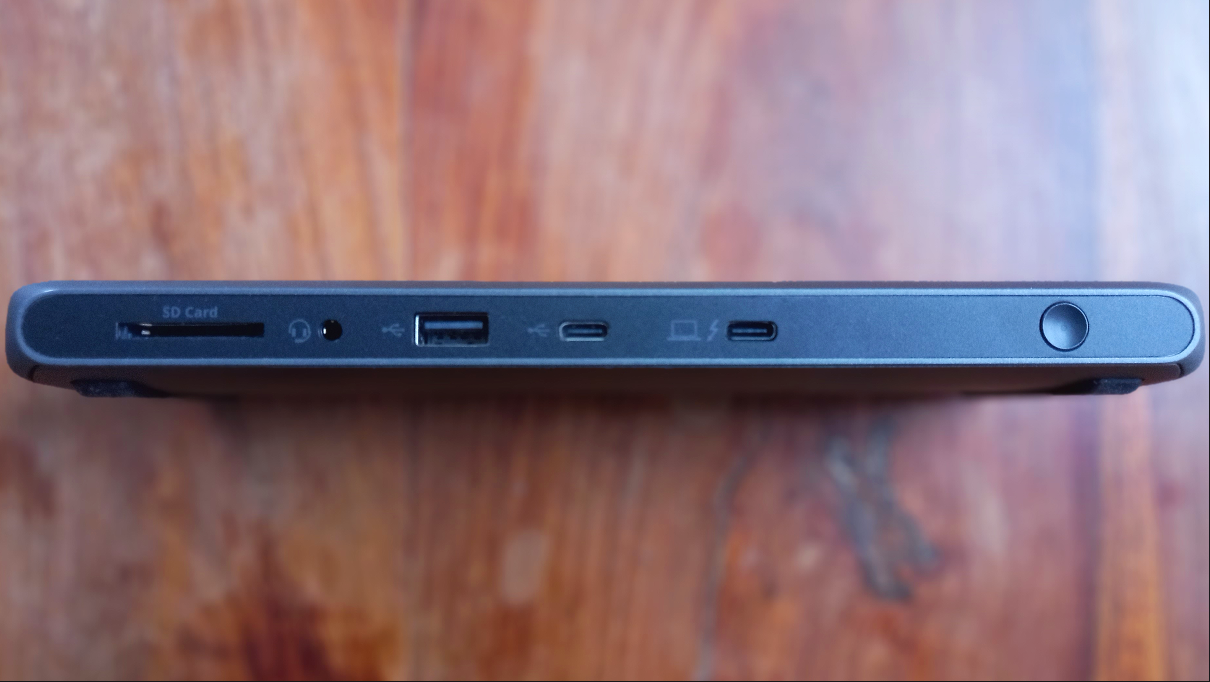 The TBT200 offers an impressive array of connections, spread across the front and back of the device. Those with the most modern laptops will probably be delighted by the prospect of three additional Thunderbolt ports (note: the fourth is for connecting to your computer). Usefully, these are distinguished on the case by a lightning-bolt symbol.
Each of these can transfer up to 40GB of data per second. This makes them perfect for fast devices such as PCI Express devices (including graphics adapter cards, network interface cards and storage accelerator devices) as well as monitors. Specifically, you'll be able to connect two 4K monitors at the same time, with HDR at 60Hz.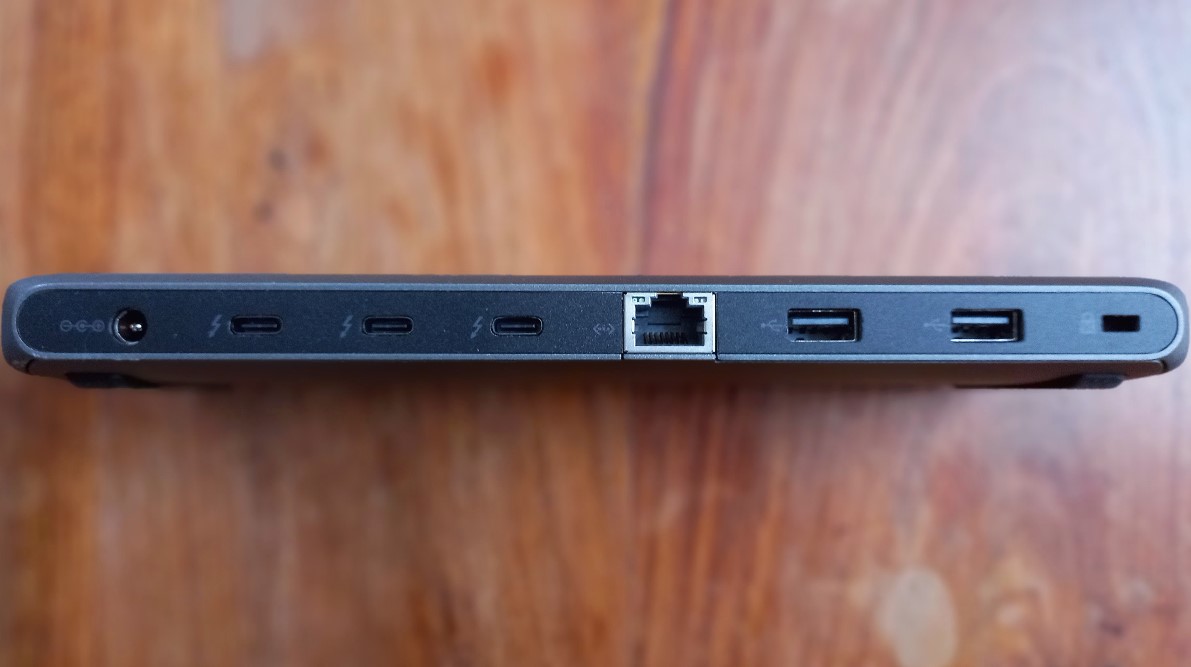 And that's just the beginning. You'll find another, non-Thunderbolt USB-C port. For your older devices, three USB-A ports are generous. Both this and the USB-C port provide 10GB of data per second, which is much slower than Thunderbolt, but fast enough for most purposes.
There's also an SD card reader, a 2.5 GHz Ethernet port, and a combined audio output that can function as both input and output. There is also a Kensington slot, for added security.
Performance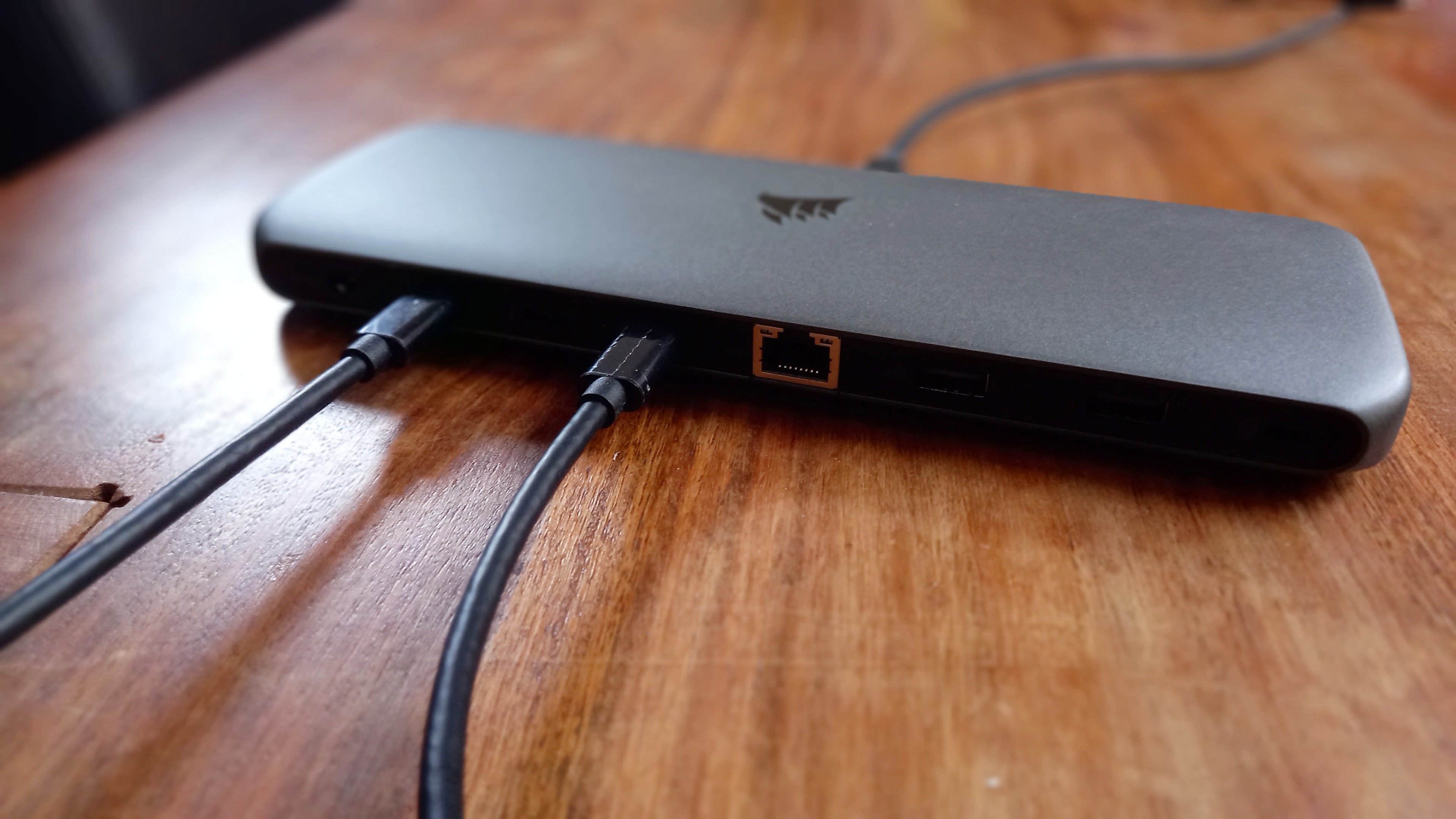 One of the reasons to spend money on a dock is the sheer convenience. So you definitely don't want to cause a lot of faff. Fortunately, with the Corsair TBT200 that is not the case. It is truly a case of plug (in) and play. There are no drivers or software to install: it "just works" simply by connecting the power and adding the appropriate instructions.
I tried it with a variety of devices, and everything worked flawlessly. The connection to the computer on the front, and the other Thunderbolt 4 ports on the back, makes a lot of sense and has helped reduce clutter and chaos on my desk. And I simply couldn't think of a situation where the average person would need more port than you're given.
The dock gets warm at times, but never hot, and I haven't felt any drop in connectivity during my time using it. This is kind of frustrating, as reviewers expect to find at least minor niggles to report, but ultimately, in terms of performance, I found nothing to criticize here.
Should you buy the Corsair TBT200?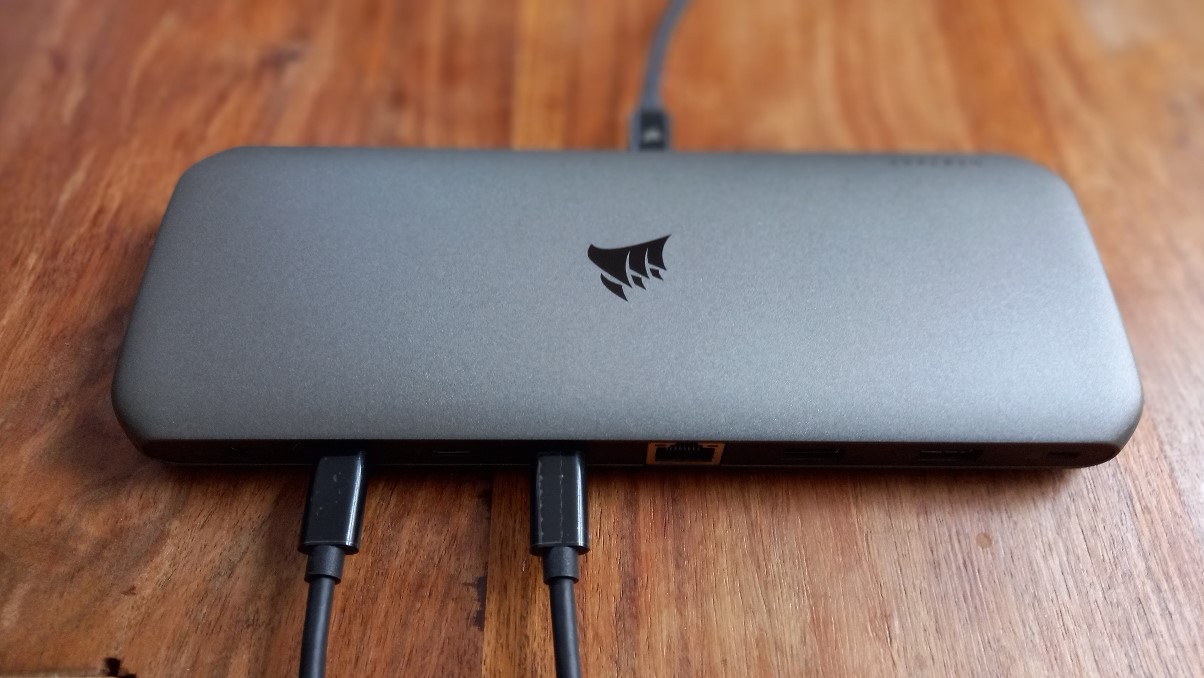 As you should have gathered by now, I have very little bad to say about the TBT200. This is a premium dock that supports Thunderbolt 4, offers a large number and variety of ports, and all in a small, lightweight package that is simple to set up and use.
Yes, the power brick is surprisingly large and clunky. And okay, this dock might not suit their particular needs. But for most people, there are more than enough ports here to connect everything you need to your laptop.
The only downside to the TBT200, then, is the price. It's on par with what's on offer, and compares well with rivals such as the Kensington SD5700T (opens in a new tab) and CalDigit TS4 (opens in a new tab). But if you only need to connect a few devices, such as an external hard drive or a mouse, this sophisticated dock will be too much of a waste, and you'll be better off with a simpler USB hub, such as the EZQuest 8 -port USB-C Hub Multimedia (opens in a new tab) or Kingston Nucleus USB-C Hub (opens in a new tab).
If, however, your needs are more advanced – you're working with multiple monitors, say, or you do a lot of data crunching with large files – then the TBT200 is good enough. In short, if you're looking for a Rolls Royce option when it comes to docks, this is a good place to come.