LOS ANGELES (AP) — A powerful winter storm left California vulnerable to flooding, blizzards and mudslides Saturday as it added frigid temperatures to the mix of misery.
Overnight lows could drop below freezing in some areas and downtown San Francisco could experience record cold temperatures Saturday morning, according to the National Weather Service. A projected temperature of 38 degrees Fahrenheit (3 degrees Celsius) would leave the city at its coldest since 2009, the weather service said.
Flash flood warnings were issued from Friday until 1 a.m. or 2 a.m. Saturday in Los Angeles and Ventura counties, a region of about 6 million people. The weather service said flash flooding was occurring late Friday in Ventura County, where up to 7 inches (18 centimeters) of rain fell and up to 10 inches (25.4 centimeters) was possible before the storm turned. rainy Saturday afternoon.
In Los Angeles County, forecasters said life-threatening flash flooding was possible near ponds, streams, urban areas, highways and areas burned by wildfires. The threat zone included Downtown LA, Hollywood, Beverly Hills and many suburbs.
"Shallow landslides and mudslides are expected," the weather service said.
Despite the heavy spill, no serious problems were immediately reported.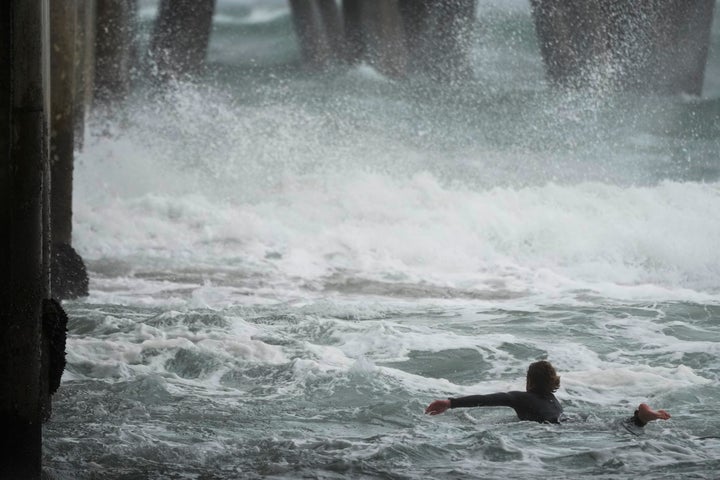 Rainfall of up to an inch an hour raised fears of flooding or mudslides. Evacuation warnings were issued in several burned-out areas and for a mile-long stretch of Oceano, located on the central coast near a levee that overflowed during storms last month. Residents were advised to be prepared to flee at short notice.
Meanwhile, people further east were struggling to cope with the fallout from storms earlier this week.
More than half a million people in Michigan were still without power late Friday night, days after one of the worst ice storms in decades caused widespread power outages by bringing down about 3,000 ice-covered power lines .
Promises of power restoration by Sunday were of little consolation, when low temperatures were expected to return to above zero (minus 18 Celsius).
"That's four days without power in that weather," said Apurva Gokhale, of Walled Lake, Michigan. "It's incredible."
Back in California, the National Weather Service's Weather Prediction Center predicted heavy snow over the Cascade Mountains and the Sierra Nevada into the weekend.
California wine country has not been spared from the rare brew of wind and snow. Mark Neal told KPIX-TV he woke up Friday morning to a foot (30.4 centimeters) of snow — more than he's seen in more than 40 years — and many of his oak trees snapped in half.
"It's almost a battlefield if you look at it. Some of them are over 200 years old," he said. Fortunately, the vines were safely dormant.
The low pressure system that pushed the atmospheric river from the Pacific Ocean into central and southern California on Friday was driving inland and is expected to bring widespread rain and snow into southern Nevada on Saturday evening and then across northwestern Arizona on Saturday night and Sunday morning, the National Weather Service office in Las Vegas said.
A detonation warning has been issued for the Sierra Nevada backcountry around Lake Tahoe, which straddles the California-Nevada border. Nearly 2 feet (61 cm) of new snow had fallen by Friday and up to 5 more feet (1.5 meters) were expected when another storm moves in and may bring high-intensity gusty winds and flurries on Sunday. , the weather service said. .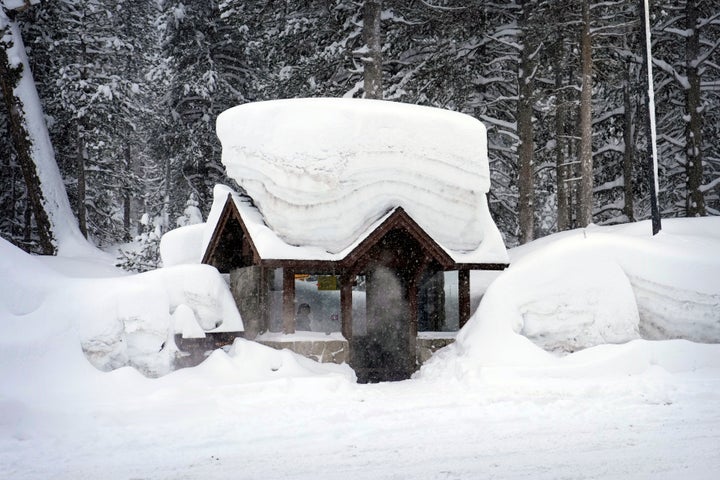 In Arizona, the heaviest snow was expected late Saturday into midday Sunday, with up to a foot of new snow possible in Flagstaff, forecasters said.
Weekend snow was also forecast for parts of the upper Midwest to the Northeast, with pockets of freezing rain over some areas of the central Appalachians. The storm was expected to reach the Central Plains by Sunday afternoon.
But the southern states were avoided because of the cold weather that blasted the North and West, which caused wild temperature differences. The high temperature for the United States on Friday was 93 degrees Fahrenheit (34 degrees Celsius) at Falcon Lake, Texas, and the low was minus-35 degrees Fahrenheit (1.7 Celsius) near Huntley, Montana.
The winter blasts resulted in the cancellation of hundreds of flights at airports across the country and the closure of thousands of highways in several states.
In California, several drivers were trapped overnight on snowy, icy State Route 17, a freeway in the mountains of the San Francisco Bay Area, before it reopened Friday morning.
Interstate 5, the West Coast's main north-south highway, was closed south of the Oregon border as snow fell on the Sacramento Valley floor. The Grapevine, a high mountain pass north of Los Angeles, was closed for more than 12 hours. After it reopened Friday afternoon, traffic came through under police escort and there was a chance of more closures as forecasters predicted strong winds leading to blizzard conditions in the mountain ranges and passes.
Much of a long stretch of Interstate 80 remained closed most of Friday over the top of the Sierra Nevada mountain range between Sacramento, California, and Reno, Nevada.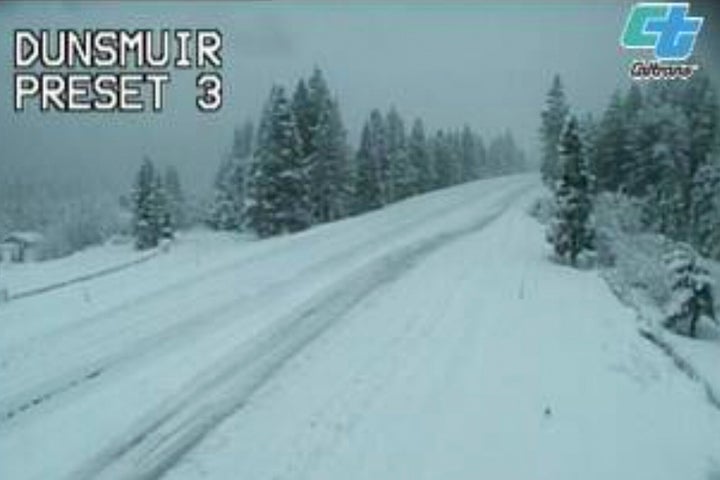 Severe weather prompted Los Angeles County to keep its emergency shelters open in March as a wind chill was expected to drop weekend temperatures below freezing in the San Fernando and San Gabriel valleys. The large homeless population in the county was at particular risk.
At least three people died in the storms from coast to coast. A Michigan firefighter died Wednesday after coming into contact with a downed power line, and in Rochester, Minnesota, a pedestrian died after being hit by a city-operated snowplow. Authorities in Portland, Oregon, said one person died of hyperthermia.
Much of Portland was closed and icy roads weren't expected to melt until Saturday after the city's second-heaviest snowfall this week: nearly 11 inches (28 centimeters).
Tim Varner sat huddled with blankets in the front door of a Portland store sheltered from some of the wind, ice and snow. Local officials opened six shelters overnight but the 57-year-old, who has been homeless for two decades, said it was too difficult to push a shopping cart full of his belongings to get to one.
"It's impossible," he said. "The snow builds up on the wheels of your trolley and then you find slippery spots and you can't get any traction. So you're stuck."
Taxi reported from Orange County, California, and White from Detroit. Contributing to this report were Associated Press journalists Haven Daley in California, Claire Rush in Oregon, Corey Williams in Michigan, Scott Sonner in Nevada, Margaret Stafford in Missouri and Sarah Brumfeld in Washington, along with AP journalists across the country.