Ben Platt's long-awaited return to Broadway got off to a troubled start this week as arriving theatergoers were greeted by members of a far-right neo-Nazi hate group.
A video posted on Twitter by journalist Jake Wasserman of the Forward shows a masked man representing the National Socialist Movement handing out anti-Semitic leaflets outside the Bernard B. Jacobs Theater in New York, where Platt preview performances of the musical "Parade" begin on Tuesday.
"You're paying $300 to worship a pedophile," the unidentified man says in the video. In the background, another shouts: "Romanticizing pedophiles, wow, Leo Frank."
According to Playbill, the man was joined by a small group of vocal demonstrators carrying handwritten signs with vile, anti-Semitic rhetoric.
Written by Alfred Uhry and Jason Robert Brown, "Parade" is based on the life of Leo Frank (played by Platt), a Jewish man wrongly convicted in 1913 of the rape and murder of 13-year-old factory worker Mary Phagan. . Two years into his life sentence, Frank was kidnapped from a prison in Georgia and hanged by a lynch mob. He was posthumously pardoned in 1986.
Platt, who rose to fame in 2016 for his Tony-winning performance in "Dear Evan Hansen," addressed the protest in a short video posted on his Instagram page.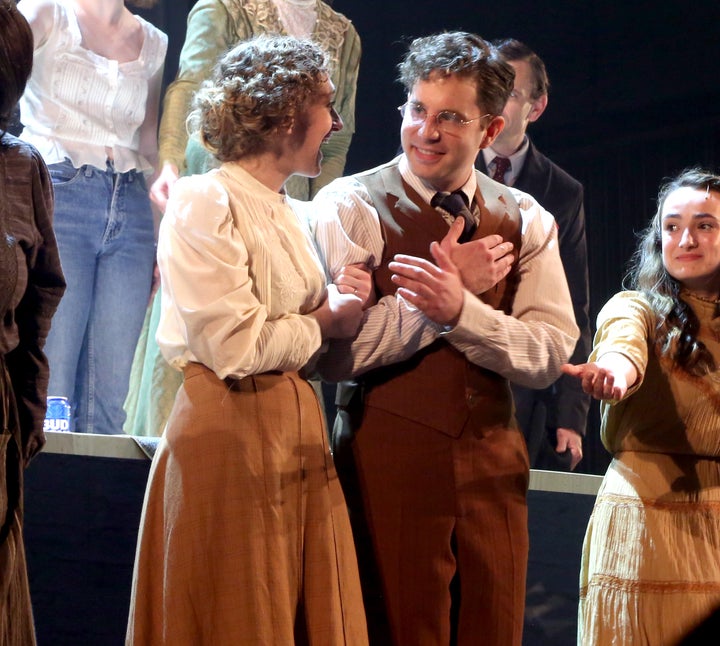 "For those who don't know, there were a few neo-Nazi protesters from a really disgusting group outside the theatre, interrupting our patrons on their way in and saying anti-Semitic things about Leo Frank, who was the show about it," he said in the clip. "It was definitely very ugly and scary, but it's a great reminder of why we're telling this particular story and how special and powerful art and, especially, theater can be. And it made me very grateful to be the one to tell this particular story and to carry on Leo's legacy."
After assuring fans who came to see "Parade" that they would be "extremely safe and sound," the actor continued, "It's really about time for this particular piece. "
On Wednesday, the show's production team echoed Platt's sentiments in a statement decrying the "vileness on display" outside the theater the night before.
"Parade" premiered on Broadway in 1998, and won two Tony Awards. The current production opened to rave reviews at New York City Center in November of last year before its Broadway transfer was confirmed in January.
According to Deadline, the Telecharge ticketing site went down briefly due to high demand for tickets. The musical will officially open on March 16.