balancing natural lighting, privacy and landscape
Located on the ground floor in one of the closest neighborhoods of Palma, Spainthe NZ10 apartment there is a baking conversion since the 1980s. Auba Studio led the renovation by delicately balancing natural lighting, privacy and 'nature' to create a snug haven in the midst of the busy city.
To begin, the team rehabilitated the backyard, reimagining it as a large patio where the footprint of the outdoor wall tile is retained as an acoustic cushion and textural support for the potted plants. In addition, auba studio opened up the wall that originally separated the back, the old kitchen, from the front, creating a continuity of light between the two. To complement that 'expansion' there are two wall-to-wall stained glass windows, one at the front and one at the back facing the patio. Meanwhile, a new 2m wide porch, made of wood and glazing, extends towards the terrace.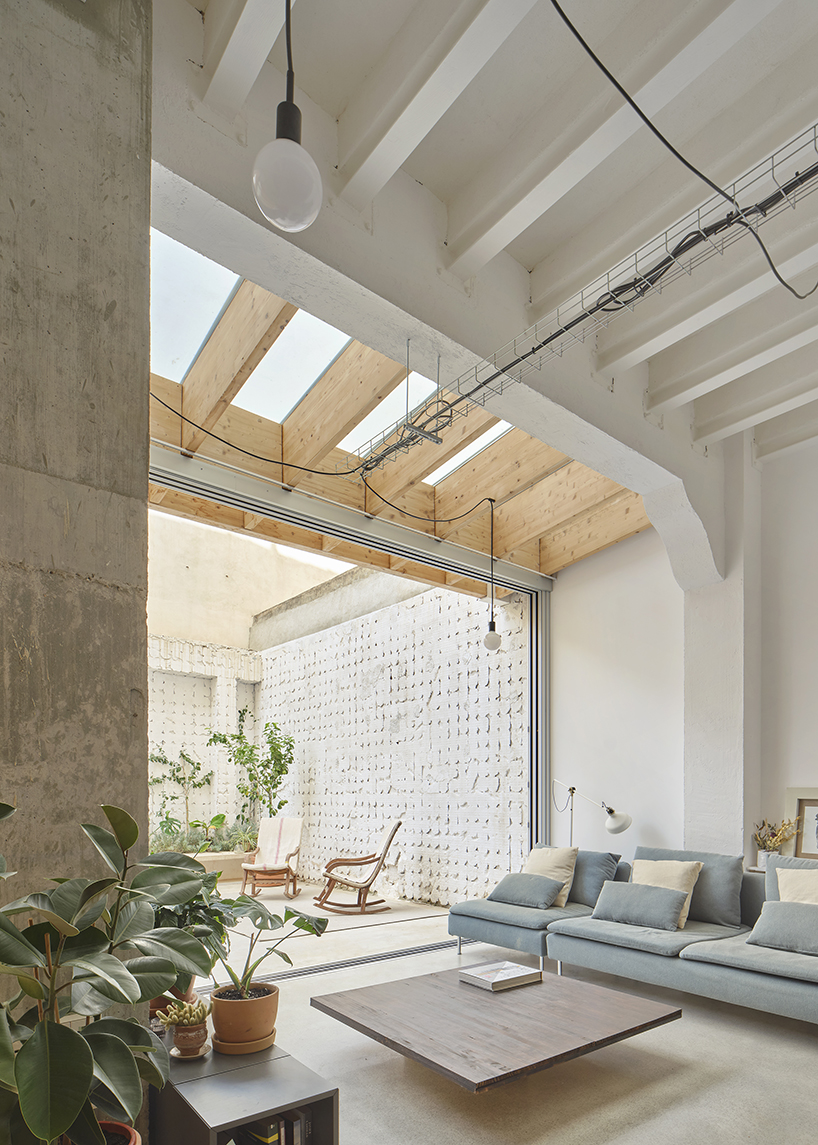 new area with wooden beams & glazing to maximize daylight | all images © Jose Hevia
Regarding privacy, the Auba Studio team an attempt to soften the contrast between the NZ10 apartment and the street by injecting an intermediate space. 'In this way, the interior of the house passes directly through the stained glass window to this 'batiport', which is protected from outside views by a system of inclined steel beams. A system strongly inspired by the solutions made in places like Barcelona at the Cru studio,' the practice writes.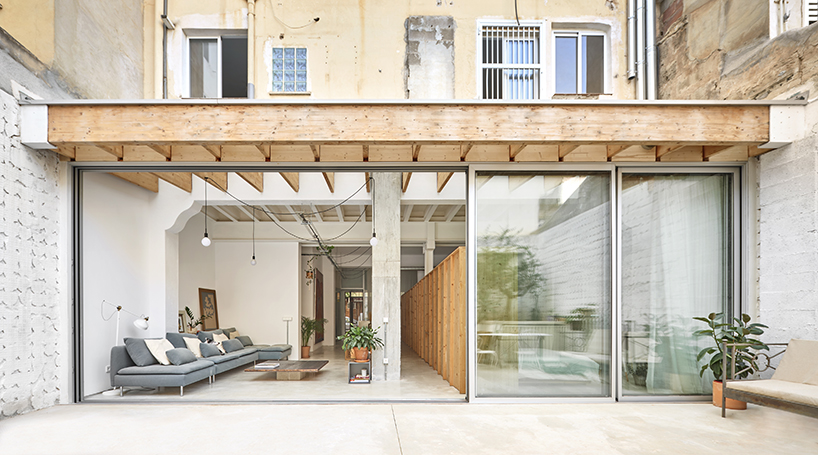 windows can be fully moved to open the entire living room onto the patio
The third pillar of this renovation focuses on indoor nature through a refreshing indoor landscape. 'In the patio, a linear planter is created with a continuous bench visible from anywhere inside. In a larger parterre there is a tree and a technical space. This landscape is maximized by the wonderful indoor-outdoor relationship fostered throughout the house. This gives a feeling of spaciousness, since the patios, front and back, are visually part of the interior of the house,' The team continues.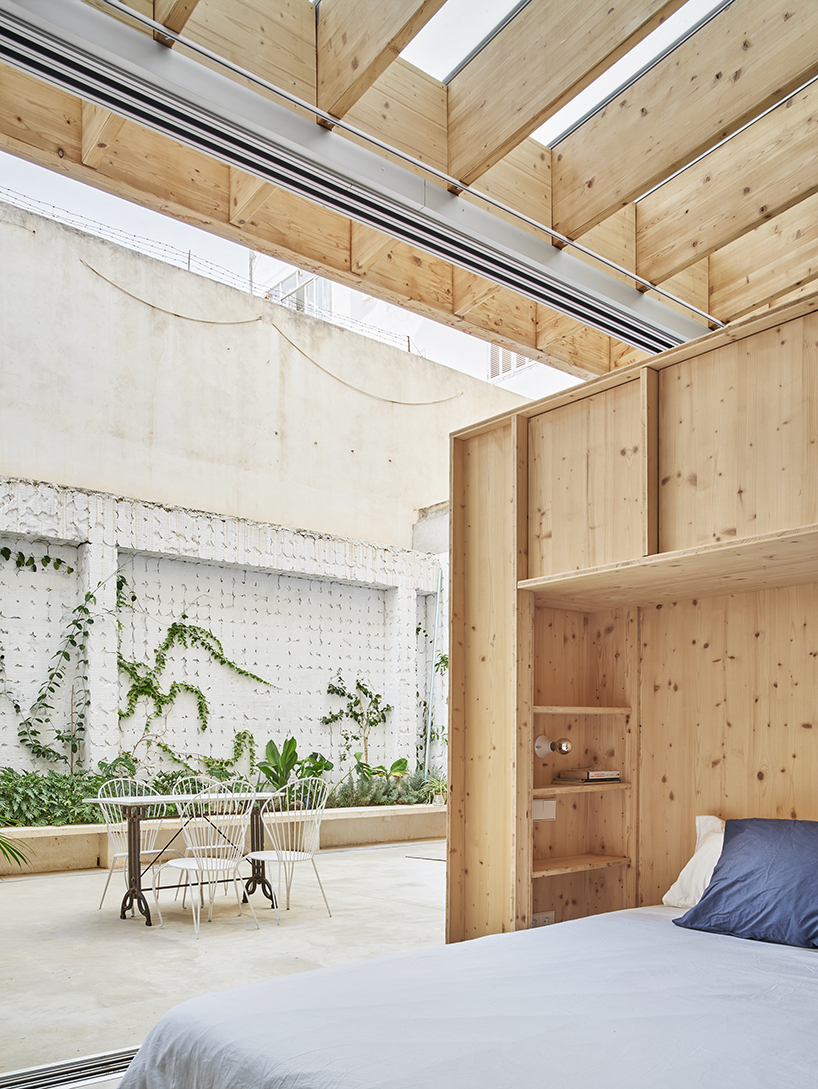 creating a cozy niche in the bed area
new distribution made with pine wood
According to the program, Auba Studio proposed a new spatial distribution thanks to a linear piece of pine wood furniture placed perpendicular to the patio to allow a flow of light between the exterior and the facade, dividing the house into two areas: the living. area and bedrooms.
'In the daytime area, we have a living room-dining room-kitchen. The kitchen is centered around a stainless steel island and supported by the main cabinet. In the night area, we have two bedrooms, a larger one with an en-suite bathroom and a utility room. Between the two rooms, the bathroom areas are located. All the new actions are made with pine wood elements so that the new interventions are clear while at the same time providing the warmth needed in a space with little light.,' the studio ends.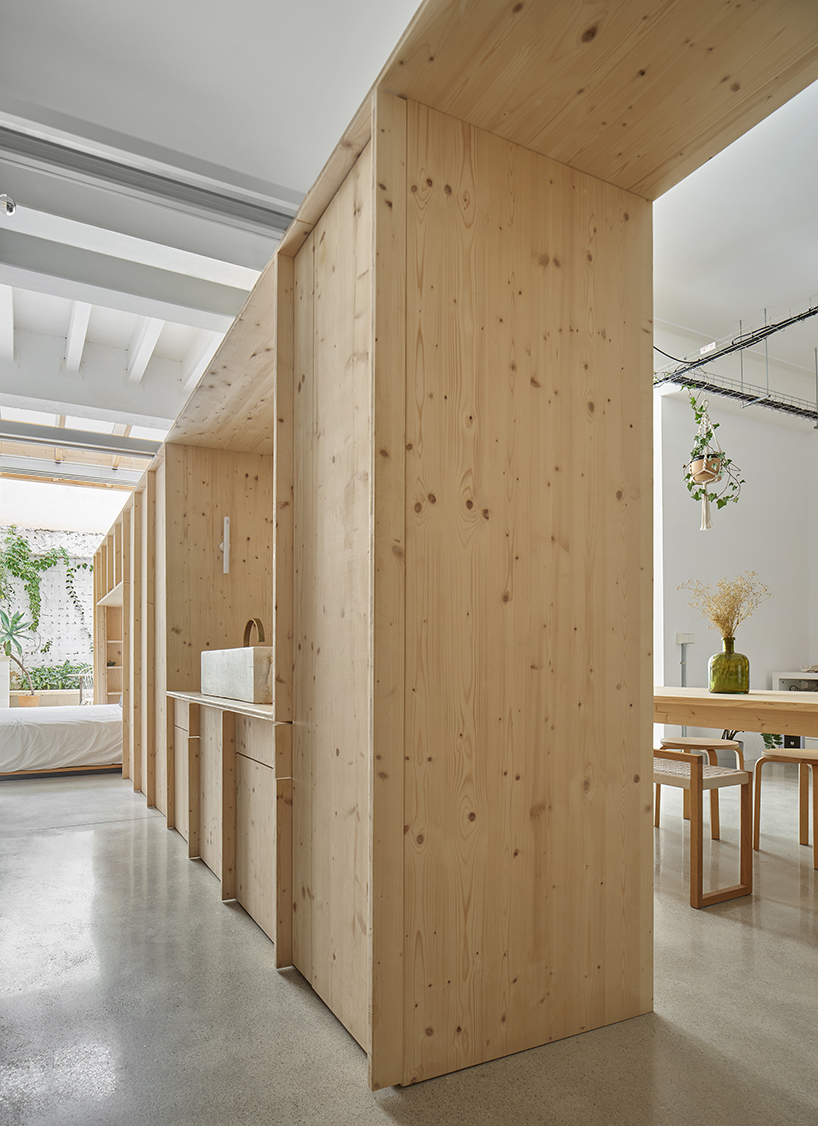 using a series of wooden cabinets as a space divider