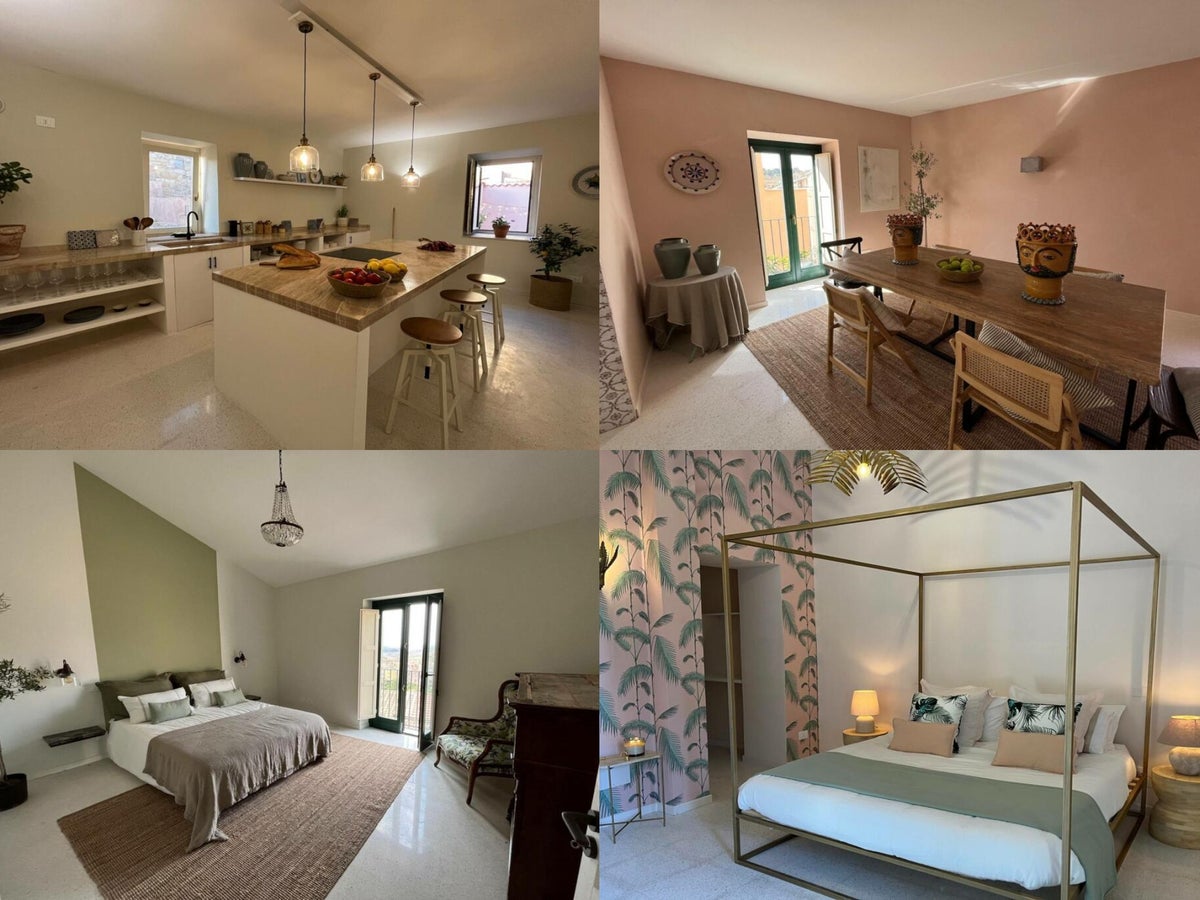 A house that Amanda Holden and Alan Carr bought for €1 and restored is listed on Rightmove for €145,000 (about £128,323).
The two-bedroom property located in Sicily was featured on the BBC One series Amanda and Alan's Italian postwhich started on 6 January.
The pair bought the house as part of a scheme run by Italian municipalities which is selling empty houses for €1 in an effort to revive abandoned towns.
Over the course of three months, Holden and Carr took the dilapidated house as a DIY project and transformed it into a stylish home.
According to the property's listing on Rightmove, the apartment has two bedrooms and two bathrooms, as well as a large lounge, dining room and kitchen, and three balconies.
It also comes with a shared, walled courtyard that is "perfect for al fresco dining or just enjoying the Mediterranean sunshine".
The 120 square meter space, called "Casa Alamanda", includes air conditioning and heating, and is fully furnished.
All proceeds from the sale of the house will be donated to Comic Relief and Children in Need.
The listing reads: "Attention Italian property seekers! Are you looking for the perfect lifestyle in the heart of Sicily? Look no further!
"Introducing our amazing two bedroom, two bathroom apartment in Salemi, Sicily… Don't miss this opportunity to make this apartment your own slice of paradise."
In one episode of Amanda and Alan's Italian postHolden explained: "Alan and I came up with the idea for this show together and approached the BBC because we knew it was the perfect home.
"We are both very passionate about interior design and will be very active, injecting much-needed life into an area of ​​Sicily that needs the magic of Holden and Carr."
Some 25 Italian municipalities are selling houses for €1 in some of the country's prettiest remote villages, as more young people migrate to cosmopolitan cities. These areas have aging populations, some of whom have no one to leave their homes – so they leave them to the local authorities.
The houses that are part of this scheme are in a bad shape and need extensive restoration work. You can find out more about how to get involved here.