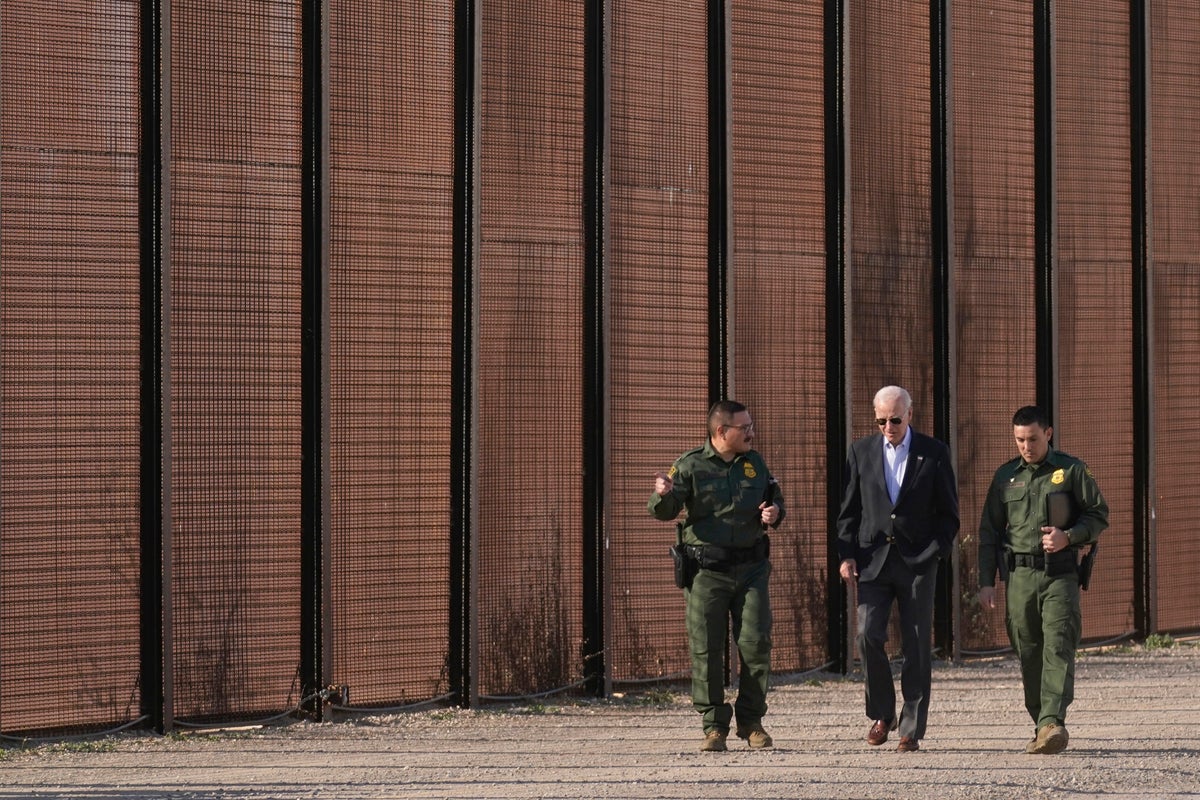 A sharp drop in illegal border crossings since December could soften a Republican attack point against President Joe Biden as the Democratic leader moves to reshape a broken asylum system that bedeviled him and his predecessors.
A new poll by The Associated Press-NORC Center for Public Affairs Research shows that there is support for changing the number of immigrants and asylum seekers allowed into the country. About 4 in 10 US adults say the level of immigration and asylum seekers should be lowered, and about 2 in 10 say they should be higher, according to the poll. About a third want the numbers to remain the same.
The drop in border crossings followed Biden's announcement in early January that Mexico would return Cubans, Haitians, Nicaraguans and Venezuelans under a pandemic-era rule that denies migrants the right to seek asylum as part of an effort to prevent spread of COVID-19. . At the same time, the US has agreed to admit up to 30,000 per month of those four nationalities on humanitarian parole if they apply online, enter an airport and find a financial sponsor.
The administration has also proposed generally denying asylum to anyone who travels through another country on their way to the US without seeking protection there – essentially all non-Mexicans who show up at the southern US border.
The new rules put forth by Biden could help the president fight back against critics who complain that he has not done enough to address border security issues. But the moves have also sparked anger among some of his Democratic allies who worry he is advancing Trump-era policies they see as anti-immigrant and hurting vulnerable migrants trying to escape dangerous conditions in their home countries.
And the new changes — and the subsequent drop in illegal border crossings — are unlikely to deter attacks from conservatives who see border security as a powerful political weapon.
Biden has been on the defensive as Republicans and right-wing media outlets have lambasted him for the dramatic increase in migrant encounters at the border. The new House GOP leadership has held hearings on what they call the "Biden border crisis" and has talked about impeaching Homeland Security Secretary Alejandro Mayorkas.
Migrant agents detained more than 2.5 million times at the southern border in 2022, including more than 250,000 in December, the highest number on record. According to a US official who was not authorized to discuss the matter publicly and spoke on condition of anonymity, Border Patrol agents stopped migrants about 130,000 times in February, similar to January.
Among Republicans, the poll shows about two-thirds say there should be fewer immigrants and asylum seekers, while only about 1 in 10 say there should be more.
Democrats are split: About a quarter say the number of immigrants should increase, a quarter say it should decrease, and about 4 in 10 say it should stay the same. They are slightly more supportive of asylum seekers specifically, with 37% supporting an increase, 26% supporting a decrease, and 36% saying the number should remain the same.
Under US law, asylum numbers are not limited, which was largely an afterthought until about a decade ago. As of 2017, the US is the world's most popular destination for asylum seekers, according to UN figures. Even those who lose in court can wait for years until their cases are settled through a backlog system.
Omar Reffell, a 38-year-old independent voter in Houston, said he supports immigration but that news coverage of "caravans of people trying to cross the border" sends the wrong message to migrants.
"People think that they show up at the border, they come across, there will be no consequences," Reffell said. "I'm not against immigration. I think immigration is good for the country, but it has to happen in a very orderly way or it puts a lot of stress, especially on the border states to be able to provide resources."
More than 100,000 migrants were being released each month in US border cities late last year with notices appearing in immigration court or reporting to immigration authorities.
Dan Restrepo, senior White House adviser on Latin America during Barack Obama's presidency, believes that the American public will accept high levels of immigration – if a systematic process can be followed.
The challenge of managing migration is "the sense of chaos and disorder that can be created by images of redundant processing facilities and the like at the physical border," he said. "Numbers are less and images are more" that affect the voters.
Republicans have dismissed Biden's expansion of humanitarian parole for four nationalities as a political ploy to divert attention from the border and are unlikely to let up their criticism of the president on immigration. The Federation for American Immigration Reform, an anti-immigration group, called the January drop in the number of border crossings a "shell" to boost Biden's re-election prospects.
Fox News Channel has been hit hard by the story over the past year. Reporter Bill Melguin said in a Nov. 3 "Battle for the Border" special that he had spent more than 200 days on the Texas border.
"We've been shooting the video all day," Melugin said in a typical report from the Texas town of Eagle Pass. "These huge groups of 150 to 200 are constantly crossing every day."
The network's night-vision drone cameras showed hundreds of migrants walking across the border, each appearing as a luminous white stick slowly advancing across a dark screen.
​​​​The poll found that 39% of US adults approve of how Biden is handling immigration, and 38% approve of him on border security – slightly below his overall approval ratings. About two-thirds of Democrats but about 1 in 10 Republicans say they are willing to handle either issue.
The poll was conducted on February 16-20, just before the administration proposed on February 21 that asylum should generally be denied to migrants who pass through another country without applying for protection there if it is considered safe. The administration wants the new rule to take effect before pandemic-related limits on sanctuary are expected to end on May 11, though legal challenges appear imminent.
Becky Steelsmith, a 70-year-old independent voter from Zachary, Louisiana, is reluctant to blame Biden for also undoing his predecessor's solutions, but notes that the optics are not perfect.
"The only reason I don't agree with Biden's handling of it is that I think it's a little too soft," said Steelsmith, a retired teacher. "I'm not saying it's his fault that it's happening. I'm saying that as president, he needs to sit down and really focus and find some kind of solution, or start a solution."
___
The poll of 1,247 adults was conducted using a sample drawn from the NORC probability-based AmeriSpeak Panel, which is designed to be representative of the US population. The margin of sampling error for each respondent is plus or minus 3.7 percentage points.